David Ewing Beggs
(1894-1946)

David Ewing Beggs was born on Aug. 30, 1894 in Dunbar, Fayette County, PA, the son of William J. and Mary Belle (Minerd) Beggs Sr. He was named after his uncle, Rev. David Ewing Minerd, the famed "Blacksmith Preacher" of Fayette County.
As a young adult, David was described as short and slender, with grey eyes and light hair.
David registered for the military draft during World War I, and eventually served in the U.S. Army during the conflict. At the time of his enlistment, he was employed as a sheet metal worker for Kaufmann Brothers Department Store of Smithfield Street in Pittsburgh. He told the registration board that a 12-year-old sister (Pearl) depended upon him for support.
After the war, David returned to Fayette County, and settled in Uniontown. He was employed for Clark's Restaurant in Uniontown for more than two decades. He never married.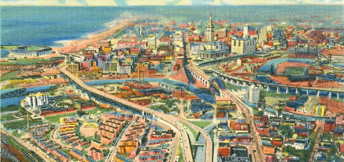 Bird's-eye postcard view of downtown Cleveland, with Lake Erie in the background.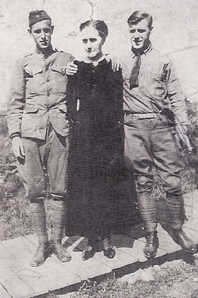 Seen at right with his mother, David stands at left, and William at right.
By 1939, David had moved to Cleveland, Cuyahoga County, OH. His occupation there is unknown.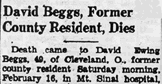 David died in Cleveland at age 49, following a long illness, at Mt. Sinai Hospital, on Feb. 16, 1946.
His remains were returned to Uniontown for arrangements managed by the Minerd Funeral Home, owned by David's first cousin, Edward E. Minerd. The funeral was led by Canon Bernard C. Newman.
He was buried with full military rites at Sylvan Heights Cemetery in Uniontown.
Copyright © 2001, 2008, 2011 Mark A. Miner
Photo by Butler Airphotos, Inc., Cleveland