Charles Gaumer
(1795-1845)
Charles Gaumer was born on Dec. 16, 1795 in Southampton Township, Somerset County, PA, the son of Johannes "John" and Albertina Christina (Dean) Gaumer.
He was thrice married. The identity of his first wife is unknown. In 1818, a son John Gaumer was born to the first marriage.
In 1823, Charles married his second wife, Justina ( ? - ? ), in Waynesburg, Greene County, PA. Their two children were Hannah Bossemeyer and Susanna Gaumer.
On Oct. 4, 1831, at the age of 36, Charles married his third wife, 31-year-old Sarah "Sally" Shoemaker (1800-1900), daughter of Peter Shoemaker. The children to the third marriage were Peter Gaumer, Jesse Gaumer, Daniel Gaumer and Sarah Ann Gaumer.

Charles' deed for the 167

½

-acre farm, 1838
Charles is known to have purchased a tract of 167½ acres for $150 on Feb. 17, 1838 from Abraham and Naomi Kerns of Bedford County, PA, with Abraham serving in his official capacity of Juniata Coal Company and disposing of assets from the inventory of the business. The tract was known as part of the Gladdonsville Farms adjoining properties of Adam Lepley, Jacob Marts, Savage Mountain and Daniel Lepley, and contained stands of locust and red oak. The deed, found in Somerset County Deed Book 15, pages 349-351, spells his last name as "Gomer."
Charles died in April 1845. He is buried in Lepley Cemetery near Hyndman, Somerset County, PA, but is said to not have a grave marker.
Sally's fate is unknown.
During the Civil War, their son Jesse served as a private in the 171st Pennsylvania Drafted Militia, Company H.
~ Son John Gaumer ~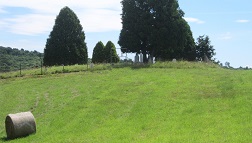 The Gaumers rest under these pines
Son John Gaumer (1818-1880) was born in about 1818. He may also have gone by the name "Charles."
John is believed to have married A.E. (?) -- perhaps short for "Ann Eliza," a common name of the era?
Among John's children with A.E. were Elizabeth Gaumer and Margaret Gaumer. These other offspring were born, but the identity of their mother is not yet known -- Samuel Gaumer, Charles Gaumer and Hannah Kennell.
Heartache swept over the family twice in the month of September 1862 during the Civil War years. Daughter Margaret succumbed at age six on Sept. 8, 1862, followed by daughter Elizabeth just a few weeks before her 10th birthday on Sept. 14, 1862. Their remains were interred in what today is known as the Getz Cemetery.
John outlived their daughters by many years, and during that time, he earned a living as a carpenter. In about 1863, they moved across the state line into Allegany County, MD. His son Samuel also followed that trade.
By 1870, he is thought to have wed again to Delilah Kimmel (1824-1885). Her first name also has been spelled "Dehlia."
John died on Feb. 12, 1880 at the age of 61 years, four months and 18 days.
Delilah outlived him by five years. She joined him in eternity on Dec. 1, 1885, at age 61 years, seven months and 18 days. [Find-a-Grave]
They also are buried at Getz Cemetery in Southampton Township. In 1934, the location of their graves was recorded by the Works Progress Administration [link]. In the 1930s, the cemetery was "located on the farm of Irvin Troutman, east of the buildings about 20 rods on top of a knoll in the field." When the founder of this website visited Getz in September 2016, no markers for John or Delilah were found, although the two daughters' markers were still standing. The entire burying ground is enclosed with a chain link fence, with the girls' graves along one of the sides.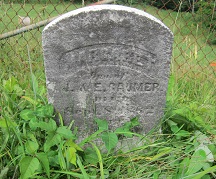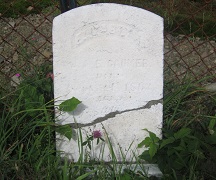 Graves of sisters Margaret (left) and Elizabeth, who died 6 days apart in 1862
Son Samuel Gaumer (1849- ? ) was born in about 1849 in Somerset County. When he was a teenager, he relocated across the state line into Allegany County, MD with his father. Following his father's trade, he learned the skill of carpentry. At the age of 21, unmarried, he lived at home and assisted his father with carpenter work.
Son Charles Gaumer (1861-1930) was born in about 1861 in Somerset County. On Sept. 2, 1886, at the age of 25, he married Martha A. Shumaker ( ? -1882). The couple produced three sons -- Harvey E. Gaumer, Samuel E. Gaumer and Arty T. Gaumer. Sadly, the youngest son died in infancy, and Martha passed away on March 12, 1892. After a year as a widower, Charles was wed a second time on May 4, 1893 to Rosanna Fossler ( ? - ? ), a resident of Meyersdale. They went on to produce four daughters --Nettie P. Lowery, Mamie E. Sturtz, Ruth M. Gaumer and Beatrice T. Gaumer. He "spent most of his life in the community," reported the Meyersdale Republic. "He was a resident of Meyersdale from 1908 to 1912, part of which time he was working in the mines, and part of the time on street repairs, under Commissioner J.O. Weller. He moved to his late home in the fall of 1912 and took up farming at which he continued as long as he was able to work." They belonged to the Wellersburg Reformed Church. Charles and Rosanna moved in 1912 to a farm in Southampton Township, Somerset County. Just a week before his 71st birthday, suffering from bronchial asthma and heart valve leakage problems, Charles died on May 11, 1930. In an obituary, the Republic said he had been "in failing health all winter, but was not bedfast at any time. He was up and around all day on Sunday, May 11, and did not complain any until about 7 o'clock in the evening, when his asthmatic trouble got worse and he passed away at 9:30 o'clock." Burial was in Getz Cemetery, following funeral services at the home led by Rev. Von Kaske of the family church. Pallbearers included Albert Baker, Clarence Kennell, Anthony Witt, Irvin Troutman, William Emerick and John Witt. Flowers were carried by Peter P. Michaels, Henry Everline and Raymond H. Emerick. Son Harvey Gaumer of Ellerslie, MD was the informant for the official Pennsylvania certificate of death.
Grandson

Harvey E. Gaumer

lived in Ellerslie, MD in 1930.
Grandson Samuel E. Gaumer

was at home with his parents in 1930.
Granddaughter Nettie P. Gaumer married (?) Lowery.

Circa 1930, her residence was in Bedford, Bedford County, PA.
Granddaughter Mamie E. Gaumer was united in wedlock with (?) Sturtz

. She dwelled in Wellersburg, Somerset County in 1930.
Granddaughter Ruth M. Gaumer

lived with her parents in 1930.
Granddaughter Beatrice T. Gaumer

lived with her parents in 1930.
Daughter Hannah Gaumer (1863- ? ) was born in about 1863 in Allegany County, MD. She married (?) Kennell. Her home in 1930 was in Bloomington, MD.
~ Daughter Hannah (Gaumer) Bossemeyer ~
Daughter Hannah Gaumer (1824-1889) was born in about 1824.
She married John Ernst "Frederick" Bossemeyer (1813-1884), a Prussian immigrant.
Sometime before 1857, the couple relocated to Dixon, Lee County, IL, about 100 miles west of Chicago. Making a living as farmers, they remained in Dixon for the rest of their lives.
Among their offspring was John Frederick Bossemeyer, Louvena Bossemeyer, Laura Bossemeyer, Mary Bossemeyer, Charles B. Bossemeyer, George L. Bossemeyer, Lydia Weed, Ada L. "Addie" Bossemeyer and Emma B. Bossemeyer. One of the daughters married (?) Shoemaker.
When the federal census enumeration was made in 1870, the family dwelled on a farm in South Dixon. Eight children lived in the home, along with 23-year-old farm labotrer Olters Linnes. Frederick was a member of the Lee County Council of the Patrons of Husbandry and often attended meetings of the South Dixon Grange.

Dixon's Truesdell Bridge, before collapse, 1870s.
Harper's Weekly, May 24, 1873
The Dixon community suffered a catastrophe in early May 1873 when, during a baptism ceremony in the Rock River, the Truesdale Bridge collapsed and sent some 200 spectators, of whom about 50 were killed. Fortunately, none of the Bossemeyers is known to have been involved but all would have followed the details. In reporting on the incident, Harper's Weekly said:
The Truesdell Bridge at Dixon, Illinois, ...was, it is said, known to be in a damaged and dangerous condition for weeks before. Parts of the iron lattice-work had snapped during the winter, and no attempt had been made to repair them. An examination of the debris resulted in the discovery of rusted cracks and flaws, evidently of long standing, in the supporting bars attached to the iron uprights at the north end of the bridge. Had the structure been properly inspected and repaired, it might have been rendered perfectly safe. The bridge fell, our readers will remember, on Sunday afternoon, the 4th of May, under the weight of about 200 persons, who had assembled to witness the rite of baptism performed in the river by the Rev. J. H. Pratt, pastor of the Baptist church in Dixon. Two candidates had been baptized, and a third was just entering the water, when an overweighted span of the bridge gave way, and precipitated more than 150 men, women, and children into the river. The scene was terrible and heart-rending. Some were caught in the lattice-work and borne to the bottom by its weight; some were swept away by the swift current, and were seen no more; while others were rescued by helping hands from the river-bank, or by seizing the loosened planks of the roadway as they floated past.The whole bridge is a wreck, one span in falling dragging the next after it, though all did not fall into the river, several spans still hanging in a damaged condition to the piers. On one of these spans a wagon and pair of horses remained, and there being no communication with the shore, food and water had to be taken out to them. Many thrilling and affecting scenes took place during the few minutes that elapsed between the fall of the bridge and the rescue of the last survivor. Some escapes seemed almost miraculous. The number of lives lost is computed at more than fifty, and nearly every family in the town is in mourning for the loss of some relative or friend.
The Bossemeyers were among many local families to be victimized by a cholera epidemic in early autumn 1874. A report in the Dixon Sun noted that Frederick, living two miles south of the Brick School House in South Dixon, had lost 32 head of cattle.
Frederick and one of his daughters avoided a tragedy one Saturday in August 1874 when riding into town in the family carriage. Noted the Sun, "his team took fright near the Pratt farm and could not be checked until they got almost to town. Mr. B. found he could not hold the team and so wrapped the lines around his legs and when he at last stopped them he was so exhausted tha he could not remove the lines."
Frederick passed away at the age of 69 on Feb. 10, 1884. His remains were placed at rest in Dixon's Oakwood Cemetery.
Suffering from rheumatic fever, she died in Dixon on May 7, 1889 at the age of 65. An obituary in the Dixon Sun reported that "The deceased was an early esttler of this county, an estimable christian lady and a member of the Lutheran church, where a large number of friends attended her funeral...." On her grave marker, her maiden name was spelled "Gommer." [Find-a-Grave]
Her death again was noted in an article in the Sun, dated Sept. 11, 1889, among other old settlers of the area who had succumbed within the year.
Son John Frederick Bossemeyer (1849-1888) was born in about 1849 in Somerset County, PA. On Sept. 1, 1874, when he was age 25, John married 16-year-old Fannie Arabelle Smith (1858-1942), daughter of Joseph E. and Henrietta E. (Merrill) Smith. A story in the Dixon Sun said that the wedding was held at the Smith home and officiated by Rev. John Williamson. The couple produced three known children, Arthur Joseph Bossemeyer, Etta L. Toot and Lester Bossemeyer. They resided on Eldena Road in South Dixon, Lee County. Stricken with consumption, also known as tuberculosis, John died at home on April 1, 1888, at the age of 39. His remains were transported to Dixon for burial. Fannie survived for a remarkable 54 years as a widow. She joined him in eternity in Dixon on Nov. 10, 1942. Burial was in Oakwood Cemetery in Dixon.
Grandson Arthur Joseph Bossemeyer (1875-1939) was born on Aug. 19, 1875 in Dixon. He appears to have spent his entire life in the community. He died in Dixon on Dec. 12, 1939.
Granddaughter Etta L. Bossemeyer (1877-1959) was born in August 1877. She married Emery E. Toot ( ? - ? ). Their seven known children were Roy John Toot, Gladys Toot, Lucille Toot, Irene Toot, Elsie Toot, Alice Marian Toot and Raymond Toot. Etta died in 1959 with interment in Oakwood Cemetery in Dixon.
Grandson Lester Bossemeyer (1884-1945) was born on Sept. 13, 1884. He died in Santa Monica, Los Angeles County, CA on May 2, 1945.
Daughter Louvena Bossemeyer (1852- ? ) was born in about 1852 in Illinois.
Daughter Laura Bossemeyer (1854- ? ) was born in about 1854 in Illinois. She is believed to have been the same Laura A. Bossemeyer whom, on July 6, 1876 was united in marriage with George E. Knapper ( ? - ? ). The ceremony was held at the home of Laura's parents in South Dixon and performed by Rev. J.P. Sanderson. In reporting the story, the Dixon Sun said that George was a graduate of the class of 1876 of Heidelberg College in Tiffin, OH.
Daughter Mary Bossemeyer (1857- ? ) was born in about 1857 in Illinois.
Son Charles L. Bossemeyer (1860- ? ) was born in about 1860 in Illinois. He may have moved to Louisville, KY and lived there circa 1928, but this needs to be confirmed.
Son George L. Bossemeyer (1862- ? ) was born in about 1862 in Illinois. He was a photographer and entered into partnership with Alfred Chiverton. In September 1889, he purchased a lot in the northeast corner of the Riverside addition in Dixon, measuring 100 feet along the street, 150 feet deep and 80 feet at the back, paying $775. He told a Dixon Sun correspondent that he planned to erect a home there someday. Then by November 1892, he made his home in Chicago, where he was teaching a process for coloring pictures. Then in September 1905, he traveled to Portland, Oregon to attend the World's Fair and sent to the Dixon Evening Telegraph a "very fine colored picture."

Dixon's Truesdell Bridge, after collapse, 1873.
Harper's Weekly, May 24, 1873
Daughter Lydia Bossemeyer (1863-1890) was born in about 1863. She married Austin A. Weed (1856-1910). They had two sons, Eric Weed and Norton Weed, and made their home in Dixon, IL at the southwest corner of Market and Eighth Streets. Austin met with a painful accident in August 1886 when he fell through a rotten plank on the local mill race platform, falling and becoming severely bruised. Austin is believed to have served as an artificer in the 6th Illinois Infantry, Company G, in the Spanish American War. When Lydia's mother died in 1889, Lydia took the death especially hard, and her husband and physician both noted evidence of mental decline. In about February 1890, her husband came home to find her pouring laudanum, a heavy sedative, into a glass and preparing to drink it. He took away the bottle, smashed it in their yard, and she apologized for "having such a desire to kill herself but still insisted that she desired death," said the Dixon Evening Telegraph. She also borrowed a cheap .32 caliber pistol from her husband so that she could be protected when he traveled to Chicago. She was further distressed in March or early April 1890 when her sister (?) Shoemaker was sent to an insane asylum. On the fateful day of April 10, 1890, Hannah shot herself at home, lying on one of her sons' narrow beds and placing the pistol to her head. When he returned home from school, their son Norton discovered the body. At a coroner's inquiry, Austin said that Lydia:
...for five months had shown signs of weaking of mind and memory, and was also very despondent. She seemed to borrow trouble without cause. Among other things she imagined tha she had received more than her share of property from her mother's estate; and often claimed there had been a mistake made in the division. This particularly worried her. Yesterday morning before going to work Mr. Weed had asked his wife not to wash any clothing that day as she had expressed an intention of diong; that he would have some one to do it for her, as she was not feeling well. At noon when he came home he found that dinner was ready and all was as usual. The boys went to school, and he, after talking with her a few minutes, left for work, without any premonition of the sadness with which he would again enter that home. Mrs. Weed had, after dinner, washed some clothing for the children and about two o'clock the neighbors saw her hanging them in the yard to dry. It appeared from the evidence that when she committed the terrible deed that Mrs. Weed had lain down upon the bed as though to rest. The pistol ball entered the right temple and taken a direct course and lodged behind the left eye. There was no discoloration of the skin from powder burn about the wound. Blood was issuing from the mouth. The pistol lay upon her breast partly covered by her hands. The blood that was dammed up by her shoulder, on the pillow, showed that there had been no struggle; death was instantaneous.... The dinner dishes were piled up unwashed on the table in the kitchen and a pan of hot water that was still steaming, when the witnesses arrived, was beside them and a good fire was burning in the stove.
Funeral services were held in the local Lutheran church. Austin is believed to have married again by 1902, to a daughter of Irish immigrant John McCollum, but following a troubling pattern, the second wife swallowed carbolic acid in March 1902, although she recovered. Austin later relocated to South Dakota, settling in the town of Hayti, Hamlin County. There, on Aug. 10, 1910, he died. Word was sent via the railroad station agent at Hayti to the Dixon postmaster to notify son Eric who was still living in the Dixon area. His remains were interred in the Pleasant View Cemetery in Hayti. A standard issue military marker was erected at his grave. The second wife apparently lived for 18 years after Austin's death. She passed away at the Dixon home of her sister Mrs. Robert Anderson on June 23, 1928. Burial was in Oakwood, with Rev. A. Turley Stephenson, of the First Methodist Church, officiating.
Grandson Eric Weed (1881-1941) was born in about 1881 and grew up in Dixon. He married Emma (?) and had a large family of children including Goldie Weed, Justine Stanley, Mabel Williams, Myrtle Clemens, Edna Ragsdale, Irma Batt, Doris Weed, William E. Weed, Myron Weed, Lawrence Weed and Norton Weed. Circa 1910, at the death of his father in South Dakota, Eric made his residence on the C.C. Buckaloo farm along the Nelson Road near Dixon. Tragedy shook this family on Valentine's Day 1911 when 10-year-old daughter Goldie, stricken with spinal meningitis, succumbed from the illness. Eric ran unsuccessfully for Nelson Township tax collector in 1912 but in 1914 won the position over Clarence Buzzard with 66 votes to the other's 54. He also served as senior vice commander of the William E. Baldwin Camp of the United Spanish War Veterans (USWV) circa 1922. Daughter Justine passed away east of Dixon on Feb. 12, 1940, at the age of 34, after a long illness, and leaving behind her husband, son and three daughters. Eric himself met with a tragic end. While helping pick corn on the John Nurnberg farm south of Dixon, on Nov. 17, 1941, he "was standing on a wagon which was being used with a corn picking machine and the elevator or the picker struck him on the head when the team came to a stop, throwing him to the ground," noted the Dixon Evening Telegraph. "He was believed to have sustained a broken neck when struck by the elevator and death was almost instantaneous. He was taken to the Katherine Shaw Bethea hospital, but death had occurred before his arrival...." Son William E. Weed relocated to Gardena, CA, when obtaining work with Fiberglass Company in Inglewood, and died in October 1956.
Grandson Norton Weed (1883- ? ) was born in about 1883 and grew up in Dixon. At the age of seven, after returning home from school one day, he discovered his mother's lifeless body in his bedroom, covered in blood. He was seriously injured in an explosion of powder while playing with friends in the Bennett Quarry in September 1898. Said the

Dixon Evening Telegraph

, "They had a fire and were tossing powder from theri hands into the flame when a quantity that Norton had in his hat exploded, destroying the hat and burning his face and hands severely.... The explosion was so sudden and unexpected that Norton did not know how it happened. He thought that a tramp, one or two of whom were near, had lit a fuse and then walked away." In about 1901, he obtained a position with the British government to accompany horses to Durban, Natal for use in the Boer War. He traveled with the horses to New Orleans and they traveled aboard the

Milwaukee

. During his travels, he roamed from Cape Breton Island to Florida, which the

Dixon Evening Telegraph

said was "something of the manner of Longfellow's 'Gabriel'."

Chicago & Northwestern Railway station in Dixon
Daughter Ada L. "Addie" Bossemeyer (1867- ? ) was born in about 1867 in Illinois. Circa 1889, she bought a town lot from Judge Crabtree for $700 at the corner of Third and B Streets. Three years later, in 1892, she advertised that she was selling the double-house property at the corner of Third Street and College Avenue for $4,200, stating that she would pay 10 percent on the investment.
Daughter Emma B. Bossemeyer (1876- ? ) was born in about 1876 in Illinois.
Daughter (?) Bossemeyer ( ? - ? ) married (?) Shoemaker ( ? - ? ). They dwelled near Eldena, IL. In March or April 1890, she was admitted to an asylum for the insane for treatment.
~ More About Dixon, Illinois ~
In early December 1920, the family of Jack and Nelle Reagan moved to Dixon with their nine-year-old son Ronald. Their first home in Dixon was at 816 Hennepin Avenue, and they relocated within the town several additional times over the years. The son attended South Central School, was a drum major for the local YMCA band and a lifeguard at Lowell Park. Of course the son went on to become governor of California and later the president of the United States -- Ronald Wilson Reagan.
Copyright © 2000, 2002, 2016-2017 Mark A. Miner