Home

Johann 'Adam' Gaumer
(1790-1871)
Johann "Adam" Gaumer was born on July 6, 1790 in Macungie Township, the son of Johann Heinrich and Anna Margaretha (Meitzler) Gaumer.
In about 1810, Adam was wedded to Christiana Wesco (June 6, 1792-1863), daughter of Philip Wesco whose farm was owned in 1912 by W. Oscar Lichtenwainer.
They produced 11 children -- among the known names were Joseph Gaumer, Liesetha "Lucetta" Treichler, Judith "Judy" Wenner, Benjamin Charles Gaumer, Carolina Fox Schneck, Anna Maria Jacobs, Jonas F. Gaumer and William Gaumer.
Their farm homestead was along the Macungie and Trexlertown Road, a mile west of the borough. When it was finally sold out of the family, in 1899, the farm was described as bounded by properties of David Barner, Dr. Herbst, Alexander Singmaster, John Faust and Tilghman Schmoyer. It contained 80 acres and included a stone farm house "with stone kitchen, porch and frame summer house, a large bank barn, and other necessary outbuildings, all in good repair," said a classified advertisement placed in the Allentown Democrat. On another quarter-acre of the tract sat a frame dwelling house and outbuildings.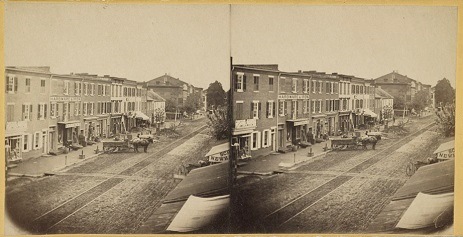 Allentown, PA stereoview in the 1870s.

Library of Congress
When the federal census enumeration was made in 1850, John Adam was marked as a farmer, with their three youngest children in the household. Also under their roof in 1850 was 11-year-old Lucinda Stettler.
Sadly, Christiana passed away at the age of 70 on May 26, 1863. A month later, John Adam filed a lawsuit against his Wesco in-laws, likely to receive her inheritance from the value of their real estate. A legal advertisement, in German, was published in Allentown's German-language newspaper, Der Lecha Caunty Patriot.
Adam died at the age of 81 on Sept. 5, in 1871. His remains are in repose in Solomons United Church of Christ Cemetery in Macungie, with a grave marker inscribed in German. [Find-a-Grave]
Copyright © 2000, 2009, 2017-2019 Mark A. Miner