John L. May was born on Jan. 11, 1827 in Somerset County, PA, the son of Leonard and Maria "Catherine" (Younkin) May.
He was united in matrimony with Elizabeth Holler (1818-1896?).
Their known children were Kasiah May, Samuel C. May and James M. May.
When the federal census was taken in 1860, they made their home next to John's parents and brother Daniel and family in Juniata Township, Bedford County.
During the Civil War, on Dec. 28, 1864, John was drafted and joined the 67th Pennsylvania Infantry. He was assigned to Company C, with the balance of fellow soldiers in the company having been recruited in Pike and Wayne Counties. He endured a gunshot wound but was able to re-enlist when his original term of enlistment ended. He received an honorable discharge on a surgeon's certificate after nine months of duty, on June 28, 1865.
At some point they resided in or around Berlin, Somerset County. By 1890, when he was enumerated in a special census of Civil War veterans and their widows, his postal address was Boynton, Somerset County.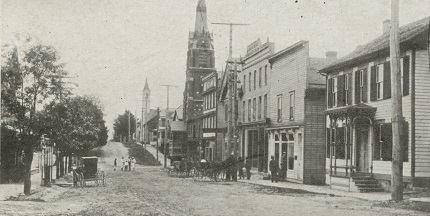 Main Street looking east from Lower Diamond in Berlin, PA
Elizabeth succumbed at the age of 84 on or about July 5, 1896.
John survived her by almost six years. He passed away on April 9, 1902. In an obituary in its "Berlin" column, the Meyersdale Republican noted that he was "formerly of this community, [and] died at Fossilville, Bedford county, aged about 70 years. He was a veteran of the civil war."
~ Daughter Kasiah May ~
Daughter Kasiah May (1852- ? ) was born in about 1852. She may also have gone by the name "Harriet."
~ Son Samuel C. May ~
Son Samuel C. May (1853- ? ) was born in about 1853.
He reputedly died at the age of 16 on Oct. 30, 1869, per the records of MayHouse.org.
~ Son James M. May ~
Son James M. May (1855-1935) was born on Valentine's Day 1855 in Buffalo Mills, Bedford County. He was wedded to Margaret Shook ( ? - ? ). The Mays made their home in Brothersvalley Township, Somerset County, where James supported the family as a laborer. As he reached age 80, James was burdened with chronic kidney disease, uremia and hardening of the arteries. He died at age 80 on Dec. 7, 1935, in Brothersvalley. C.C. May of Berlin was the informant for the Pennsylvania death certificate. Burial was in Ridge Church Cemetery.
~ More ~
"Many descendants live in the Berlin, Somerset County area," wrote researcher Suzanne Chutis.
Copyright © 2016-2017 Mark A. Miner
Research for this page graciously shared by the late Olive (Rowan) Duff and the late Donna May brothers image courtesy Suzanne (Smith) Chutis.