Elizabeth (McKnight) Williams
(1851-1917)
Elizabeth (McKnight) Williams was born in 1851 in Fayette County, PA, the daughter of William and Mahala (Minerd) McKnight.
Elizabeth married George W. Williams (1855-1928). Their children were Charles H. Williams, Mahala Williams, Leah Williams and Arthur Williams.
George labored as a coal miner near Uniontown circa 1880. They later purchased a 14-acre tract of their parents' farm near Sandy Hill.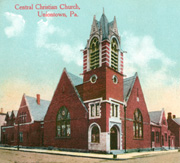 In 1880, Elizabeth's cousin, John Henry McKnight, son of Henry and Barbara (Minerd) McKnight, was living in their household.
Elizabeth and George were members of the Central Christian Church (seen here), and he belonged to the Knights of Pythias. Their home was on Uniontown's Franklin Street.
Sadly, Elizabeth died of a stroke of paralysis at the age of 66 on Sept. 15, 1917. She is buried at Oak Grove Cemetery in Uniontown.
At age 73, George died on Christmas Eve, Dec. 24, 1928 at his home in Uniontown. He is buried beside his wife. Nothing more about their lives is known.
~ Son Charles H. Williams ~
Son Charles H. Williams
~ Daughter Mahala Williams ~
Daughter Mahala Williams
~ Daughter Leah Williams ~
Daughter Leah Williams
~ Son Arthur Williams ~
Son Arthur Williams
Copyright © 2000, 2009, 2014 Mark A. Miner