James Henry McKnight
(1892-1933)
James Henry McKnight was born in 1892 near Dawson, Fayette County, PA, the son of Charles and Keziah (Stimmell) McKnight.
James married Gladys L. Newell (1896-1987), the daughter of John Wesley and Mary (Williams) Newell.
They had three children -- Donald Dale McKnight, Ruth E. Smith and Mary Louise McKnight. They were farmers living near Dawson.
Afflicted with heart disease ("myocarditis"), James died on Aug. 1, 1933, at the age of 41. This will be more deeply researched. An electronic search of Uniontown and Connellsville newspaper databases on Ancestry.com has not yet uncovered an obituary.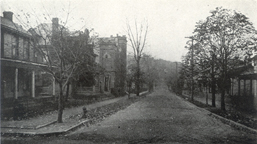 Seen here is Dawson's Church Street.
Gladys outlived her husband by more than half a century. She was a member of the Bryan Methodist Church in Dawson, and must have received support from family and friends in raising their young, fatherless children.
In her later years, Gladys went to live with her married daughter, Mary Louise McKnight, in Dawson. Sadly, she endured the untimely death of her son Donald Dale McKnight, also of causes unknown.
Gladys died at the age of 91, on March 6, 1987, at the H.C. Frick Community Health Center. Following a funeral at the Ralph E. Galley Funeral Home in Dawson, she was laid to rest at the Cochran Cemetery in Dawson. She was survived, reported the Uniontown Herald-Standard, by four grandchildren and 12 great grandchildren.
~ Daughter Ruth E. McKnight ~
Daughter Ruth E. McKnight married (?) Smith and lived in Connellsville in 1987.
Copyright © 2008, 2012 Mark A. Miner