Jesse Minerd McKnight
(1882-1953)

Jesse Minerd McKnight was born on Aug. 21 (or 22), 1882 in Fayette County, PA, the son of Alford and Mary L. (McGovern) McKnight. He was a prominent educator in Uniontown, the county seat of Fayette County.
Jesse may have been named for his great-uncle, Jesse Minerd, who was tragically killed in an accident in 1860.
Jesse married Minnie Margaret Tuit (1888-1921).
They had one daughter, Margaret McKnight Davis.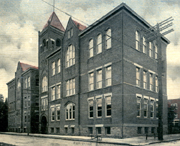 During the 1903-1904 school year, Jesse taught in North Union Township (Uniontown). At the very same time, teaching in the South Union Township schools was Roy Sheppard Minerd, who later became secretary of the first Minerd Reunion in 1913. In 1905, Jesse was posted to the Downer School in North Union.
In 1910, Jesse lived with his widowed mother along New Salem Road near Sandy Hill, where he was the principal of a public school. When the high school building opened on Sept. 11, 1911, with 343 students, Jesse was named ward principal of the school. The high school building is seen at right.
Two years later, he was mentioned by name in the 1913 History of Uniontown, Pennsylvania, authored by James Hadden, which stated that he was a ward principal of Uniontown High School.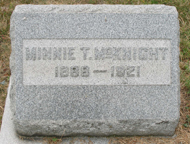 When the United States entered World War II, Jesse like many local men was eligible for the military draft. On his registration card, he stated his age as 36, occupation as public school teacher in Uniontown, and residence on North Gallatin Avenue.
By 1920, when the federal census was taken, Jesse continued to serve as the principal of a school in Uniontown. That year, he, Minnie, Margaret and his 68-year-old widowed mother lived under the same roof, in their home on North Gallatin Avenue.
Sadly, Minnie died at the age of 33 on Aug. 27, 1921, at their home in Uniontown. She was laid to rest in the McKnight family plot at the Sandy Hill Cemetery. Minnie was survived by her husband, daughter, mother and several brothers and sisters. Her passing was noted by the Connellsville Daily Courier.
The federal census listing for 1930 shows Jesse, daughter Margaret and 50-year-old sister Ella McKnight making their home together in Uniontown on Maurice Street. He remained employed as a public school teacher.
When a history of local schools was published in the Uniontown Morning Herald on Jan. 12, 1940, and on July 17, 1943, Jesse was named for his early role as a public educator.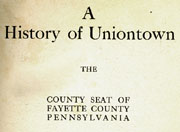 Jesse retired from teaching at some point and retired to Texas.
He passed away at age 70 on Feb. 27, 1953, in Travis County, TX. Funeral arrangements were handled by the Wilke Clay Fish Funeral Home. His remains are believed to have been shipped back to Uniontown for burial at Sandy Hill Cemetery, where his parents and grandparents rest for eternity.
Copyright © 2000, 2003, 2007-2008, 2011 Mark A. Miner