Sarah (McKnight) Newell
(1899-1990)

Sarah Barbara (McKnight) Neweell was born on June 1,1899 near Dawson, Fayette County, PA, the daughter of Charles and Keziah (Stimmell) McKnight. She was named in part for a grandmother she never knew, Barbara (Minerd) McKnight.
In about 1919, when she was age 20, Sarah married Emmet Carlton Newell (1899-1963), also age 20, the son of George and Lydia (Dillinger) Newell. He is seen at right.
They had four children -- Robert Carlton Newell, Lydia Ruth French, Dorothy Mae Newell and Clara Barbara Newell.
A year after the Newells were married, they lived at Florence Mines near Dawson, with Emmet working as a brakeman on the "electric railroad," as shown in the 1920 census. Among their neighbors that year were Sarah's uncle Osman Theodore McKnight, widowed cousin Mary Hester (McKnight) Strauch, and Oliver F.M. Nicolay, a family friend who formerly had resided near Mill Run, Fayette County, and attended the 1920 Minerd Reunion.
Emmet also made a living in the field of farming, and was a member of the Dawson Grange. They belonged to the Bryan Methodist Church in Dawson. When the federal census was enumerated in 1930, Emmet and Sarah and their four children made their home with his parents near Dawson in Lower Tyrone Township. That year, his occupation was given as "farmer."

Dawson Fairgrounds, from an old postcard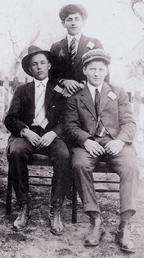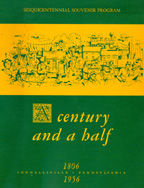 Emmet seems to have been close with his in-laws, especially with wife's brothers Clarence "Jay" McKnight and Daniel "Leroy" McKnight. They once had their photograph taken together, seen here. (Emmet sits at left, beside Leroy, with Jay standing behind.)
In mid-August 1956, when Connellsville, Fayette County celebrated its sesquicentennial (150th) anniversary, Emmett served on the Agricultural Day Committee along with distant cousins Graydon Work and Lawrence Leonard. Emmett was named in the official program booklet, today preserved in the Minerd- Minard- Miner- Minor Archives. A number of other cousins were active volunteers with the celebration, including former Connellsville Mayors Dr. H. Daniel Minerd and Ira David Younkin who were members of the Executive Committee.
At the age of 64, Emmet passed away in Westmoreland Hospital, on Aug. 10, 1963. Following the funeral held at their home church, he was laid to eternal rest at Green Ridge Memorial Park in Connellsville. At the time of Emmet's death, he and Sarah had produced 10 grandchildren and one great-grandchild.
Sarah outlived him by almost three decades. At the age of 91, she died on Nov. 1, 1990.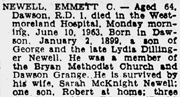 Daughter Lydia Ruth Newell (1921- ? ) married Martin Edward French (1917-1976). Their children were Martin Edward French Jr., Martha Jane French and Robert Paul French.
Daughter Dorothy Mae Newell (1923- ? ) married Henry Lewis Harkins (1920-1992). They produced two children -- Nancy Jean Heisterman and James Lewis Harkins.
Daughter Clara Barbara Newell (1930- ? ) married William Michael Peden Sr. (1929- ? ). They had four children -- Barbara Ann Matheny, Deborah Jean Peroney, William Michael Peden Jr. and Thomas Carlton Peden
Copyright © 2008, 2010 Mark A. Miner