George W. Menefee
(1859-1895)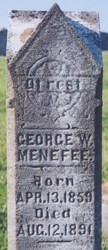 George W. Menefee was born on April 13, 1859 in Preston County, WV, the son of John and Ruhama (Hanshaw) Menefee. He is one of many railroaders in our family to have lost their lives in the workplace.
George was raised in the York Run section of Preston County. He is said to have been "very handsome."
He married Ida F. Troutman of Keyser, Mineral County, WV. Their children were Horace Frank Menefee, Hart Menefee and Columbia G. Barnhart.
By the late 1880s, they had moved to Potter, Cheyenne County, NE, where their first son was born.
Tragedy struck in 1895 when George, age 36, was killed by a train. An article in his hometown newspaper, the West Virginia Argus, in Kingwood, reported that:
George Menifee, son of John Menifee of York Run this county, was killed on the rail in Nebraska Aug. 11th. The remains were brought to Newburg and taken out to Evansville where they were interred Saturday Aug. 15th.
The deceased leaves a wife and two children to mourn his sudden death... The family moved to Nebraska several years ago, and Mr. Menifee engaged in railroading till his death, the particulars of which we have been unable to learn, except that he fell from the train and was killed while breaking.

The harsh Nebraska landscape of Point of Rocks near Potter. Note the curving railroad track at right.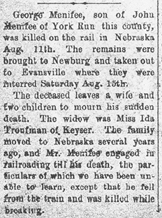 His grave stone stands tall and legible today in the cemetery of the Methodist Church of Evansville, WV. The base of his marker, seen at left, includes a moving poem that reads as follows:
Dearest loved one we have laid thee
In the peaceful grave's embrace.
But thy memory will be cherished
Till we see thy heavenly face.
Widowed at a young age, Ida rebuilt her own life and raised their children. She was an educator, and taught at some point at Potomac College in Maryland.
Thanks to the Menefee family association for sharing their information with us that has led to further discoveries about George.
Copyright © 2000, 2004 Mark A. Miner