Robert "Franklin" Menefee
(1865-1923)
Robert "Franklin" Menefee was born in 1865 in or near Newburg, Preston County, WV, the son of John and Ruhama (Hanshaw) Menefee.
Little is known of Frank's life. He married Minnie May Proudfoot (1865- ? ) in 1905 in Preston County. They were both age 40 at the time. Minnie was the daughter of (?) and Emily (Freeman) Proudfoot of Preston County.
Frank was a railroader at an early stage in his career. In its column on news of Newburg, the July 3, 1897 Grafton (WV) Sentinel reported that "Mr. Frank Menifee, a third division engineer, is spending this week with his mother and many friends here." The federal census of 1910 shows Frank and Minnie, both age 45, living in Newburg, where he was employed as a locomotive engineer.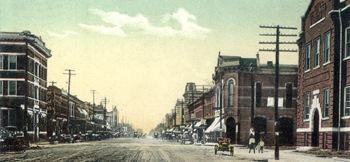 Looking south on Wellington's unpaved Main Street circa 1909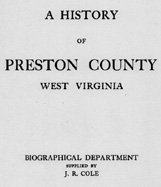 At some point Frank relocated to Kansas, settling in Wellington, Sumner County. In 1912, the June 6, issue of the Preston County Journal said:
Frank Menefee of Wellington, Kansas, was in town Wednesday calling on his many friends. Mr. Menefee is employed by a lubricating oil company with headquarters at Wellington. He is on his way to Atlantic City where he will attend a convention of railroad men.
When the landmark book, A History of Preston County, was authored in 1914 by H.S. Whetsell, Minnie was mentioned in a profile of her brother, Dr. M.H. Proudfoot, and was continuing to reside in Wellington.
Frank died in 1923, but his burial site is unknown. Likewise, Minnie's fate is not known. Frank is mentioned briefly in a lengthy profile of his brother in law Frank Stuck in The History of West Virginia, Old and New, published in 1923 by the American Historical Society, Inc. (vol. II. page 500).
Thanks to the Menefee family association for sharing their information with us that has helped with this bio.
Copyright © 2000, 2004, 2008 Mark A. Miner