Home

Helen (Miller) Feeney
(1890-1922 )
Helen (Miller) Feeney was born in January 1890 in Uniontown, Fayette County, PA, the daughter of George B. and Mary Jane "Jennie" (Minerd) Miller.
On April 10, 1907, when Helen was age 17, she married Frank Feeney ( ? - ? ). (A census-taker once incorrectly wrote the surname as "Tuneen.") After just 14 months of marriage, they separated on Aug. 1, 1908. At the time, Helen was expecting, and gave birth to their daughter Gertrude Feeney in 1909.
Citing desertion, Helen filed for divorce, and it was granted in late October 1913. A short article about the legal matter appeared in the New Castle News.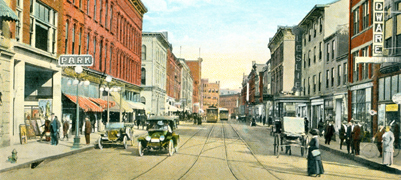 Looking east on New Castle's Washington Street, from the public square
When the federal census was taken in 1910, Helen made her home with her parents in New Castle, Lawrence County, PA. A single mother already by the age of 20, she and two-year-old daughter Gertrude were together in the household that year, along with Helen's older brother Frank.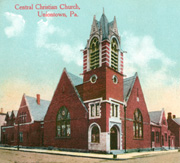 Central Christian Church, Uniontown
Helen was still marked as "married" as of 1920, but made her home with her newly widowed father back in Uniontown. She earned a living as a clerk and belonged to the Central Christian Church in Uniontown, seen here.
Tragically, on Nov. 11, 1922, at the age of 32, Helen died in the Uniontown Hospital. Death was due to "a complication of diseases," reported the Uniontown Morning Herald. The examining physician ruled the cause of death as septicemia (blood infection) and pelvic peritonitis. The funeral was held at the home of her brother Hadden Miller, led by Rev. G.W. Watson, pastor of the Central Christian Church. Burial followed in Oak Grove Cemetery in Uniontown.
Daughter Gertrude Feeney (1909- ? ), left motherless at the age of 13, went to live with her aunt and uncle, Gertrude and John H. Turley in Fairmont, Marion County, WV. There she grew to adulthood, and accepted a position as a stenographer in the auditing department of Fairmont Mining Machinery Company.
While at the company, Gertrude met her future husband, who was employed in the engineering department. At the age of 17, on Oct. 23, 1926, Gertrude married Herbert A. Lavely ( ? - ? ), son of Rev. and Mrs. John A. Lavely. The wedding took place in the Turley home on Chicago Street, performed by the grooms' father. The bride wore "a girlish frock of crepe back satin with a corsage of sweetheart roses," said the Uniontown Morning Herald. The happy couple went on a honeymoon, "a motor trip through the mountains of Pennsylvania and Maryland... Upon their return they will be at home to their friends at the residence of the bridegroom's parents in Watson avenue."
Their fates after that are unknown.
Copyright © 2005-2009 Mark A. Miner