David 'Nesbit' Miner
(1838-1909)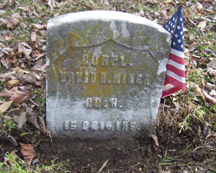 Elmwood Cemetery, Kansas City
David "Nesbit" (or "Neb") Miner was born on Nov. 25, 1838 at Unity, Columbiana County, OH, the son of Burget and Sarah Ann Miner. He was a soldier in the Civil War, and he and his wife were pioneer settlers of Nebraska.
Nesbit stood 5 feet, 6 inches, with blue eyes and light hair, and weighed 130 lbs. In the years before the war, he lived in Van Wert, Van Wert County, OH and worked as a carpenter.
As the Civil War was being waged, when he was 22 years of age, Nesbit joined the Union Army on Sept. 8, 1861, as a member of Company K of the 15th Ohio Infantry. [While Henry Clay Minor, a distant cousin, also served in the same regiment, Henry had mustered out and joined another regiment at the end of August 1861, less than 10 days before Nesbit enlisted.]
In November and December of that year, Nesbit was detached from the regiment and served as a steward in the Army hospital at Camp Nevin, KY.
Nesbit later rejoined his regiment. In early 1862, the regiment was stationed near Camp Wood in Kentucky, along the Green River. Presumably they helped guard the construction site of a new railroad bridge spanning the river, which was completed on Jan. 8, 1862. "The whistle of the first engine which crossed it was gretted by cheers from all parts of the camp and we thought we would now make another forward movement," wrote Nesbit's fellow soldier Andrew J. Gleason in his diary. "Some of the companies went out to discharge their guns. 'Neb.' Miner was on guard at the spring and arrested a member of the thirdy-second Indiana for violation of some rule. The man caused some amusement by his protests but 'Neb.' held him at the point of his bayonet until a corporal came and took him to the colonel's quarters." [This account was published in 1916 in The Fifteenth Ohio and Its Campaigns, War of 1861-5, authored by Capt. Alexis Cope.]

History of the 15th Ohio with a story about Nesbit, known as "Neb."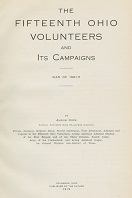 Civil War history
naming Nesbit
Nesbit eventually was promoted to corporal. The regiment saw action at the battles of Chickamauga, Pickett's Mills, Stone River and Resaca. In July 1864, Nesbit served with General William Tecumseh Sherman's troops, in the Atlanta region. In the words of his regiment's surgeon, William M. Clark, David took part in a quick time march with the regiment from Vining Station, GA and:
… in the line of his duty at or near Chatahoochee River in the state of Georgia [David] did on or about the 10th day of July 1864 become disabled in the following manner--: After making a forced march of 20 to 25 miles through a rough country on an excessively hot day the regiment was exposed to a drenching rain, causing considerable sickness in the regiment….
Nesbit himself recalled that Sherman had:
…forced a crossing about 20 or 21 miles above where we was stationed and … we was ordered to reinforce at Double Quick time which order came about 12:00 noon. We made the march by 5 or 6 o'clock the same evening and was still in line, the men almost [illegible] & some left on the road. At this moment their came a hevy thunder storm drenching us to the skin. Without blankets or tents we dryed ourselves … slightly. As best we could, gathered brush for a bed & went to sleep. Some time in the night I got up to urinate but found the passage stoped. I forced myself for a time before I had an evacuation after which I shook as though I had an ague and at day light I found myself in the same situation and found I passed most all blood.
Recalled regiment Captain Julius A. Gleason, Nesbit suffered "an attack of hemorrhage and inflammation of kidneys and bladder. Although he remained with the regt. and performed duty a part of the time until sent to Hospital at Victoria Texas (during the march to San Antonio Tex.) I do not think he was able bodied from July 10, 1864 until discharged."
He was treated in the hospital at Victoria, TX in July and August 1864. He was discharged at San Antonio, TX on Nov. 21, 1865, and mustered out of his regiment on Christmas Day at Camp Chase in Columbus, OH. In all, he had served for four years, three months and 14 days.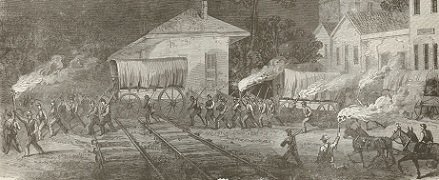 Army troops passing through Resaca, Georgia at night
On Sept. 21, 1868, at Van Wert, Nesbit married 17-year-old Caroline Amelia Crumrine (1851-1911), daughter of Peter and E.J. (Swartzell) Crumrine. The ceremony was performed by Rev. Mounts. Nesbit was nearly two decades older than his wife.
They went on to have six children, of whom five are known – Emma J. McMullen, Charles T.J. Miner, Cora N. Cummings Dotson, Laura E. "Lottie" Farrell and Edward A. Miner (possibly also known as George). One of the offspring was deceased by 1900.
In 1866, the Miners bought a lot in the town of Van Wert. Then, in 1869, they purchased town lot 7 in the nearby village of Willshire, OH.
As he aged, Nesbit continued to suffer from his wartime illnesses. In his own words:
The disease was acute for 4 or 5 years after my discharge & one time Dr. McGovern gave me up and said he could do nothing for me. After such time the disease became chronic. The pain is not so severe unless I take cold and when I take cold it always goes back to the old complaint. At the present time I never go to bed without getting up 5 or 6 times a night [to urinate].
In June 1871, Nesbit and Carrie and their five-month old daughter Emma left Ohio and moved to Columbus, Platte County, NE. Said the Columbus Journal, "Mr. Miner was a resident of this city for a good many years..." He obtained contracts for such work as constructing new schoolhouses and frontages for Fitzpatrick's Book Store and Brainard's Drug Store. In 1884, he helped erect a building for Charles Brindley in the northern part of town, at the corner of 16th and M Streets.
He became engrained in the Columbus community and in 1878 served as secretary of the Pioneer Hook and Ladder Company as well as executive committee member of its annual fundraising ball, held at the Opera House. The Columbus Journal in June 1884 reported that he had erected a "neat" picket fence around his town lot.
Nesbit was active with the local veterans organization and in August 1881 made news in the gossip columns of the Columbus Journal, which said that "with his bugle playing the old calls reminded those who heard him of the days of long ago, and camp life in the south."

Rare old postcard of 13th Street in Columbus
By 1886, the Miners had migrated to Kent, Loup County, NE. Stories in the Journal noted that he returned to Columbus at times and stayed for several days at a time. In 1889, they were on a farm six miles from Burwell, Garfield County, NE. Nesbit worked during these years as a carpenter and contractor, but was so weak that he said he often hired other men to do the laboring, among them Charles Fuller in Garfield County.
While in Nebraska, as compensation for his wartime illness, Nesbit successfully petitioned the federal government for a pension. As of 1909, he was receiving $15 a month.
When a special census was made of Civil War veterans in 1890, Nesbit was listed as living in Burwell. He disclosed to the census-taker that he was a pensioner and that he suffered from "inflammation of urinary organs."
Caroline made news in the gossip columns of the Columbus Journal in late August 1892 when she and her son Charles, in company with J.R. Meager and family and S.L. McCoy and family traveled to the town of Grand Island.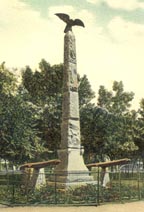 War memorial in Columbus
By March 1891, the Miners were back in Columbus. He rank for the elected position of city clerk on the Republican ticket. In a story about his candidacy, the Journal reported that "He is active, prompot, attentive to business, and will make a good clerk. He is a man of family, and has a lively interest in the welfare of the city. He was a faithful soldier of the republic during the war of the rebellion, and understands the full force and meaning of the word 'cuty,' when applied to serving the public. A vote for Miner will be well placed." He indeed was elected and served under Mayor John G. Pollock.
In 1893, Nesbit felt short-changed in payments made by the local Congregational Church for work he had performed. He filed suit in county court, and won the case, but was awarded only $28.15 instead of the $100-plus he was seeking.
Caroline traveled to Chicago in November 1893 to attend the World's Fair. While there, noted the Courier, she visited a brother "whom she had not seen for twelve years." In March 1894, the Miners received word from their old home region of Van Wert that his mother had died at the age of 77.
Despite the many years they had been married, the Miners' union was troubled. In July 1895, the Courier printed the news that Sheriff Kavanaugh had taken Caroline to the Nebraska State Hospital for the Insane at Norfolk. She spent nine weeks at the asylum and returned home in early September of that same year.
Nesbit received a shock at Christmas 1897 when he learned of the death of his brother T. "Jefferson" Miner. The news was published in the Courier. But the report was erroneous, however, as the brother lived for another five years until December 1902.

War memorial, Columbus
Nesbit in about 1898 was named to a committee to erect a Civil War monument in the middle of Frankfort Square in town. His skills in construction would have been valuable to the committee, whose other members were J.H. Galley, H.T. Sperry, J.R. Meagher, E.O. Rector, R.L. Rossiter and Ed. W. Clark. The group obtained two old cannons from California. A 65-ton barre granite stone measuring 30 feet high was installed as the base, and on top was placed a bronze eagle with a wingspan of six feet. The names of 132 men were inscribed on the granite base. The monument is seen here in an old postcard view circa 1907, and Nesbit's name carved on its base is still seen today.
Nesbit received word in January 1899 that his aged father was very ill back in Van Wert. He left Columbus to travel to be at his father's side. Fortunately, the father recovered and lived for another decade. Upon returning to Columbus, Nesbit told a Courier writer that "even old-time Ohioans cannot appreciate the wonderful difference there is between the roads of Nebraska and those of the Buckeye state. There,-- Mud, mud, mud, without limit, and no small depth either. The good people of Ohio are all right, but more of them ought to see Nebraska."
In 1900, when the federal census was taken, married daughter Cora resided in their home, with her two young children, Ownie Cummings and James A. Cummings. However, on Dec. 20, 1901, just five days before Christmas, Caroline and Nesbit separated, after 35 years of marriage. She left home and never returned, except "after many months absence, ... for a short time, ... only as a visitor to the rest of the family..." During that visit, she "refused to have anything to do with" her husband.
Caroline traveled back to Van Wert in April 1903 to visit her relatives, and spent two months there. While in Van Wert, she attended the funeral of her niece Carrie Allen. She also wrote home to say that her father in law, "Grandpa Miner," age 92, was "very low at this writing." She brought back her niece's seven-year-old daughter Eulalia Kisner, and stopped in Council Bluffs to collect her grandson Albert Cummings and bring him back to Columbus as well.
Nesbit filed for divorce in the Platte County District Court on Feb. 16, 1904. Caroline was absent and refused to defend herself, and the divorce was granted by the judge the following month, on March 23, 1904.

Council Bluffs' Broadway Street
Following the divorce, Nesbit apparently moved to Council Bluffs, IA, presumably into the home of one of his married daughters -- Mrs. Harvey Farrell or Mrs. Melvin Dotson. A rare old postcard photograph of Council Bluffs' Broadway Street is seen here.
After several years there, he was admitted in 1906 to the National Military Home in Kansas City, MO. Later, he moved in with his son Charles at 415 Vine Street in Kansas City.
In the summer of 1907, the family apparently reunited for a large family meal in Omaha, where Caroline was living. Reported the Columbus Journal:
Mrs. Emma McMullen and daughter Della went to Omaha Thursday morning to visit the former's mother Mrs. D.N. Miner, and while there was present at a family reunion. After an absence of four years D.R. [sic] Miner, wife and five children gathered arouind the board and enjoyed the feast as in days gone by. Those present were Maud, Mrs. T.J. Miner of Kansas City MO., Mr. and Mrs. Dotson, and Edward Miner of Omaha, Mrs. Farrel of Council Bluffs Iowa and Mrs. Emma McMullen of Columbus. Mr. and Mrs. D.N. Miner will be remembered as having lived in this city several years ago.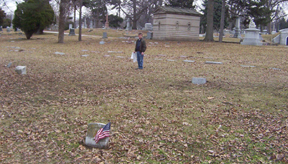 Carrie Miner's burial site, Kansas City
Nesbit died in his son's home in Kansas City on May 30, 1909 and was buried at Elmwood Cemetery in Kansas City. Said the Journal, "Mr. Miner had been in poor health all winter, due to old age, and while he seemed to get better with the approaching warm weather, he did not regain strength. Old soldiers acted as pall bearers at his funeral, and members of the army of the Philippines."
News of his death also was printed in his old Ohio hometown newspaper, the Van Wert Twice-A-Week Bulletin:
D. Nesbit Miner, well known to the older inhabitants, as the son of the late Burget Miner, died in Kansas City.... Mr. Miner had been living in Nebraska for several years. Recently he moved to Kansas City.
Carrie suffered a hemorrhage and passed away on Nov. 13, 1911 in Kansas City. She was laid to rest in Elmwood Cemetery, a short distance from Nesbit's burial site, but her grave was not marked. Son Charles signed her officials Missouri certificate of death.
In the photo seen here, great-great grandson Gary McMullen stands on the approximate site of her grave, with Nesbit's standard-issue military marker and flag in the foreground.
~ Daughter Emma J. (Miner) McMullen ~
Daughter Emma J. Miner (1870- ? ) was born in about 1870 in or near Wilshire, Van Wert County, OH. As a toddler she migrated with her parents to Nebraska, where they first made a home in Columbus, Platte County.
Emma was wedded to Fred McMullen ( ? - ? ).
They had one known daughter, Della McMullen.
In 1891, they made their residence in Ord, Loup County, NE but by 1901 were in Osceola, IA and in 1907 dwelled in Columbus.
Emma is known to have stayed with her parents for eight weeks in July and August 1891, returning to her home in Ord after that time. Her mother than came for a visit just before Christmas that year, and upon returning home, told a Columbus Journal correspondent that "with the crops raised the past season people there are in much better circumstances than the year before."
~ Son Charles T.J. Miner ~
Son Charles T.J. Miner (1871- ? ) was born in November 1871 in or near Columbus, Platte County, NE, shortly after his parents had relocated from Ohio. Hew grew up learning his father's carpentry trade.
Charles obtained a contract from the City of Columbus in December 1892 for installing sidewalks along city streets. Reported the Columbus Journal, he was to be paid "65 cents a foot linear measure for sidewalks 10 feet wide, and 191/2 cents for those 4 feet wide." In October 1897, he was selected as a subcontractor for C.C. Hardy in the construction of a 14 ft. by 28 ft., two-story house for John Galley, and in June 1901 for the residence of E.H. Frank in the Evans addition of town.
Proud of his father's Civil War service, Charles joined the Sons of Veterans, Union Camp No. 134. In late December 1896, he was elected second lieutenant of the organization and was named a delegate to attend the state encampment in Omaha in February 1897. During Memorial Day commemorations in Columbus, he played taps while special services were held at soldiers' gravesites.
During the Spanish-American War, Charles served in the U.S. Army with Company K of the 1st Nebraska Volunteer Infantry. He wrote a letter home from the Philippine Islands which was printed in the Aug. 24, 1898 edition of the Journal:
We have landed and are in camp a mile and a half from Manila. The insurgents had quite a battle yesterday morning, when he landed. Everything here is heathenish. Houses, horses and boats are of the old heathen style. The natives are a queer people -- something of the Malay race, with all kinds and sorts of race diseases including leprosy. Out in the bay, where we lay awhile before coming ashore, the stench from the dead Spanish of the sunken fleet was fearful. Just after supper the lower half of a Spanish body came floating by the Senator, and made about half the boys sick. The Monterey is expected in tonight, and if she comes we will probably take Manila in a few days. I like the country; have good health, and feel like a fighting cock all the time.
Charles wrote many more letters home from the army, and these duly were printed in the Journal.
When the U.S. Census count was made in 1900, the unmarried 28-year-old lived with his parents in Columbus and earned a living as a carpenter.
On Nov. 27, 1902, when he was 31 years of age, Charles was married to 23-year-old Della M. "Delight" Wells (1879- ? ) of Columbus. The deremony was held in St. Luke's Episcopal Church of Plattsmouth, NE. In announcing the upcoming wedding, the Courier said: "Miss Wells was for some time a competent helper in the composing room of the Argus office and became acquainted with many Columbus people while here. Mr. Miner is a Columbus boy and needs no introduction to our readers. We extend wishes for their happiness through life."
They had two known offspring, Jennie D. Miner and Charles R.O. Miner. Sadly, little Charles died in Kansas City in September 1913 at the tender age of 15 days, caused by acute kidney failure and lack of vigor. His remains were interred in Elmwood Cemetery.
He obtained employment circa August 1901 as a coach repairer with the Burlington and Missouri Railroad shops in Alliance, NE. By February 1903, he had secured a new job with the Big Four Railroad Company in St. Joseph, MO, working there as a finisher. Reported the Journal, "He is getting good wages and is well pleased with his work."
A story in the Journal in July 1903 noted that he and his wife resided in Plattsmouth, NE and that he was "now receiving treatment for an arm which did not heal perfectly from a fracture received about two years ago."
Circa 1906, he lived at 415 Vine Street in Kansas City, and his aged father died in the residence. They remained in Kansas City as shown in the 1910 census, with an address of Wayne Avenue. In 1910, Charles' widowed mother lived in their home, in addition to 25-year-old brother in law John M. Wells and cousin 14-year-old Earl (?) Thomas. By 1911, they had relocated within Kansas City to a house at 132 North White. There, his mother died on Nov. 13, 1911. The Miners remained at 132 North White in 1913.
Daughter Jennie D. Miner (1907- ? ) was born in about 1907 in Kansas City, MO.
~ Daughter Cora (Miner) Cummings Dotson ~
Daughter Cora Miner (1877- ? ) was born in January 1877 in or near Columbus, Platte County.
In 1894, at the age of 17, she was united in wedlock with W.A. Cummings ( ? - ? ).
They had at least two children, Iona "Ownie" Cummings and James "Albert" Cummings.
Circa April 1896, when their first child was born, they resided in Osceola, Iowa. Less than three years later, by January 1899, they had relocated back to Nebraska, making a home in Omaha. Cora traveled to Columbus in May 1899 to spend a month with her parents, as reported in the Columbus Journal.
The federal census enumeration of 1900 shows Cora and her two children living with her parents in Columbus. The whereabouts of her husband are not known.
By 1910, Cora had married again, to Melvin Dotson ( ? - ? ). They made their home in Council Bluffs, Iowa. In late July or early August 1910, she suffered a slight stroke and was somewhat paralyzed, but a story in the Columbus Journal noted that "Her friends in this city will be pleased to hear of her speedy recovery."
Daughter Iona "Ownie" Cummings (1896- ? ) was born on April 20, 1896 in Iowa. News of her birth was published in her mother's home town newspaper, the Columbus Journal. In February 1903, when she was age six and living with her parents in Omaha, she traveled with her brother and grandmother Caroline Miner back to the Miner home in Columbus.
Son James "Albert" Cummings (1899- ? ) was born in January 1899 in Nebraska, most likely in Columbus.
~ Daughter Laura "Lottie" (Miner) Farrell ~
Daughter Laura "Lottie" Miner (1883-1958) was born in March 1883 in or near Columbus, Platte County, NE.
At the age of 20, she was employed in the hat factory of the Boston Store in Omaha. She made news in the Columbus Journal gossip column when she visited her brother Charles who had secured a new railroad carpentry job in St. Joseph, MO. In January 1904, she relocated to Council Bluffs, Pottawatomie County, IA, where she had obtained work in a restaurant and where her married sister Cora Dotson made her home.
In 1905, when she was 18 years of age, Laura was joined in marriage with 29-year-old Harvey A. Farrell (1876-1957), whose father was an immigrant from Ireland. They made their home in Council Bluffs in 1910-1920, where Harvey was employed as an engineer with the Chicago, Rock Island and Pacific Railroad, also known as the "Rock Island" or the "CRI & P."
The couple produced at least five children -- Chester Farrell, Milton Farrell, Frank Farrell, Stanley Farrell and Eloise Farrell.
By 1930, the Farrells' marriage had dissolved, and they divorced. The 1930 census shows Laura heading a household on 10th Avenue in Council Bluffs, and Harvey at age 52 boarding a short distance away on 10th Avenue, under the roof of Chester and Manda Sanville, and continuing his work as a railroad engineer.
Harvey passed away in 1957, with burial in Cedar Lawn Cemetery in Council Bluffs.
Laura only lived for a year more and died in 1958, with burial also in Cedar Lawn Cemetery.
Son Chester Farrell (1907- ? ) was born in 1907 in Council Bluffs. In 1930, at age 23, he lived at home but had no occupation.
Son Milton Farrell (1909- ? ) was born in 1909 in Council Bluffs.
Son Frank Farrell (1910- ? ) was born on Nov. 18, 1910 in Council Bluffs and weighed 12 lbs. at birth.
Son Stanley Farrell (1913- ? ) was born in 1913 in Council Bluffs.
Daughter Eloise Farrell (1921- ? ) was born in about 1921 in Council Bluffs.
~ Daughter Edward A. Miner ~
Son Edward A. "Eddie" Miner (1885- ? ) was born in July 1885 in or near Columbus, Platte County, NE. He may have used the name "George" but this is being sorted out.
At the age of 11, he was injured one day in a freak accident in Columbus. Reported the Columbus Journal: "Ed. Miner ... endeavored to get into the side door of Butler's milk wagon while the horses were on a full trot, but, missing his reckoning in some way, fell between the wheels and had an arm and leg bruised."
In November-December 1900, he and his mother and sister Laura "Lottie" spent a month visiting with friends in Omaha.
Edward at age 16, in 1901, began working in his father's carpentry contracting business, which took on the name "D.N. Miner & Son."
~ For More ~
For more information, please contact great-great granddaughter Marcia (McMullen) Driggs.
Copyright © 2002, 2004, 2007, 2015-2016 Mark A. Miner