Home


Eli and Mary Ann Minerd
Eli Minerd was born in September 1831 on the family farm at Hexebarger near Kingwood, Somerset County, PA, the youngest of nine children of Jacob and Catherine (Younkin) Minerd Jr. He was an early coal and coke laborer in our family.
When Eli was just 11 years old, in November 1842, his father died after being crushed while cutting down a tree. Then, in August 1847, when his mother died of stomach trouble, Eli was rendered an orphan at the age of 16. The Somerset County Orphans Court appointed Jonas Younkin and Aaron Schrock as his legal guardian.
Eli's guardian, cousin Jonas Younkin (1803-1880+), is believed to have been the son of Jacob and Hannah (Nicola) Younkin Sr. Just a few years earlier, Jonas had led the founding of a Disciples of Christ (Christian) Church in the Kingwood area and, as such, would have been highly respected by Eli's parents. This may be why, in his last will and testament, Eli's father had written: "I earnestly entreat my wife's utmost care respectively in and about the morals and education of my children ... and desire that they be brought up and instructed in the doctrine and religion of the Christian Church.." After Eli became an adult of legal standing, Jonas left the area in the 1850s, migrating to Iowa, and Eli also moved away to nearby Mount Pleasant, Westmoreland County, PA.
In 1855, when he was 24 years of age, Eli married 19-year-old Mary Ann Baer (1836-1887). Her parents are believed to have been Henry and Margaret "Anna" Baer of Allegheny Township, Westmoreland County. She probably was related to famed Judge William J. Baer, of German heritage, who was prominent with the Somerset County Court of Common Pleas, and who purchased the farms of Eli's brothers as a coal and mineral rights investment in the 1860s.
The Minerds' seven children were Emma C. Thurston, Rev. Isaac Herschel Minerd, Charles Marion Minerd, Martha Jane "Mattie" Stairs, William Osborne Minerd, Marietta Crosby and Margaret "Maggie" A. Minerd.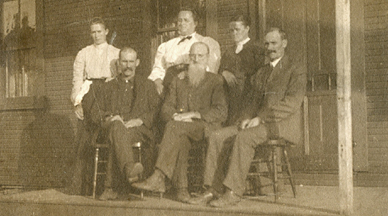 Eli, seated, center, with 5 of his adult children, possibly at the funeral of son William, killed in a railroad accident. Back, L-R: Marietta Crosby, Emma Thurston, Mattie Stairs. Front, L-R: Charles, Isaac.
Eli apparently held strong political views. In late August 1880, reported the Connellsville Keystone Courier, he attended a "large and enthusiastic meeting of the followers of Hancock and English ... at Mullin's Station on Friday evening. The books were opened for the reception of new members, and quite a large number were added to the list... This club now numbers over ninety mine, and in a short time will be increased to one hundred and twenty five." At this meeting, Eli was elected vice president, joining president Henry W. Fultz, secretary David Burns, corresponding secretary George W. Fultz and treasurer James Devlin among the executive leadership.
Sadly, heartache rocked the family when little daughter Maggie died as a three-year-old, of diphtheria, in August 1876. She received a terse obituary in the local Mount Pleasant Dawn newspaper. Her tiny remains were laid to rest in the family plot at Alverton Cemetery west of Mt. Pleasant, Westmoreland County, PA.

Coke oven laborers on strike march through Mt. Pleasant in the winter of 1886, above, and angry strikers attacking a local coke works to protest low wages and long hours. Courtesy of Frank Leslie's Illustrated Newspaper, Feb. 6, 1886.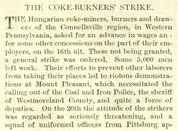 Frank Leslie's Illustrated, 1886
In 1860, the Minerds lived near Dawson, Fayette County, PA, where Eli probably labored at the Jimtown Mines. During the Civil War years, he is believed to have sent many letters to his nephew, Ephraim Miner, who spent 3½ years away in military service for the 142nd Pennsylvania Volunteer Infantry and the 22nd Veterans Reserve Corps.
By 1870, they had moved to Stauffer and Bridgeport, near Mt. Pleasant, attracted by the prospect of employment at the mines. It's possible Eli worked for the H.C. Frick Coke Co. at its Standard mine and coke ovens. Standard began operations in 1878, and was considered at one time to be the largest beehive coke plant in the world. Some 16 years later, an article in a national newspaper said that Mt. Pleasant had 4,000 inhabitants and was "devoted entirely to the coke-burning industry. There is an almost solid line of coke-ovens from Mount Pleasant to Broadford, twelve miles south..."
Eli's teenage nephew, Daniel Martin Younkin, came to Bridgeport from Kingwood about the same time and was hired to help build boats. In 1880, Daniel resided in Mt. Pleasant just three doors away from Eli's married daughter, Emma (Minerd) Thurston. While he later moved back to Somerset County, settling in Rockwood, Daniel maintained a friendship with Eli's family for many decades.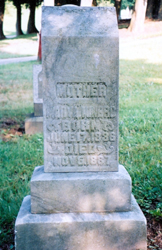 Mary Ann (Baer) Minerd's
grave at Alverton
Only one photograph of Mary Ann is known to exist, a tintype seen at the top of this biography. She is said to have been a churchgoer, and wouldn't allow Eli to drink or smoke. She joined the Mt. Pleasant Church of God by profession of faith in September 1878, and persuaded her husband to join the following month, also on a profession.
The Minerds may have been influenced in their decision to engage with the Church of God congregation for several reasons. First, Eli entered adulthood under the influence of the church, as one of the earliest Churches of God, Old Bethel, sat just several hundred yards from the log house in which he was raised. Second, the weddings of his sister Catherine to Harrison Barnhouse and nephew Ephraim Miner to Rosetta Harbaugh were performed by well-known Church of God pioneer Rev. John Hickernell. Third, another early pastor, Elder Peter Loucks, was active in planting Churches of God in Mt. Pleasant and Alverton, and would have known the family well and encouraged their participation. (For more on Loucks, see the Historical Society News Magazine of the Churches of God Historical Society.)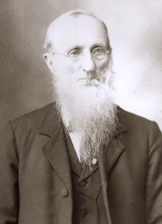 Eli in older years
In the winter of 1886, a violent labor dispute broke out in Mt. Pleasant, involving coke oven "burners" and "drawers" who were low-paid immigrants from Hungary and Poland. The men, receiving eight cents for leveling, wanted 10 cents; wanted 60 cents for drawing instead of 55; and asked for 30 cents for digging, not 27. They also asked for shorter work days, down from the 15-hour-a-day standard and abolishment of notorious company stores. The company rejected the request, saying business was bad and the increases could not be afforded. Some 5,000 men walked off their jobs and went on strike. When the company hired replacement workers, or "scabs," the Hungarians tried to block the new men, which "led to riotous demonstrations," reported Frank Leslie's Weekly, a national newspaper. The company's Coal and Iron Police rushed to the scene, as did the sheriff of Westmoreland County, and later uniformed law enforcement officers from Pittsburgh. One band of strikers attacked the Alice Works, "drove out the operatives, and wrecked cars and furnaces." No one was killed, but both physical and psychological damage was done.
A year after the coke strike, Mary Ann died at age 51 on Nov. 5, 1887. The cause of her passing is unknown. She was laid to rest beside her daughter Maggie at Alverton Cemetery, and a grave marker was erected in her memory. The marker is seen here as photographed in March 1990, and is still legible today.
Eli never remarried, and spent the remaining nearly quarter century of his life as a widower. He is seen here as an older man, in a more formal studio portrait setting. He remained close with his brother Charles Minerd over time and often traveled to Charles' mountain home at Maple Summit near Mill Run, Fayette County, to go fishing.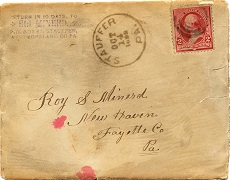 Envelope and printed return address, 1892. See entire letter [PDF, 632 KB]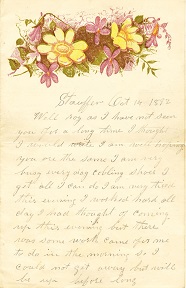 Eli's letter, 1892
Demonstrating an ability at age 61 to write and express his thoughts clearly, his affection for his grandchildren and an optimistic interest in public education, Eli in mid-October 1892 wrote a three-page letter to his grandson Roy Sheppard Minerd. The grandson, age seven, was residing with his parents in New Haven (South Connellsville), PA. The letter still survives, and the envelope shows that Eli's post office box in Stauffer was 87. The letter reads in full:
Stauffer Oct. 14 1892
Well roy as i have not seen you for a long time I thought I would write. I am well hoping you are the same. I am very busy every day cobling shoes. I get all I can do. i am very tired this evening. I worked hard all day. I had thought of coming up this evening but there was some work came for me to do in the morning so I could not get away but will be up before long.
Well I hope you are going to school every day and learn to be a good scholar so you can teach school in the winter and perhaps will grow up to be a great and usefull man. Willie is going every day. Mr. Bigman is teaching our [s]chool. He has 93 scholars. Ever scince Eva had the diptheria she can't talk plain so you can hardly understand hir. Litle Loyd Crosby is begining to walk, the rest of you litle cousins all well. We will have a big fair in mount pleasant on the 20-21-22. It will be grand. All the litle boys and girls are going to march through the streets and all the store keepers will have decorated wagons. All the sacred orders will march. We are all going up to have a joley time. I want you and your Pa to come down and see the grand jubillee. Well I must coles for the present. I will be up on Saturday evening. If I can get away will tell you all about the Columbus Exposition.
From your Grand Pa
E. Minerd
The "Columbus Exposition" referred to in the letter actually was the World's Columbian Exposition, or "World's Fair," held in Chicago to mark the 400th anniversary of Christopher Columbus' landing in the New World. It was dedicated on Oct. 21, 1892 and continued to be open for a year until the end of October 1893. Evidence suggests that Eli attended this event and brought home a souvenir.
At the age of 74, just after the start of the new year in 1906, Eli suffered the tragic and grisly death of his railroader son William, who was killed in a railroad accident in Connellsville. Eli had to travel to Connellsville and to endure the horrific task of identifying the mangled corpse. Compounding the horror was that the son had recently let his life insurance lapse, meaning Eli did not receive any financial compensation from his son's untimely death. We cannot imagine the agony.

The Standard coke plant of the H.C. Frick Coke Co., early 1900s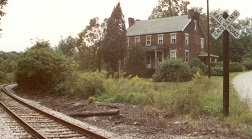 Home shared by Eli & son Charles, Bridgeport
Later in 1906, Eli is known to have traveled to Scottdale, Westmoreland County, most likely to visit his ailing and dying brother, Jacob Minerd III.
Eli earned a living as a cobbler in his later years. As an old man, he lived with his married son Charles and large family for a time at Bridgeport, in a brick duplex building adjacent to railroad tracks, seen here.
Raised in neighboring Westmoreland County, Eli's adult children and grandchildren remained in contact with their Minerd-Miner cousins in Somerset and Fayette Counties over the years. In 1908, Eli's granddaughters Sarah "Jenne" (Minerd) Baily and Ethel (Buchanan) Minerd are known to have kept in touch with Agnes Miner, daughter of Eli's nephew Martin Miner of Normalville, Fayette County, PA. As well, Eli's grandson Roy Sheppard Minerd attended college with cousins Edward Campbell Miner and Andrew Jacob "Budd" Enos at what is now California University of Pennsylvania, with all three graduating in 1909 and going on to teach.
In the spring of 1911, Eli caught pneumonia and was hospitalized, presumably at the Frick Memorial Hospital in Mt. Pleasant. At about that time, he also was injured when falling down a flight of stairs. Family members smirked that he "tripped on his beard" which would have been out of fashion at that time. Sadly, he died at the hospital a few days later, on April 11, 1911. The Mount Pleasant Journal reported that he was "one of Bridgeport's oldest citizens."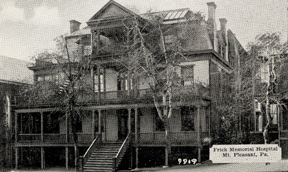 Frick Memorial Hospital, where Eli died in 1911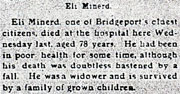 Mt. Pleasant Journal, 1911
He and Mary Ann are buried side by side at the Alverton Cemetery near Mt. Pleasant, next to daughter Maggie and son William.
Eli's grave marker crumbled over the years, and eventually it disappeared. In November 1991, great-great grandson Eugene Podraza, who remembered seeing the original, arranged for a replacement stone to be erected in permanent honor of Eli's memory. The new marker is seen here.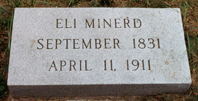 Replacement marker, Alverton
Four years after Eli's death, with his brother Joel Miner the sole surviving member of their generation, Eli's adult children and grandchildren, and nephews and nieces, decided to hold a family reunion at Ohiopyle, Fayette County. They asked their cousin Allen Edward Harbaugh to prepare a history of the family, and to present it at the event. The reunion, held in August 1913, drew 125 members, and Eli's son Isaac Herschel Minerd was elected president, and grandson Roy Sheppard Minerd as secretary. Eli's son Charles also is believed to have attended the event.
Eli is mentioned and pictured in the 2011 book, Well At This Time: The Civil War Diaries and Army Convalescence Saga of Ephraim Miner, authored by the founder of this website, and published by Minerd.com Publishing, LLC.
Son Isaac and grandson Roy Sheppard Minerd, and niece Sadie Luckey, were especially close, and exchanged letters and visits as recently as 1950. Isaac and Roy formed a father-son team that helped organize the first annual Minerd Reunion in August 1913.
Copyright © 2000-2007, 2010-2011, 2016-2017 Mark A. Miner
Coke oven laborer strike drawings originally published in Frank Leslie's Illustrated Newspaper, Feb. 6, 1886.