Gertrude (Minerd) Ullery
(1877-1960)


Gertrude Sophia (Minerd) Ullery was born on Oct. 9, 1877 in Bullskin Twp., Fayette County, PA, the daughter of Calvin and Mary (Means) Minerd Sr. She and her brother Larmer were twins.
In 1897, Gertrude married Edward Jacob Ullery (1875-1960), son of George W. and Jane Ullery of Wooddale, PA. Their seven children were Mary Garrison, Lloyd E. Ullery, Harry Ullery, Earl L. Ullery, Roy Ullery and Wilbert Minerd Ullery, and one who died young.
At the birth of one son, said the Connellsville Courier, Edward "is wearing a great big smile these days. The cause was the arrival of a little son…"
The Ullerys resided at Pennsville, near Connellsville, PA, where Edward was a laborer. In 1898, the Courier said he "has accepted a partnership with his father … in a dairy business." But a few years later, in October 1906, the Courier stated that he "has resumed blacksmithing again at the J.J. Richey shop."
Gertrude and her mother and brothers must have been close, as the newspapers of the time report many weekend visits between them. She also was close with her cousin, Tamzon (Inks) Grimm.
Gertrude is said to have been very neat and tidy, and to have been a fastidious housekeeper. When her farmer-brothers would come to visit, she would make an extra effort to clean up after they left.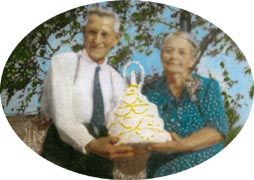 Edward and Gertrude celebrate their golden wedding anniversary.
In the summer of 1919, Gertrude held a party at her home in Pennsville. Said the Daily Courier, "Games and music were indulged in and lunch was served at a late hour." Attendees included Mrs. George Detwiler, Mr. and Mrs. Horner, Mr. and Mrs. Joseph Brant, Mr. and Mrs. Grant Orbin and daughter Ethel, Mr. and Mrs. George Ullery, Mrs. Ruth Edwards, Mrs. Clark Edwards, Miss Lydia Keck, Mr. and Mrs. F.S. Roadway, Mrs. Eliza Miller, Mrs. O.P. Lenhart and daughter Frances, Miss Josephine Minerd, Miss Mary Minerd, Calvin Minerd and George Winebrenner.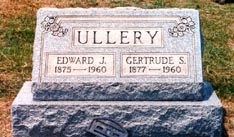 Gertrude's widowed mother deeded 1.5 acres of land to Gertrude and Edward in April 1928. Within a few weeks, they "flipped" the property and sold it to Charles Kurtz.
In 1947, the Ullerys celebrated their 50th wedding anniversary. They enjoyed a gathering at the home of their daughter, Mary Garrison, at Norvelt, Westmoreland County. They posed for photographs holding a five-layer cake decorated with white and yellow frosting.
Sadly, Edward and Gertrude died just a few days apart in 1960. The details are not known, but they are buried together at the Mt. Olive Cemetery in Bullskin. In all, they had been married for 63 years at the time of their respective passings. An Ancestry.com search for their obituaries in the Connellsville Daily Courier has been unsuccessful.
~ Son Earl Lawrence Ullery Sr. ~
Son Earl Lawrence Ullery Sr. (1905-1968) was born in 1905.
He married Edna "Pearl" Freed (1904- ? ) and Lorraine Kennison ( ? - ? ). He "spent most of his life at Pennsville," said the Daily Courier, and "formerly had been employed as a millwright by the Ford Motor Co. at Cleveland, Ohio."
Earl and Pearl had seven children -- Betty Jane Hancock, George Edward Ullery, Lois "Sleepy" Burke, Alberta Jean "Chicky" Darrell Albright, Lola "Annie" Heck, Earl Lawrence "Bing" Ullery Jr. and Harry William "Billy" Ullery.
Earl had two children with Lorraine -- Jack R. Ullery and Linda Ullery.
Earl died at the age of 63 in Connellsville on May 14, 1968. At the time of his death, he had 29 grandchildren.
Daughter Betty Jane Ullery (1925-1987) married Charles Hancock. They resided in Indianapolis.
Son George Edward Ullery (1926- ? ) married Bernardine (?) in August 1948.
Daughter Lois June "Sleepy" Ullery (1927- ? ) married Donald Burke.
Daughter Alberta Jean "Chicky" Ullery (1929-1997) was born on July 28, 1929, and was married twice. Her first husband was Charles Richard "Chuck" Darrell (1929-1958), the son of John Henry and Lucartha (Bell) Darrell. They were married on July 24, 1949, following his discharge from the U.S. Air Force, where he had served in Japan from 1946 to 1949. They had seven children -- John Charles Darrell, Richard Lee Darrell, Mark Allen Darrell, Jeffrey Earl Darrell, Mary Ellen Darrell and Beverly Jean Darrell. In October 1957, Chuck obtained employment with the Pennsylvania Turnpike Commission at its Harrison City Division. Heartache rocked the family when Chuck died "of injuries received when he was struck by a truck while working as a flagman on the Pennsylvania Turnpike" on May 27, 1958, reported the Daily Courier. "The accident occurred ... four miles east of the Allegheny Interchange. Internal injuries, skull fracture and shock were listed as causing his death." His remains were laid to rest at Sylvan Heights Cemetery in Uniontown, Fayette County. Pregnant at the time of the tragedy, Alberta later gave birth to the couple's youngest child, Beverly Jean Darrell. A little more than two years after Chuck's death, Alberta married again to Jack Albright on Nov. 10, 1960. They went on to have three children of their own. She passed away at the age of 68, in Connellsville, on Feb. 23, 1998.
Daughter Lola May "Annie" Ullery (1932- ? ) married Donald "Moe" Heck.
Son Earl Lawrence "Bing" Ullery Jr. (1935-1996) married Velma Austin.
Son Harry William "Billy" Ullery (1937-1967) married Patricia Moran. He was a U.S. Marine Corps veteran and truck driver who had moved to Dix, IL. Tragically, he was murdered in Gary, IN in July 1967, the victim of a robbery. Reported the Daily Courier: "He had delivered a load in Gary, and was to pick up a truck load of steel. Police said that he had been robbed, and all identification was taken from him except for his shirt, lettered with the trucking company's name. The company was notified and identified him." The senseless act made his wife Patricia a young widow with a three-week-old daughter Lori Ann.
~ Son Wilbert Minerd Ullery ~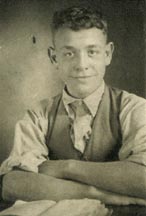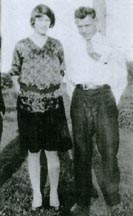 Wilbert Minerd Ullery, with his wife Mildred, who met an untimely and senseless death
Son Wilbert Minerd Ullery (1909-1931) married Mildred Meader (1910-1993), the daughter of Albert P. and Olive (Lauffer) Meader.
He stood five feet, five inches tall, and weighed 146 lbs., with brown eyes and brown hair. Wilbert also worked at the American Sheet and Tin Plate Company, also known as Marion Machine, located under the Scottdale-Everson Bridge.
Heartache rocked the family around Thanksgiving 1931 when Wilbert, a 21-year-old new father, with his wife expecting again, became deathly ill after drinking unpasteurized milk from the Minerd farm. Three weeks later on Dec. 18, 1931, after fighting desperately for his life, he passed away, at Memorial Hospital in Scottdale.
The unexpected death left his wife alone to birth their second daughter six months later, and to raise the two girls -- Bernetha and Wilma Jean.
Mildred later married Hugh R. Echard, and they had children of their own, and enjoyed 57 years of marriage. Mildred was a "former employee of the Scottdale Review and also worked at the Wolfe Nursing Home in East Huntington Township," said the Greensburg Tribune Review. Mildred passed away at the age of 82 on Feb. 23, 1993. She was laid to rest in the Green Ridge Memorial Park.
Daughter Bernetha has attended our reunions and, at the 2005 gathering, displayed several quilts she had created. Click here and here to see her quilts in our Online Quilt Museum.
Bird's-eye view of industrial Scottdale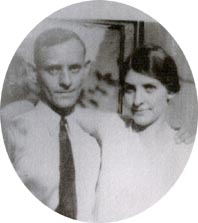 ~ Son Lloyd E. Ullery ~
Son Lloyd E. Ullery (1901-1962) is seen here in a photo with his sister, Mary (Ullery) Garrison.
Lloyd married Elsie Exline ( ? - ? ), and they resided in Wooddale. They had twin daughters -- Anna Mae Wiltrout and Evelyn Ullery.
Lloyd was a draftsman at the Scottdale Works of the American Sheet and Tin Plate Company, and later "was a structural iron engineer for the National Machine Co. and the Pittsburgh Steel Co., and a member of the Pennsville E.U.B. Church," said the Daily Courier.
He contracted a case of polio and was unable to walk, so to continue his skill at making prints and drawings he was transported to work by wheelchair.
Tragically, daughter Evelyn was struck and killed by a moving automobile near Pennsville in May 1930.
Lloyd died at home at 312 West Peach Street in Connellsville at the age of 60 on March 30, 1962. he was laid to rest in Mt. Olive Cemetery.
~ Daughter Mary (Ullery) Garrison ~
Daughter Mary Ullery ( ? - ? ) married George W. Garrison ( ? - ? ).
They had two known children -- George Garrison Jr. and Gladys Thompson.
The Garrisons made their home in Youngwood and later in dwelling A-50 in Norvelt, Westmoreland County. Mary was known for her talents in sewing, and in August 1968 received several prizes at the Westmoreland County Fair at Mutual. The awards included pillow slips, one-inch edging and solid centerpiece tatting.
Son George Garrison (1928-1994) married Betty Akins and was a "retired employee of the Elliott Co., where he was a machinist and instructor at the Elliott Training Center," said the Tribune-Review. He died at the age of 66 on Nov. 12, 1994, with burial in the Mount Pleasant Cemetery.
Daughter Gladys Garrison married Robert Thompson and lived in Norvelt.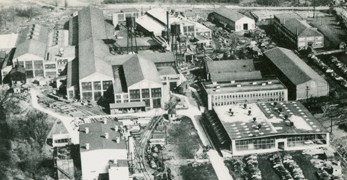 Venerable Elliott Company in Jeannette, George Garrison's longtime employer
~ Son Harry J. Ullery ~
Son Harry J. Ullery (1903-1962) married Florence Butler ( ? - ? ). They lived along the Star Route in Scottdale circa 1962.
The Ullerys had three children -- Ronald Ullery, Robert W. Ullery and Jean Rutherford.
Said the Daily Courier, Harry was "a lifelong resident of this vicinity. He was a coal miner, and also had been employed by the Duraloy Co. at Scottdale."
He died unexpectedly at the age of 59 on or about May 1, 1962. Burial was in the Mount Olive Cemetery.
~ Son Roy Ullery ~
Son Roy Ullery (1907- ? ) was born on April 30, 1907 in Bullskin Township.
As an adult, he resided in Mount Pleasant, Westmoreland County.
Copyright © 2001-2003, 2009, 2011 Mark A. Miner