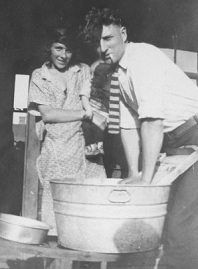 Ross and Ida
Ross Minerd was born on April 23, 1902 in Smithfield, Fayette County, PA, the son of Charles B. and Ada (Tressler) Minerd. At an early age he began working in the coal fields of the Uniontown region of Fayette County.
At age 22, on Sept. 21, 1924, Ross married 17-year-old Ida Mae Keefer (1907-1996), the daughter of Charles and Josephine (Hagan or Llewellyn) Keefer. The wedding was held in Galloway, Barbour County, WV, by the hand of Rev. Antonio Gigliotti of the local Baptist Church. On her marriage license, Ida claimed to be 21, and at the time, she lived in Nutter Fort, Harrison County, WV. View their marriage license.
They are seen here, with Ida holding a baby in the shadows.
Ross and Ida Mae had 14 children. Their five sons were David Ray Minerd, John Frank Minerd, Charles D. Minerd, Paul Edward Minerd and Melvin Marshal Minerd. Their nine daughters were Rosalie Shields, Ruth Lesavage, Melda Metts, Frances Lilley, Ella Mae Minerd, Martha Shipley, Beverly Yauger, Gracie Bryner and Karen O'Neil.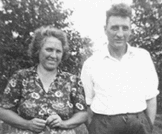 Ross with his sister Lizzie
Sadly, daughter Ella Mae died as a toddler, circa 1930 or '31.
Ross was a laborer and driver in local coal mines, and a member of the United Mine Workers of America, Local 6303, Bessemer, Westmoreland County, PA. Ida belonged to the United Christian Temple.
During their early married life, the Minerds lived in Masontown, Fayette County. Later, they moved to Revere, a coal mine "patch town," where they resided in House #18. The federal census of 1930 shows them in Nicholson Township, Fayette County, with four children ages 4 and under under their roof. Circa 1941-1942, the family made their home along Grays Landing Road near Grays Landing, Fayette County, south of Masontown, and in 1945 they were in the town of Uledi.
Seen here, Ross poses with his sister, Lizzie (Minerd) Rankin Rice.
During his years of work in the coal mines, Ross often received small and large injuries, including to his head. In 1942, when laboring with his son David at the Provens Mine east of Grays Landing, he was caught in a fall of slate that caused significant brain damage. The injury was not fully diagnosed at the time, but he eventually spent more than a decade receiving medical care in a hospital.
Ross had a violent temper and did not hesitate to beat his children for the slightest provocation, such as when two of his daughters accepted an automobile ride home with an uncle well known as a "ladies' man."

John Rice
Ross spent his final two years at the Somerset State Hospital. During that time, at the insistence of Ida's mother, who disliked children, several of the daughters were sent away from home to be raised by others. Several of the sons were placed on legal probation due to untruths she told to officials.
Suffering from hardening of the arteries and paranoia, he was felled by a stroke and died at age 54 just three days after Christmas in 1956. He was buried in Masontown's Fairview Cemetery, following a funeral at the Free Methodist Church led by Rev. Ethel Hardy and Rev. Ernest Collins.

After Ross died, Ida married her widowed brother in law, John Rice, widower of Elizabeth "Lizzie" (Minerd) Rankin Rice, and lived in Masontown. John was a native of Green Bay, WI and a longtime laborer at United States Steel in McKeesport, near Pittsburgh. Thus Ida became step-mother of sorts to John's adopted daughter Edna Wilson, who resided in Racine, Racine County, WI, circa 1979. John also had step-children from his marriage with Lizzie -- James A. Rankin and Mildred Ada Nugent.
John passed away on June 25, 1992. He is buried at the Greendale Cemetery in Masontown.
Ida died on Jan. 12, 1996 in the Uniontown Hospital, at the age of 88. Her funeral was conducted by Rev. Dane Tabor and Rev. Galen Winebrenner. She was survived by an astounding 37 grandchildren, 48 great-grandchildren and nine great-great grandchildren.
In 2002, and again in 2007, Ross and Ida's adult children and their generations of offspring gathered for a reunion in Flatwoods, near Uniontown. The founder of this website was privileged to attend. View photos from the events.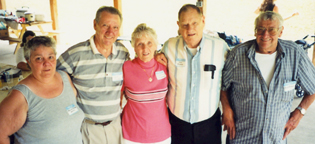 2002 reunion of Ross and Ida's family -- left to right: Melda Metts, Chuck Minerd, Ruth Lesavage, John Minerd and Paul Minerd. Click for more views of the reunion.
~ Son David Ray Minerd ~
Son David Ray Minerd (1925-1999) was born on Aug. 2, 1925 in Meadowbrook, Fayette County. He is seen in the photo here, posing with his cousin William Minerd who was killed in an automobile accident in the early 1950s.
Circa 1943, he was employed at the Poland Mines.
During World War II, David served with the U.S. Navy, where he trained at Great Lakes, IL before being shipped to Japan in January 1945. He is pictured in the book, Heroes All, a service album depicting the wartime activity of Uniontown and South Union Township residents.
David married Helen Phillips (1928- ? ) of Uniontown on June 10, 1946, when he was age 21 and she 18. She was the daughter of John and Anna (Takoch) Phillips, of Oliver No. 1, near Uniontown, and were immigrants from Austria Hungary.
They had two children -- Andrew A. Minerd and Mary Margaret Pierce.
After some years of marriage, in about 1950, David and Helen divorced, and she remarried to James Walter Rice. The Rices had four children of their own -- James Rice, Patricia Ann Williams, Pamela Riffle and Frank Rice.
David lived in Mentor, Lake County, OH in the mid-1990s. He died at Lake County Memorial Hospital-West in Willoughby, OH, on Feb. 4, 1999, at the age of 74.
Son Andrew A. Minerd (1947-2000) was born in 1947 and grew up in Uledi. He lived in Elyria, Lorain County, OH. He was married. Andrew passed away at the age of 52 on Feb. 27, 2000.
Daughter Mary Margaret Minerd (1949-2012) was born on Dec. 17, 1949. She married Harold Milton Pierce, and made her home in Uniontown. They had three children -- Betty Jane Ackinclose, Harold M. Pierce Jr. and Lisa Pierce. Mary died at the age of 62, in UPMC Presbyterian Hospital in Pittsburgh, on Oct. 14, 2012. Burial followed in St. Mary's Cemetery in Uniontown.
~ Daughter Rosalie (Minerd) Shields ~
Daughter Rosalie Minerd (1927-1998) was born on March 16, 1927 in Masontown. At the age of 18, on Dec. 17, 1945, she married 28-year-old Barney Shields (1917- ), son of Frank and Ella Shields.
He was a welder and the son of Frank and Ella (Addis) Shields of Uniontown, Fayette County. During World War II, he served as senior air raid warden in South Uniontown. At the time of marriage, she lived in Smithfield, and he in Uniontown.
They resided in Uniontown, and their four children were Barbara Grant, Paula Broadwater, Donald Dale Shields and Terry Ray Shields. Rosalie belonged to the United Christian Temple for more than a half century.
Barney was employed with the Isabella Mine of Weirton Coal Company. On Jan. 29, 1951, he was pictured in the Uniontown Morning Herald, among many other co-workers, for taking part in week-long First Aid classes conducted by the Pennsylvania Department of Mines. He also was a prayer and youth meeting leader and Sunday School superintendent with the Church of the Nazarene on Wilson Avenue in Uniontown.
She died in Uniontown Hospital on July 3, 1998, at the age of 71. She was laid to rest in Sylvan Heights Cemetery, following a funeral led by Rev. Galen Winebrenner of the United Christian Temple. At her death, said the Uniontown Herald-Standard, she was survived by 13 grandchildren and three great-grandchildren.
Daughter Barbara Shields married Frank Grant Sr. They lived in Fairbank, Fayette County.
Daughter Paula Shields wed John Broadwater. Their residence was in Smock, Fayette County.
Son Donald Dale Shields married Debbie. Circa 1998, he lived in Normalville, Fayette County.
Son Terry Ray Shields married Susie and made Uniontown his home in 1998.
~ Daughter Martha (Minerd) Shipley ~
Daughter Martha Ada Minerd (1930-1971) was born in about 1930 in Nicholson Township, Fayette County. As a young woman, she worked as a seamstress.
Martha married World War II veteran Charles Robert Shipley (1920- ? ) on July 15, 1949, when she was age 19 and he 29. Charles was the son of William and Mae Shipley, and was a machinist living in Revere at the time of marriage who recently had been discharged from the Army.
The Shipleys resided at 152 Revere in Uledi.
They had three children -- Robert Allen Shipley, Joyce Arlene Lint and Sandra Mae Kent.
Sadly, Martha suffered from a "prolonged illness" reported the Uniontown Morning Herald. She died at the age of 41, in Uniontown Hospital, on July 18, 1971. Burial was in Walnut Hill Cemetery, following a funeral led by Rev. Freeman Stanton.
Son Robert Allen Shipley (1950-2004) was born on March 17, 1950, in Revere. He was a graduate of Duff's Business Institute, and was an Army veteran of the Vietnam War. His home was in Uledi. Said the Uniontown Herald-Standard, "He was a boxer with Tommy Shaffer's and had won the Silver Gloves two times." Sadly, Robert died at age 54 on April 13, 2004 in Uniontown Hospital. He was interred in Walnut Hill Cemetery after a funeral led by the family's pastor, Rev. Galen Winebrenner.
Daughter Joyce Shipley wed Russell Lint and lived in Uledi.
Daughter Sandra Mae Shipley married Larry Kent and resided in Uniontown.
~ Son John Frank Minerd ~
Son John Frank Minerd (1933-2013) was born on April 25, 1933 in Fayette County.
He lived for many years in Cleveland, Cuyahoga County, OH.
He wed Marilyn Rose. They had two children -- Pamela Minerd and Kevin Minerd.
John attended the clan's reunions at Flatwoods, Fayette County in 2002 and 2007.
Sadly, John passed away at the age of 80 on April 29, 2013. After funeral services at Bethany Assembly of God, he was laid to eternal rest in the Holy Cross Cemetery. He was survived by two grandchildren.
Son Kevin Minerd wed Marcie.

Chuck Minerd
~ Son Charles D. "Chuck" Minerd ~
Son Charles D. "Chuck" Minerd served in the US Navy during the Korean War. After the war, he settled in Lompoc, Rosemead and San Diego, CA and married Jacqueline "Jackie." They had two sons, Charles "Chuck" Minerd and Richard "Rick" Minerd.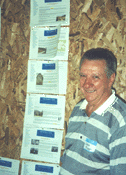 Chuck in 2002 with Minerd.com printouts
Today, Chuck is a consultant with RF Industries' Neulink Division. Formerly, he was VP and general manager of Quintron Telephone Systems in San Diego, CA. Seen at right, Chuck poses with a display of Minerd.com pages he made for his immediate family's reunion at Flatwoods, Fayette County, PA in August 2002. The family also had a reunion at Flatwoods in 2007.
Chuck's son Chuck is a golf pro and PGA Class "A" member and former instructor at Torrey Pines Golf Course in San Diego, site of the annual Buick Invitational which has been won by Phil Mickelson and Tiger Woods in recent years. In 2007, playing in the Southern California Section of the Professional Golf Association, Chuck qualified for the 2008 Professional National Championship to be played in Georgia. He currently is general manager for his own entrepreneurial venture, Chuck Minerd-Golf Made Easy.
Chuck's son Rick is married to Lisa Minerd, who is a founder of Minerva Associates of Del Mar, CA. Her company provides automated warehouse management software solutions for Fortune 500 distribution, production and manufacturing operations.
Great-grandson Curt Minerd maintains a blog at his website, CurtMinerd.com.
~ Daughter Beverly June (Minerd) Yauger ~
Daughter Beverly June Minerd married Irvin "Irv" Yauger. They resided their home in Trenton, NJ.
Their two children were Debbie Bartole and Kenneth Yauger.
Daughter Debbie Yauger wed Hugo Bartole.

Ruth Lesavage
~ Daughter Ruth Laverne (Minerd) Lesavage ~
Daughter Ruth Laverne Minerd (1938-2011) was born in about 1938. She married William C. Lesavage.
Their three daughters were Marla Wilson, Donna Worek and Joy Vitoritt.
They lived in New Jersey, in the town of Hamilton, near Trenton, Mercer County. Said the Trenton Times, Ruth was "employed with Superfresh Supermarkets before her retirement in 1998. She was a member of New Testament Baptist Church of Hamilton and was extremely devoted to both her family and friends."
Sadly, Ruth died on May 12, 2011, at the age of 73, in Robert Wood Johnson University Hospital in Hamilton. Her remains were interred in Greenwood Cemetery Mausoleum in Hamilton. The Trenton Times said she was survived by nine grandchildren and six great-grandchildren.
Daughter Marla Lesavage married (?) Wilson and Mustapha Sabri.
Daughter Donna Lesavage married John Worek.
Daughter Joy Lesavage wed Christopher Vitoritt. She serves as Acting Director IT of the Office of the Attorney General of the State of New Jersey.
~ Daughter Grace Ann (Minerd) Bryner ~
Daughter Grace Ann Minerd wed James Bryner.
They lived in 1971 in Eastlake, Lake County, OH.
Their four children were James Bryner, Bruce Bryner, Tammy Bryner and Mark Bryner.
~ Son Melvin Marshal Minerd ~
Son Melvin Marshal Minerd (1941-1981) was born on May 3, 1941. He spent many years in Uniontown.

He married Bonnie Mae Peddie, daughter of Kenneth Peddie of Cleveland, OH. They had two children, Ross Minerd II and Susan Elizabeth Minerd.
The Minerds resided at 174 West Berkeley Street in Uniontown. Circa 1966, Melvin was a Cub Scouts pack leader in the Bierer Wood Acres section of Uniontown.
Sadly, daughter Susan died at the age of four weeks on Sept. 10, 1979, in Childrens Hospital in Pittsburgh, with burial in Fairview Cemetery in Masontown.
Melvin passed away at the age of 39 in January 1981.

Paul Minerd
~ Son Paul Edward Minerd ~
Son Paul Edward Minerd (1942-2005) was born on Aug. 21, 1942 in or near Uniontown. He married Georgia Straitiff.
They made their residence in Trenton, NJ in 1971 and in Waltersburg near Uniontown in the early 2000s.
Their four children were Laura Welsh, Paul D. Minerd, Darlene Gordon Reese and William Minerd.
At the age of 62, Paul died in Highlands Hospital in Uniontown. Rev. Andy Miles officiated at his funeral, followed by burial in Pleasant View Cemetery in Smock, Fayette County.
Daughter Laura Minerd married Edward Welsh. They lived in Rock Spring, GA.
Son Paul D. Minerd wed Maryann (?) and their residence in 2005 was in Kissimmee, FL.
Daughter Darlene Minerd married Perry Gordon and Keith Reese. The Reeses made their home in Uniontown.
Son William Minerd wed Heather (?). They lived in Uniontown.
~ Daughter Melda (Minerd) Metts ~
Daughter Melda Minerd married William "Walter" Metts, son of Joseph and Dorothy (Lewis) Metts. They tied the knot in 1959, and made their home in Uledi.
They had nine children -- Ross Metts Sr., Walter Metts Jr., Christine Cramer, Joanne Casne, Dorthea Sickles, Pamela Wingard, Timothy Metts, Tina McDonald and Kellie Minerd.
Son Ross Metts married Cindy (?). He is a longtime educator in Maryland. He formerly taught technology at Westmar High School and was an AutoCad instructor at Allegany College of Maryland, in addition to training other teachers for the Maryland State Board of Education. He currently works in Frederick County, MD.
Son Walter Metts wed Vicky (?).
Daughter Christine Metts married Homer Cramer.
Daughter Joanne Metts wed Daniel Casne.
Daughter Dorthea married Charles "Chuck" Sickles.
Son Timothy wed Amy (?).
Daughter Tina Metts married Lester McDonald.
~ Daughter Frances (Minerd) Lilley ~
Daughter Frances Minerd married Thomas Lilley. Circa 1961, she helped write a column about Revere school activities for the Uniontown Morning Herald.
They had one child -- Brett Lilley- and lived in Cleveland, Cuyahoga County, OH.
~ Daughter Karen (Minerd) O'Neil ~
Geary and Karen O'Neil have a son who has been a police officer and corrections officer in East Pittsburgh since 1995.
Copyright © 2000, 2002-2010, 2012, 2014, 2016 Mark A. Miner