Joseph R. Minor
(1868-1948)
Joseph R. Miner was born on Feb. 1, 1868 in Brownsville, Licking County, OH, the son of James S. and Angeline C. (Hamilton) Minor.

On Aug. 29, 1895, at age 27, Joseph married 23-year-old Emma Frances Gordon (1872-1947). She was a native of Thornville, Fairfield County, OH, and the daughter of George and Olive Gordon. The ceremony took place in Licking County, and their marriage license, seen at right, is still on file in the county courthouse in Newark.
The Minors had four children – Ethel Ramsey, George Raymond Minor, Olive Ozier and James R. Minor.
They moved to Newark almost immediately after their marriage, and resided there for 60 years. Joseph worked there for many years for the Licking Laundry.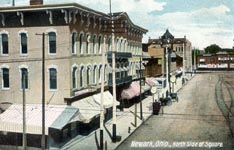 A rare old photographic postcard of Newark is seen at left, showing the north side of the town square. Note the curved trolley tracks in the middle of the street, at far right.
In the early 1900s, the Minors resided with Joseph's parents at 10 Western Avenue in Newark. After the death of Joseph's father, his widowed mother continued to maintain a home in the household. In 1914, she fell getting out of bed, suffered a broken neck, and died instantly.
Tragedy struck the family in the summer of 1915. Son James, age 18, who was employed as a time-keeper, drowned while swimming in Buckeye Lake. His remains were laid to rest at Cedar Hill Cemetery.
Emma passed away at age 75 on Nov. 27, 1947. The cause of death was a stroke. A newspaper said "She had been in failing health for the past eight years, and seriously ill the past week."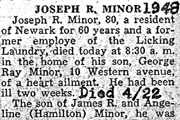 Joseph passed away just five months later, on April 22, 1948, at the age of 80. He was buried beside Emma in Cedar Hill Cemetery in Brownsville.
Daughter Ethel Minor married a man named Ramsey. They resided in Newark circa 1948.

Son George Raymond Minor (1900-1948) served in the US Navy during World War I. He married Nellie Marie (?) and they had two daughters, Constance Minor and Mrs. Charles Weaver. They resided in the family home at 10 Western Avenue that had once belonged to George's grandparents. His usual occupation was playing billiards. Tragically, at age 48, George suffered a fatal heart attack at home, passing away on Sept. 17, 1948. A newspaper said he "was apparently in his usual health until Thursday night when he complained of a severe pain in his arm. He was stricken suddenly this morning and the resuscitator squad was called from central station, but nothing could be done for him." His death occurred just five months after his father's passing, and 10 months after his mother's.
Daughter Olive Minor married (?) Ozier, and resided in Columbus, OH, but had no offspring.
More will be reported here when learned.
Copyright © 2005 Mark A. Miner