The Immigrants:
Jacob and Anna Elisabethe Weber
Ulster County, NY and Berks County, PA
By Barbara (Boring) Bauer
Editor's note -- Cousin Barbara (Boring) Bauer, a genealogy volunteer with Palatines to America in Columbus, OH, has done some extensive research on the identity of our Pennsylvania-German ancestors, Jacob and Anna Weber. The Webers' daughter, Eva Maria, is believed to be the same woman who married Friedrich Meinert (parents of our Revolutionary War forbear, Jacob Minerd Sr.). Though not completely proven, Barbara has graciously written her findings into a narrative that is provided here for your review and consideration. Also see her writings on The Kochertal Party.
Jacob Weber, husbandman and vinedresser, was born about 1678, most likely in the area between Heidelberg and Sinsheim, Baden, Germany. He and his wife, Anna Elisabethe, born about 1683, had their first child, Eva Maria, about 1704 and a second daughter, Eva Elisabethe, about three years later in 1707.
The Webers had become acquainted with Pastor Josua Harrsch's plans to emigrate to the English Colonies. With living conditions worsening in 1708, Jacob and Elisabethe decided to join the Kochertal Party and left secretly with four-year old Maria and one-year old Elisabethe to go with them to Frankfurt, Rotterdam and London.
The Webers' third child, Johann Herman, was born in 1708, either in London or while they waited on board the Globe for their departure. In his journal, Kochertal recorded this baptism 14 September 1708 "on board the Ship Globe." After delays in every port, in October 1708 the Kochertal Party finally left England for New York.
They arrived on New Year's Day 1709 at the mouth of Quassaic Creek on the west side of the Hudson River, later Newburgh, Ulster County, New York. The new arrivals quickly built crude log cabins for shelter before the Globe departed and settled on the land intending to support themselves by farming.
On 19 April 1710 the Weber's son, Johannes, was baptised in the "Colony on the Quasaic Kill," and son, Pieter, born 25 December 1715, was baptised at the "Highlands." Daughter, Catharine, born 20 March 1719 in the Highlands, was baptised 21 June 1719.
The Provincial Surveyor-General was told to lay out farms for the Kochertal settlers who rejected his first proposal in 1714, saying the land was all upland and that they needed some meadow land for fodder for their cattle in winter. In the meantime, Jacob Weber paid taxes on this land from 1711 through 1721.
Before the allotments of 50 acres per person were finalized some of the original Kochertal Party had died or moved elsewhere. A patent for the "Palatine Parish by Quassaick," was issued 18 December 1719. Jacob Weber received 200 acres, Lot #7, with Johannes Fischer Lot #8 and Andreas Volck Lot # 9.
On Lot #6, 100 acres on the north side of North Street, was Burger Meynders, a Lutheran blacksmith from Kingston (not an original member of the Kochertal Party) who had purchased the interests of Peter Roose/Rose who had moved away. Soon after the patent was granted, the Quassaick (Newburgh) Glebe Church was built, a twenty-foot square log structure with a cupola in the center of the roof for the bell given by Queen Anne.
Since Pastor Kochertal had died that same year, his widow received his apportionment of 250 acres and Jacob Weber and Andries Volck were appointed the first Trustees of the Glebe's 500 acres, to manage it for the benefit of the Lutheran Church. On 20 February 1722 Jacob sold some of his New York land to John Fischer (his next-door neighbor on Lot # 8) and on 5 August 1724 he sold the remainder, Lot #7 in the "German Patent," to Zacharias Hoffman. Andreas Volck had also sold his Lot # 9 to Zacharias Hoffman before he left for Pennsylvania in 1723.
In the spring of 1723 Conrad Weiser with a group of settlers from Schoharie cut a road to the Susquehanna River, made canoes and floated down the river until they reached Swatara Creek, then went overland to Tulpehocken, west of Reading in Philadelphia/Berks County. Andreas Volck accompanied Weiser to Tulpehocken and this may be the route Jacob Weber and his family took in the late summer of 1724 to join Volck in Pennsylvania.
On a list of heads of households and single freemen residing in the Oley Valley in 1701-1741, by 1723 Andreas "Fulk" had settled on Lot A12 in the 10,000 acre "Swede's Tract" on the Schuylkill River near Manatawney Creek in Amity Township and by 1724 Jacob Weber/Weaver was on Lot A10. A 1734 tax list of landholders in Amity Township, Philadelphia Co. included Jacob Weaver who owned 110 acres.
Amity Township was in northern Oley Valley, part of Philadelphia County until 1752 when it became the southern part of newly-formed Berks County. The surnames, "Fulk" and "Foulk" anglicized from "Volck," and "Weaver" the English translation for "Weber," used by their descendants date from this time and place.
By 1735 Jacob's former New York neighbor, Andreas Fulk/Volck, had moved from Amity Township to the Allemangel (later Lynn Township, Lehigh County) where he warranted 150 acres of land in 1738. There he became affiliated with the Moravian congregation and died in September 1747. Among his eight children were Barbara (wife of John Holder), George who married Dorothea Dewees, Gertrude, Carolus/Carl who became Captain Charles Foulk/Volck and married Catherine Harzy, Anna Maria, Elisabeth, Jacob who married Mary Dewees and Andreas who married Maria Margaret Romig.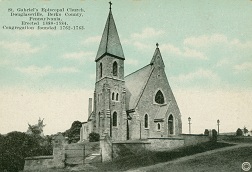 St. Gabriel's Episcopal Church,
founded 1762, erected 1880-1884
The "Old Swede's" Lutheran Church at Molattan in Amity Township was organized about 1719 to serve the Swedish Lutherans, German Lutherans, Reformed and the Anglicans. Several visiting pastors held occasional services but there was no regular minister until Henry Muhlenberg began bi-weekly visits in 1744-48.
In 1754 a Swedish Lutheran minister began regular services. As a result, the German Lutherans and Reformed withdrew and formed a union church and school house three miles away, known as St. Paul's Union Church. The Molattan Church eventually became an Episcopal Church, now called St. Gabriel's of Douglassville, seen here. These are the churches that the Weber families attended, where their children married and where family members are buried. About 1750 Jacob's wife, Elisabeth, died and Jacob Sr. died about 1752. His farm passed to his sons, Peter and Jacob Jr.
Generation Two
Children of Jacob and Anna Elisabethe Weber of Ulster County, New York and Berks County, Pennsylvania.
#1.1. Eva "Maria" Weber was born about 1704 in the Palatinate, Germany, emigrated with her parents, younger sister and brother to New York in 1709 and grew up on her parents' farm in the "German Patent," Ulster County, New York. In 1724, when she was about 20, her parents sold their farm and took her younger brothers and sisters to their new farm in Amity Township, Philadelphia/Berks County, Pennsylvania. Sometime between 1724 and 1729 she [is believed to have] married Friedrich Meynderts/Meinerdt, her former neighbor in the "German Patent," whether in New York or Pennsylvania is not yet known. About a year after Fredrick's death in 1751 Maria married secondly her Quaker neighbor, widower Benjamin Longworthy. After his death she lived with her son, Frederick Jr. and died in 1776, probably in Oley/Rockland Township, Berks County. See "The Fourth Generation: Children of Fredrick Meindert and Eva Maria Weber."
#1.2. Eva "Elisabethe" Weber was born about 1707 in the Palatinate, Germany, emigrated with her parents, older sister and younger brother to New York in 1709 and grew up on her parents' farm in the "German Patent." She married Peter de Langh/DeLong in Ulster County, New York and settled in Maxatawny Township, Philadelphia/Berks County, a few miles away from her parents in Amity Township and her sister, Eva Maria, and husband, Friedrich Meinert in Oley Township.
After a division in the local Reformed congregation in 1759 Peter and Elisabeth donated two acres of land to build the DeLong Reformed Church and a school. (Now known as Christ United Church of Christ, Bowers.) Peter died there by 10 May 1760 when his will was probated. Sons of age mentioned were John, Henrich and Jacob while minor children were Michael, Barbara, Abraham and Frederick. Elisabeth died in 1770.
#1.3. Johann "Herman" Weber was born 14 September 1708 "on board the Ship Globe," probably while waiting to embark from England to the New York Colonies. He was about fifteen years of age when his parents settled in Amity Township, Philadelphia/Berks County. He may be the Herman Weber whose daughters, Anna Christina and Maria Katarina were baptised in 1751 and 1754, respectively, and a son (no name) in 1760 in the Berne (Township) Reformed Church, Berks County.
He was possibly the "Harmon" Weber who died by 14 May 1774 in Berne Township, Berks County, Pennsylvania when his will (written in German) was filed for probate. He was survived by wife Catharine and son Matthias, age fourteen, who was to inherit his farm of 290 acres when he reached the age of 21. Harmon left 100 Pounds to each of his five daughters: Elisabeth (wife of George? Keiber), Catharina (wife of ___ Gristmer), Maria Elisabeth (wife of ___ Bassler), Christina, (wife of ___ Kunkel) and Anna Mary Weber.
#1.4. Johannes "John" Weber was born 10 February 1710 and grew up on his parents' farm in the "German Patent" in New York. He accompanied his parents to Amity Township, Philadelphia/Berks County in 1724, at the age of 14. He is said to have married Catharina Elisabeth Dennemart and died in Macungie Twp. Northampton/Lehigh County, date unknown.
#1.5. Johannah "Hannah" Weber was born in September and baptised 31 October 1714 in the "German Patent," in New York, sponsored by Peter and Anna Roos/Rose. She was about ten years of age when her parents moved to Amity Township, Philadelphia/Berks. She may have married Sebastian Graff.
#1.6. Peter Weber was born in 1715 in the "German Patent" and was about nine years of age when his parents moved to Amity Township, Philadelphia/Berks County where he married Barbara Rodt/Roth/Rhoads (1719-1789). In 1775 his name appears on a list of landholders in Amity Township along with his brother, Jacob Jr., in the same location as their father's farm.
Peter and Barbara's children were Jacob, Eva who married William Davis, Elisabeth who married John Schrack, Catharina who married Daniel Leman and died before her father, Christina who married Philip Boyer and Magdalena who married Peter Mowrer/Maurer, according to Jacob's will, probated 11 April 1789. His wife, Barbara, died by 4 September 1805 when her will was probated by her son, Jacob, as administrator. Peter and Barbara are buried at St. Paul's Cemetery in Amity Township.
#1.7. Catharina Weber was born 30 March 1719 in the "German Patent" in New York. She was about five years of age when her parents moved to Amity Township, Philadelphia/Berks County. She married an Englishman, name unknown.
#1.8. Jacob Weber Jr. was born 10 October 1722 in the "German Patent," Ulster County, New York. He was about two years of age when his parents settled in Amity Township, Philadelphia/Berks County He married Elisabeth Hochgenung, daughter of (Lenhardt?) and Hannah Hochgenung, according to Hannah's will, in Berks County. Children unknown.
In the 1 July 1755 issue of the Pennsylvanische Berichte appeared this advertisement. "Jacob Weber in Amity Township, 10 miles from Reading on the Tulpehocken Road, wants to sell his plantation. It has 170 acres. 70 acres are clear, 6 acres could be watered and made into good meadow. There is thereon a two-story house of sawn log, and a good barn and stable. It has been for four years an inn, has a smith shop and smithware, has a good orchard and a good root cellar. There is also his horses and wagon, plow, harrow, cow and houseware."
Jacob Weber served as Sheriff in 1759-61 and 1763-65. He was an Amity blacksmith and innholder, someone who possessed a license to keep an inn or tavern, and was not necessarily an innkeeper himself. A landowner who held a license often rented out the tavernstand to someone else. This appears to have been the case when another notice said "Jacob Weber, landlord to Amity innkeeper Martin Becker, was tried for assault and battery on Becker in 1769. Weber pled guilty and got off with a fine of five shillings."
On a 1775 Berks County List of Amity Township Landowners, Jacob Weber/Weaver's name appears along with his brother, Peter, in the same map location as their father's original farm. Jacob Jr. died by 23 July 1790 in Amity Township when his will was probated leaving all his property to his wife Elisabeth and Daniel Messersmith of Reading. No mention of children.
Copyright © 2003 Barbara (Boring) Bauer. Published with permission.