Anna Nancy (Cook)
Ransom McCuen
(1886-1965)

Anna Ransom McCuen
Anna Nancy (Cook) Ransom McCuen was born on June 22 or 30, 1886 in Athens County or Washington County, OH, the daughter of the daughter of Rebecca Minerd and Linc Cook, who were not married.
She grew up with her father's surname of "Cook."
Anna was married twice. Her first husband was Ernest L. Ransom (1882- ? ), the son of George William and Emily Jane "Emma" (Cross) Ransom of Barlow, Washington County. The marriage took place on Dec. 5, 1905, in Washington County, OH when Anna was age 19 and Ernest either 23 (or 28). (Sources differ.)
They had two sons, William "Gilbert" Ransom and Delbert "Dale" Ransom.
The first husband died sometime prior to 1910. When the federal census was taken that year, in May 1910, she lived at home with her mother and step-father in Harrison County, WV.
Anna's second husband was John Oliver McCuen (1883-1950), a native of Parkersburg, Wood County, WV and the son of Augustus "Gus" and Almeda (Sinnett) McCuen. They were wed on July 17, 1910 in Muskingum County, when she was age 24 and he 27. Rev. A.M. Thomas officiated. On her marriage license application, she claimed to have been widowed.
John was of medium height and build, with black eyes and black hair, and also had been married at least once before. His sister, Reatha (McCuen) Goins, was married to Anna's half-brother, Jesse Floyd Goins.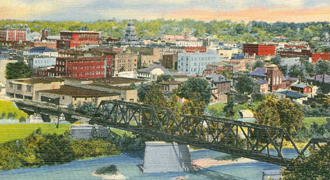 Bird's eye view of Zanesville
They had one son, Wesley Ellsworth McCuen, born in 1913.
In 1917, when the 35-year-old John registered for the military draft during World War I, the registration agent marked that he was "Negro" and that his wife was "Anna M. McCuen" of R.F.D. #9, Zanesville. He was noted as employed as a tile worker for J.B. Owens of Zanesville, and signed his own name, showing he could read and write.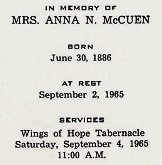 Anna's funeral card, 1965
When the federal census was taken in 1920, they lived in Washington Township, Muskingum County. John was employed as a laborer in a local tube mill. Residing with them that year was Anna's former father in law, 61-year-old widower George W. Ransom, who earned a living as a laborer performing "general work."
The McCuens later resided in Mill Run, near Zanesville, Muskingum County, where they belonged to the Wings of Hope Tabernacle. Anna was employed until retirement as a "domestic worker." Circa 1948, they resided on Coal Run Road.
John died on April 21, 1950, at the age of 67, three days after being admitted to Bethesda Hospital in Zanesville for heart problems. He was buried in Woodlawn Cemetery in Zanesville. His obituary in the Zanesville Recorder said he "had been ill for six years."
Anna outlived her husband by 15 years, and passed away on Sept. 2, 1965. In the Zanesville Times Recorder, Anna's obituary noted that she "had been in failing health eight years" and that her survivors included eight grandchildren and four great-grandchildren. Funeral services were held in the Wings of Hope Tabernacle. She was placed into eternal rest with her husband in Woodlawn Cemetery following a sermon preached by Rev. George W. Morse.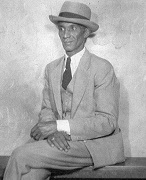 William Gilbert Ransom
~ Son William "Gilbert" Ransom ~
Son William "Gilbert" Ransom (1906- ? ) was born on Feb. 27, 1906 in Fleming, near Marietta, Washington County.
In 1950, his home was in Zanesville.
He moved to Detroit and supported himself as a laborer.
On Dec. 3, 1952, when he was age 46, he wed 50-year-old Annie (Spence) Barton (1902- ? ), daughter of Charles and Lillie (Young) Spence. It was his first marriage, and her second. She was a native of Jackson, MS and at the time of marriage lived in Detroit. The ceremony was performed in Sandusky, OH by justice of the peace Ralph J. Cain of Bowling Green, Wood County, OH.
~ Son Delbert Dale Ransom ~
Son Delbert Dale Ransom (1908-1970) was born on Jan. 16, 1908 in Washington County.
His home in 1950 was in London, OH. He relocated to Detroit by 1965.
By 1970, he had returned to Zanesville, Muskingum County, where he made his residence along Mill Run road.
On Dec. 8, 1970, at the age of 62, his body was discovered in his home, after a neighbor investigated having not seen the deceased for several days. county coroner S.S. Daw ruled that the cause of death was a heart attack.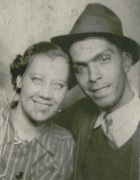 Wesley McCuen and ?
~ Son Wesley Ellsworth McCuen ~
Son Wesley Ellsworth McCuen (1913-1981) was born on March 7, 1913 in Zanesville.
During World War II, he served as a private in the U.S. Army, from May 2, 1944 to Jan. 13, 1945. He is one of several cousins named in the 1947 book Muskingum County Men and Women in World War II, authored by Norris F. Schneider and published by the Zanesville Publishing Co.
After the war, he was employed by the County of Muskingum in the maintenance department of the county courthouse in Zanesville.
At the age of 32, on May 7, 1947, he married Helen Louise Needham (1914-2005). She was the daughter of Thomas "Ralph" and Maude E. (Dalton) Needham. They produced seven children -- Rita Caliman, Glenna McConnell, Barbara Chatman, Donna McCuen, Sondra McCuen, John W. McCuen and James A. McCuen.
He was a member of the Wings of Hope Tabernacle in Zanesville. In the early 1980s, he resided at 1685 Coal Run Road. He died at the age of 68 on Sept. 17, 1981 at the age of 68. Burial was in Woodlawn Cemetery, with Rev. G.W. Morse officiating.
Helen survived her husband by almost a quarter of a century and attended the Hands of Faith Church in Zanesville. She passed away on Dec. 30, 2005 at the age of 91. Her obituary in the Times Recorder reported that in addition to 12 grandchildren, 14 great-grandchildren and two great-great children, she was survived by these "special friends, Margarete Adams, Geanne and Donald Mayle, Evelyn Kennedy, Mary Harvey, Fred Martin, Cynthia and Linus Harriston and William Hunter."
Daughter Rita McCuen married John B. Caliman Jr. They lived on Highland Road in Zanesville.
Daughter Glenna McCuen wed Richard McConnell and resided on Zanesville's Bailey Street.
Daughter Barbara McCuen was united in marriage with Edward Chatman. They resided in Columbus, Franklin County, OH.
Daughter Donna McCuen married (?) Lewis and lived in Columbus.
Daughter Saundra McCuen wed Leonard and Georgia Crawford Jr. She had three sons -- Shane Allen McCuen, Leonard Crawford III and Tony Crawford. The Crawfords made their home in Zanesville. Son Shane starred in football and track and Tri-Valley High School and broke track records as a freshman. Heartache rocked this family on March 11, 2008 when son Shane died in Zanesville at the age of 33.
Son John W. McCuen married Carol Bailey, daughter of Harold Bailey. They resided on Spangler Drive in Zanesville and had one known son, Ryan Scott McCuen. After a divorce, Carol married again to Jeffrey Lemly and relocated to Nashville, TN. Ryan attended a family reunion in late August 2010. Tragedy struck on Sept. 9, 2010, when son Ryan, a Mid East Career Center student, was killed when his motor vehicle collided with a wall on Zanesville's Y Bridge and the fuel tank exploded. Two police officers were injured trying unsuccessfully to rescue him from the flames and smoke.
Son James A. McCuen wed Betty (?) lived in Zanesville.
Copyright © 2004-2008, 2010 Mark A. Miner
Family portraits courtesy of Irita (Goins) Canady