Ernest B. Minor
(1881-1908)
Ernest B. Minor was born on March 19, 1881, likely in Knoxville, Knox County, TN, the son of Capt. Henry Clay and Mattie Hunt (Phillips) Minor Sr.
He began a life of unlawful activity in early adolescence. Later, he was considered a "notorious professional criminal" who was pardoned by a Tennessee governor only to lapse back into a life of robbery and untimely death in prison.
Ernest's known story begins in mid-September 1893, in Knoxville. On that date, the local Daily Journal and Tribune newspaper reported that he and Horace Murphy had been "arrested by Officers Selby and Shetterly yesterday, on a charge of burning W.H. Malcomb's barn..." If this is our Ernest, he only would have been age 12 at the time. The outcome of the matter is not known.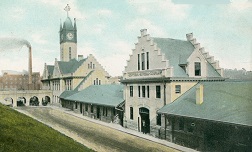 Southern Railway depot in Knoxville
The 1900 federal census listed Ernest as a cabinet maker in Knoxville, when he was age 19. Three years later, the 1903 Knoxville City Directory showed him as a carpenter for the Southern Railway -- a major rail line with operations in Knoxville -- and boarding with his parents at 518 Asylum Avenue.
Despite having gained skill as a carpenter, Ernest committed a robbery in the early 1900s and was imprisoned. Somehow he escaped and returned to Knoxville, resuming his pattern of criminal activity. He again was captured and this time convicted of five more thefts. He was sent to the Tennessee State Prison in Nashville, Davidson County.
Sometime in 1907 or '08, upon learning that Ernest was dying of tuberculosis, his mother tearfully appealed to newly elected Governor Malcolm Rice Patterson. His case was reviewed by a judge, the Tennessee Attorney General and the Board of Pardons. They all recommended to Gov. Patterson that a pardon be granted.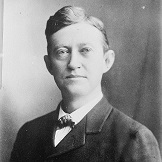 Gov. Maurice Rice Patterson
And so it was done, with much controversy. But upon release, Ernest and several friends committed another series of burglaries. One of the victims was Henry A. Plummer, who was forced to surrender a watch and one dollar of money. Another was L.B. Froneberger, who gave up a watch valued at $35 and $13 cash.
The news now became national in nature, with the Los Angeles Herald reporting as follows (Sept. 27, 1907):
Knoxville has had five holdups in the last few days. Chief Chandler threw out a net and captured Ernest Minor, Joe Dalton and William Cobb on a charge of doing the holdup game in the city. Part of the money was recovered and the watch taken off of Mr. Froneberger, the merchant, whom they held gagged and tied to a table in his store on Gay street, when they were arrested. Minor was recently pardoned from the penitentiary by Governor Patterson, where he was sent for robbery and holding up citizens of Knoxville.
After a grand jury's conviction of three counts of robbery in the Knox County Criminal Court's November Term of 1907, Ernest ended up back in the state penitentiary in Nashville. Gov. Patterson came under extreme criticism from his political opponents, the most vicious one launched by his predecessor, former Gov. Edward W. Carmack, who was then serving as Tennessee Senator.
In a speech in Memphis on May 30, 1908, Gov. Patterson responded to the criticism of his management of the state penitentiary, and specifically his lenient handling of the Minor case. The remarks were reprinted verbatim in a special supplement to the The Comet newspaper of Johnson City, TN (June 18, 1908):



News coverage of Gov. Patterson's speech
naming Ernest as a "notorious criminal"
[My critic Carmack said:] "To give a boy another chance in life is no excuse whatever for giving an able bodied professional thief another chance to steal. When you have mastered your emotions, tell me why you pardoned such a notorious professional criminal as Ernest Minor, who was sent to the penitentiary for highway robbery from Knox County, who made his escape and went right back to his old trade and was again convicted and sent up for five robberies, was pardoned by Gov. Patterson and immediately resumed his business of burglary and highway robbery and who is now once more in the penitentiary waiting for a pardon. He is no minor; and no consumptive; he is just an able-bodied, hardened, desperate, and professional criminal."
It seems that that poor fellow, after I pardoned him, got into trouble here again, and I am charged with that. I am being charged with what Legislatures do or do not do. I pardoned Ernest lawfully, upon the recommendation of the judge, of the Attorney General and the Board of Pardons, and upon a certificate of the prison physician that Ernest Minor had tuberculosis. That was the record. And the others if it was interesting to the people here I could explain the same way, and I will explain them. It is a grave matter, this question of pardoning. A Governor may make mistakes. I expect I have. Unlike Mr. Carmack I don't claim infallibility for myself. I am mortal. It is the natural desire of every human being to help those in distress, and it doesn't take away a man's humanity to be the Governor of Tennessee...
When you were talking about this little Ernest Minor case, recommended and with consumption, why didn't you tell the people here that in spite of the solicitation of friends, men whom I loved, I had to let the law take its course in a certain case, and when I did so I can say that I shed tears of sorrow over the poor mother that had appealed to me. God knows if I could have reached out my hand and saved a single tear of that poor mother's heart I would have done so. And now while you are criticizing me about Ernest Minor, why didn't you give me some credit for that, because it was a hard proposition to handle. I pray God tonight that I decided right, because I took a big responsibility....

Tennessee State Prison in Nashville, where Ernest died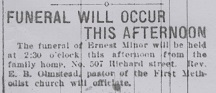 Knoxville Daily Journal and Tribune
Ernest died in the prison on June 2, 1908, at the age of 26, just three days after Governor Patterson's speech. Knoxville Board of Health officials noted that the TB was "slightly communicable" and erroneously marked his age as 24. His death was acknowledged in the Johnson City Comet in the same article reprinting the governor's speech.
Ernest's mortal remains were removed to Knoxville for funeral services held in his mother's residence at 507 Richard Street. Officiating was Rev. E.B. Olmstead of the First Methodist Church. Burial followed in Greenwood Cemetery. A very short funeral notice was printed in the Knoxville Daily Journal and Tribune.
His brothers Wilkie and Harry later joined him in repose in Greenwood Cemetery, both in 1915.
Copyright © 2015. 2018 Mark A. Miner
Johnson City Comet headlines courtesy Library of Congress/National Endowment for the Humanities' Chronicling America Project. Photo of Gov. Patterson courtesy Library of Congress' George Grantham Bain Collection. Obituary courtesy Knoxville Genealogical Society.