Laura Louise (Minor) VonKenzie
(1889-1981)
Laura Louise (Minor) VonKenzie was born on May 30, 1889, in Tennessee, either in Knoxville, Knox County or in Bristol, Sullivan County, the daughter of Capt. Henry Clay and Mattie Hunt (Phillips) Minor Sr.
She married Ohio native Guy Ferdinand VonKenzie (1888-1950), a native of Cincinnati and the son of Gustavus and Jessie (Potts) Kuzniczci. They were wed in about 1908, when both bride and groom would have been about 19 years of age. (The name also has been spelled "Van" Kenzie and "VonKinsey.")
They had at least three children -- Virginia Collier, Richard VonKenzie and Martha "Jeanne" Pettifer.
At the age of 21, Laura worked as a stenographer in a store in Boston in 1910. By 1915, according to a news article in the Knoxville Journal and Tribune, she was in her husband's hometown of Cincinnati, as was her brother Henry Clay "Harry" Minor Jr. Her name as spelled in the Knoxville story was "VonKinsey."
The VonKenzies lived in Michigan circa 1919 when their daughter Virginia was born. A year later, in November 1920, they were in Miami, FL for the birth of their son Richard.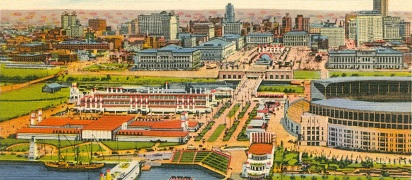 Cleveland skyline, as seen from Lake Erie
They moved yet again in the mid-1920s, and the census of 1930 shows the family living on Linn Drive in Cleveland, Cuyahoga County, OH. That year, Guy worked as a caretaker of an apartment building. Over the years, he became more of a general contractor in the buildings field.
The family's address in 1933 was 1629 East 86th Street in Cleveland. Their home in about 1937 was in Canton, Stark County, OH. They remained in Cleveland Heights circa 1944. In 1950, their home was located at 1723 Hartshorn Road in Cleveland.
Heartache enveloped the family when their adolescent son Richard (1920-1933) was diagnosed with "Addison's Disease" -- failure by the adrenal glands to produce sufficient steroid hormones. He died one and a half months after reaching his 13th birthday. Death occurred on Dec. 22, 1933, just three days before Christmas. His remains were cremated by the Cleveland Cremation Company. On the death certificate, signed by his father, his mother's name was spelled "Lora."
Guy suffered a stroke on or about Oct. 2, 1950, and may have fractured ribs during the illness. He died two days later at Robinson Memorial Hospital in Ravenna, Portage County, OH, on Oct. 4, 1950, at the age of 61. His remains were cremated, with services provided by Cleveland Cremation.
Louise survived her husband by more than three decades. When her sister Helen Wilkins died in Fairbanks, Alaska in 1955, Louise and her daughters were named in the obituary published in the Fairbanks Daily News-Miner.
By the early 1980s, Louise resided in Willoughby, Lake County, OH.
Louise passed away at the age of 91 on Dec. 6, 1981, in Painesville, Lake County. Interment was in Knollwood Mausoleum in Mayfield Heights. A short obituary was published in the Cleveland Plain Dealer.
~ Daughter Virginia L. (Vonkenzie) Collier ~
Daughter Virginia L. Vonkenzie (1920-2002) was born on April 10, 1920 in Michigan.
As a 17-year-old, Virginia liked to collect printed photo portraits of her favorite celebrity, movie star Robert Taylor of Metro-Goldwyn-Mayer. Her passion generated national news coverage in May 1937 editions of the Wilkes-Barre (PA) Evening News, Gaffney (SC) Ledger and San Mateo (CA) Times, among others, which noted that "she has papered two walls of her room with his likeness and asks for more. She gives herself six months to finish the room."
At the age of 20, in 1940, she lived at home and was employed as a stenographer performing general office work.
During World War II, she was employed by Thompson Aircraft Product Company. In September 1943, as a member of the company's Tapco Personnel Girls Club, she helped organize a day honoring all servicemen at the Hotel Tudor Arms in Cleveland.
Later, on May 24, 1950, she married 40-year-old widower William Judson Collier (1910-1984), son of George and Grace Cogan (March) Collier of Cleveland. He had only been widowed for just three-and-a-half months before his marriage to our Virginia, and he may have brought children to the marriage.
William previously had been married to Welsh immigrant Blodwen Jones (1913-1950) and had lived at 818 Quilliams Road in Cleveland Heights. Sadly, Blodwen died of breast cancer at the age of 37 on Feb. 2, 1950, and was placed into rest in Cleveland's Lake View Cemetery.
Virginia and William made their home in South Euclid, Cuyahoga County.
William passed away on March 4, 1984 at the age of 74.
Virginia survived her spouse by 18 years. She died in Cleveland on Oct. 14, 2002, at the age of 82.
~ Daughter Martha Jeanne (Vonkenzie) Pettifer ~
Daughter Martha "Jeanne" Vonkenzie (1931-1992) was born in 1931 in Cleveland.
In about 1949, she married Ralph Harry Pettifer (1928-1992).
They had a family of four children -- Harry Ernest Pettifer, Ralph Harry "Buzz" Pettifer Jr., Susi Mathis and Curtis Richard "Rick" Pettifer.
They lived in Euclid, Cuyahoga County and Willoughby, Lake County, OH. Circa 1953, their address was 442 G. Clearview Drive in Euclid.
The Grim Reaper of death swept up their son Harry -- stricken with polio -- at age 35 days on Oct. 1, 1953. The baby's tender remains were placed at rest in the Knollwood Cemetery in Mayfield Heights.
Little else about their lives together is known.
Sadly, the couple died just a little more than three months apart.
Ralph died in Willoughby on July 31, 1992.
Jeanne passed away at the age of 61 on Nov. 11, 1992, at Lake County Memorial Hospital East in Painesville.
Son Ralph H. "Buzz" Pettifer Jr. ( ? -2012) was born in or around Willoughby and was a lifelong resident of Lake County. Following graduation from the Culinary Institute of America, he pursued a career as a chef and worked for the Cleveland Stadium, Cleveland Racquet Club and the Cleveland Yacht Club. He married or had a relationship with Josephine "Josie" Passafiume, daughter of Bennie and Millie (Faragone) Passafiume. They produced two children, Bennie Pettifer and Alice Pettifer. Buzz died at his home in Painesville Township on March 12, 2012. Burial was at Willoughby Memorial Garden.
Grandson

Bennie Pettifer

wedded Amy.
Granddaughter

Alice "Ali" Pettifer
Son Curtis Richard "Rick" Pettifer married Theresa.
Daughter Susan "Susi" Pettifer wed Timothy Mathis.
Copyright © 2000, 2002, 2004-2008, 2010, 2015, 2018 Mark A. Miner