Home

Wilkie Joseph Minor
(1883-1915)
Wilkie Joseph Minor was born on Jan. 16, 1883 (or 1887) in Knoxville, Knox County, TN, the son of Capt. Henry Clay and Mattie Hunt (Phillips) Minor Sr.
When he was age 16, in 1900, he may have gotten into trouble. That year, the U.S. Census records that he was a student at the Tennessee Industrial School in Nashville, 180 miles from home. The institution's purpose was to benefit orphan, helpless and wayward children.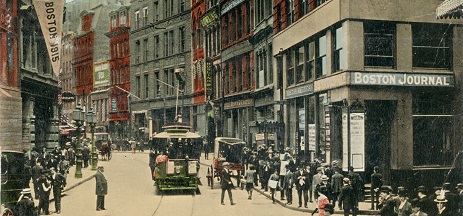 Old Boston, circa 1915
He apparently never married. By 1910, when he was age 26, he had migrated to Boston where he lived with his brother John, a printer. Their address was 11 Calder Dor.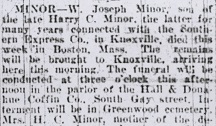 Knoxville newspaper, 1915
At the age of 32, and single, in 1915, Joseph was back in Knoxville and earned a living as a clerk. That year, in April, he traveled to Boston to visit his brother and sister in law, John and Florence Minor, who were living at 30 Ashland Street in Arlington.
While there, he was stricken with yellow atrophy of the liver, which physicians diagnosed as "acute." The disease caused the liver to deteriorate and possibly led to severe headaches and confusion. He died four days after onset, on April 19, 1915, age 32 years, three months and three days. Officials filled out a Massachusetts death certificate, with sister in law Florence as the informant for personal facts.
The remains were shipped back to Tennessee for burial in Knoxville's Greenwood Cemetery. Joseph's mother accompanied the remains. Funeral services were held in the parlor of Hall & Donahue Coffin Company of South Gay Street. An obituary in the local newspaper noted that Joseph's father was "for many years connected with the Southern Express Co. in Knoxville," and it named the deceased's siblings as John E. Minor of Boston, Helen Minor of Boston, Harry C. Minor Jr. of Cincinnati and Mrs. VonKinsey of Cincinnati.
Copyright © 2000, 2002, 2004-2008, 2010, 2015, 2018 Mark A. Miner