Home

Samuel Finley Oberdorf
(1848-1932)
Samuel Finley Oberdorf was born on Oct. 14, 1848 in Grand Rapids, Wood County, OH, the son of Samuel Stanwood Finley and Catherine (Van Horn) Oberdorf.
On the third day of the new year in 1877, at the age of 19, he married Mary Ann Davis ( ? - ? ). The nuptials were officiated by justice of the peace J.B. Hill in Wood County.
Their three known children born to this marriage were Robert Vernon "R.V." Oberdorf Sr. and Sylvia Valentine. They also raised a motherless grandson, Dee J. Valentine.
The couple first lived in Cloverdale, Wood County.The 1900 federal census enumeration shows the family in Bowling Green, Wood County, with Samuel working as a building mover.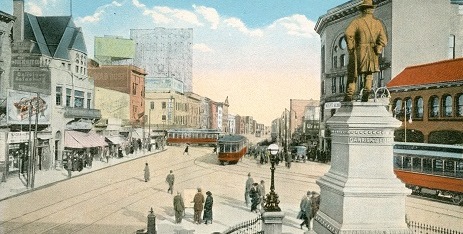 Corner of Summit and Cherry Streets, Toledo, with the Steadman monument
Later, the Oberdorfs made their home at 743 Chesbrough Avenue in Toledo, Lucas County, OH.
Suffering from chronic kidney disease, hardening of the arteries and senility, Samuel died at the age of 83 on April 29, 1932. Burial was in Bowling Green, Wood County. Son Dee Oberdorf signed the official Ohio death certificate.
Mary Ann outlived her husband by almost 11 years. She passed away on April 15, 1943.
~ Daughter Sylvia (Oberdorf) Valentine ~
Daughter Sylvia M. Oberdorf (1879-1902) was born in Sept. 1879.
On Aug. 26, 1897, in Wood County, she wed 17-year-old Arthur F. Valentine (1880- ? ), son of James A. and Mary Catherine (Fansmaugh) Valentine. Rev. J.M. Crim officiated.
Together, the Valentines produced one known son, Dee J. Valentine.
The couple's address in 1900, at the time of the United States Census, was on Fourth Street in Bowling Green, Wood County. Arthur earned a living at that time as a house plasterer.
Tragically, Sylvia is believed to have passed away from a miscarriage on June 11, 1902, in Bowling Green, at the age of 24.
Arthur survived Sylvia by several decades and married twice more, on Jan. 24, 1905 to Bertha A. Hunt (1883-1928) and Ida Ellen Arnett (1897-1943). Arthur and Bertha lived in German Township, Allen County, OH in 1910, boarding with her parents Charles and Sarah Hunt. Arthur continued his work as a plasterer of houses at that time. Sadly, Bertha suffered for 20 years with bladder problems and died of uremia and shock following surgery on Jan. 4, 1928. In 1935-1940, Arthur and Ida together ran a convalescent home in Piqua, Miami County, OH. She passed away from a bowel obstruction at age 46 on Nov. 1, 1943. He died in 1947 and sleeps for eternity with his second bride in Riverside Cemetery, Troy, OH.
He died on July 21, 1947 in Dayton, OH.
Son Dee J. Valentine (1898-1972) was born on Feb. 15, 1898 in or around Bowling Green, OH. He was but a young boy when his mother died, and he was raised by her parents. As such, he appears to have used the "Obeerdorf" name at times in adulthood. He learned the occupation of masonry, and as an adult lived at 3636 Torrence Street in or near Toledo, Lucas County, OH. There is some evidence to suggest that he served in the U.S. Army in World War I and was wounded when his gun exploded. In 1930, he boarded in the home of Thadeus and Mayme Tillotson on Torrence Drive in Toledo, working as a brick mason. He did not marry until he was age 41. On June 17, 1939, he wed 37-year-old divorcee Margaret (Wyman) Klaus Underwood, the daughter of Charles F. and Carrie (Schill) Wyman. Rev. John C. Gieser officiated. (Her previous husbands were Fred Klaus and George Underwood.) At the time of marriage, Margaret earned income as a seamstress. Margaret brought a daughter to the second union, Margaret (Underwood) Geiser. They did not otherwise reproduce. When required to register for the military draft during World War II, using the surname "Oberdorf," he declared that his employer was P.D. Kastor, general contractyor of Toledo. He also stated that he was missing the first joint of the index finger of his right hand. Socially, the family is known in August 1937 to have attended a Lawn Social presented by the Ladies Aid of Winthrop Harbor, IL. The news was published in the gossip columns of the Zion (IL) Community News. When the federal census enumeration was taken in 1940, the Oberdorfs lived in Toledo. Also residing under their roof were stepdaughter Margaret, Dee's 87-year-old widowed grandmother Mary Oberdorf and Margaret's widowed mother Carrie Wyman. Dee died in Toledo long-term care facility at age 75 on Feb. 23, 1972. Interment of the remains was in Toledo's Woodlawn Cemetery. Margaret outlived him by 23 years. She succumbed to the spectre of death in 1995.
Stepdaughter Margaret Underwood (1921-1994) was born on Oct. 13, 1921 in Ohio. She grew up with Dee Oberdorf as her stepfather and lived in Toledo as a teenager. Margaret in young womanhood was a stenographer. On Oct. 5, 1940, in Lucas County, she entered into marriage with Wayne Geiser (May 16, 1919- ? ), son of Carl and Jessie (Chesecher?) Geiser of Toledo. At the time, Wayne earned a living as an electro-plater. The union was troubled, and the couple divorced. Then on Feb. 4, 1950, she married a second time to John A. Mack (Nov. 9, 1917- ? ), also of Toledo and the son of Lucerne and Lena (Ward) Mack. Rev. R.G. Canter officiated. John was a salesman at the time of marriage. Evidence suggests that she died in Toledo in July 1994.
~ Son Robert Vernon "R.V." Oberdorf Sr. ~
Son Robert Vernon "R.V." Oberdorf Sr. (1888-1967) was born on March 8, 1888 (or 1890) in Cloverdale, Wood County, OH.
He grew up in Bowling Green, Wood County.
When he was age 21, he married 18-year-old Hattie M. Neier (1891- ? ) on June 10, 1909 in Wood County, OH. C.M. Eberly led the nuptials.
Following his father's occupation, R.V. was a building mover and lived in Bowling Green, Wood County. Hattie was the daughter of Lewis and Elizabeth (Myers) Neier and at the time of marriage lived in North Baltimore, Wood County.
They bore together one child, Robert Vernon Oberdorf Jr.
Trouble began about 18 months into the marriage, with Hattie's father circulating allegedly slanderous comments about R.V. After 18 months, Hattie moved out on June 5, 1912, and sued R.V. for divorce. A story in the Perrysburg Journal said that R.V. had treated Hattie with "extreme cruelty" and "was in the habit of ridiculing her and of telling her of his exploits in questionable places." The father in law then came to the house and removed all of the furniture and household goods. R.V. countered by suing the father in law for $10,000 in damages, with the news reported on the front page of the Perrysburg Journal. The divorce went forward and was granted.
Now single again, R.V. made his home at 608 Erie in Toledo, OH.
On March 5, 1921, in Lucas County, OH, R.V. wed a second time, to Verdie Viola (Fairchild) Wren, daughter of Seth H. and Idea B. (Stevens) Fairchild. Verdie also had been divorced previously, from George Wren, and supported herself as a laundress. Both husband and wife were age 31 at the time of the second marriage.
The couple moved to White Cloud, MI, where R.V. continued his line of work as a farmer.
During World War II, the Oberdorfs grieved when receiving the shocking news that their son Robert had been killed during the Battle of the Bulge in Europe.
Verdie died on Jan. 10, 1954, possibly in White Cloud, with burial in Goodwell Township Cemetery.
Robert passed away 13 years later, on June 23, 1967.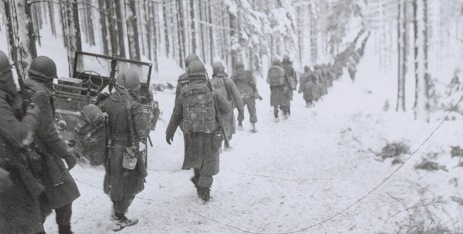 Robert V. Oberdorf Jr. was killed during the Battle of the Bulge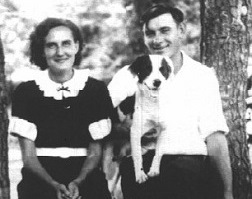 Robert Jr. and Kathryn Oberdorf
Son Robert Vernon Oberdorf Jr. (1910-1945) was born on April 20, 1910 in Bowling Green, Wood County, OH.
After his parents divorced, he relocated to White Cloud, MI, where his father and step-mother lived. Robert stood 5 feet, 10 inches tall, weighed 150 lbs. and had brown hair and brown eyes. His home in 1935 was in Newaygo, Newaygo County, MI.
In about 1937, when he was 27 years of age, he was united in holy matrimony with Kathryn Morgan (Oct. 27, 1912-1987?), daughter of John and Irene May (Mockerman) Morgan.
The federal census enumeration of 1940 shows the couple in Norton, Muskegon County, and listing Robert as a truck driver for a cement company. Their address at that time was on Robert Street near East Broadway.
When required to register for the military draft on the eve of World War II, they resided at 2650 Valk Street in Muskegon, Muskegon County, MI, with Robert employed by Gallup Bros. of 576 East Broadway in Muskegon Heights.
During World War II, Robert was drafted into the Army and was assigned to the 318th Infantry, 80th Division. While in action during the Battle of the Bulge in Luxembourg, a victory for the Allies, he went lost. He was officially recorded as missing in action on Feb. 11, 1945, and was declared dead less than five months later on July 2, 1945. Whatever remains may have been recovered were placed into honored rest in the Luxembourg American Cemetery in Hamm, Luxembourg, Grave No. E 15 61.
Kathryn is believed to have outlived her husband by more than four decades. She reputedly died in Muskegon on Jan. 12, 1987. Interment of her remains was in Coral Cemetery.
Copyright © 2015, 2021-2022 Mark A. Miner
Photo courtesy of Karl Oberdorf.