Christina (Younkin) Dull
(1795-1881)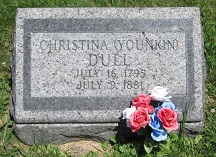 New Centerville Union Cemetery
Christina (Younkin) Dull was born on Aug. 16 (or July 16), 1795 in Somerset County, the daughter of Johannes "Frederick" and Catherine (Patton) Younkin.
She was baptized in the Sanner Church in nearby Milford Township, Somerset County on Feb. 23, 1797, when she was a little more than 18 months old.
In about 1815, when she was age 20, Christina wed 21-year-old George Dull Sr. (1794-1852), son of John and Elizabeth (Putman) Dull of Somerset County.
They resided on a farm in New Centerville, Milford Township, and received their mail at the Glade post office in the community.
The couple bore these 13 known children – Elizabeth Dumbauld, Catherine Dull, Frederick Dull, Sabina Dull, Mary Ann Critchfield, Lucinda Hauenstine, John Dull, Gertrude Dull, William Dull, Sarah Ann "Sally" Saylor, Christina Sweitzer, George Dull Jr. and Josiah Dull.
After the death of Christina's father in August 1843, an estate sale was held several weeks later. George purchased a tea kettle, two razors & box, a steel trap and a large pot.
Later that year, however, the Grim Reaper of death visited the family and swept away their daughter Catharine, on Oct. 5, 1843, just one day shy of her 26th birthday. The cause of her untimely passing is unknown. Her remains were placed at rest in the Messiah Lutheran Church burying ground in New Centerville. A marker was erected at her grave which still stands erect and fully legible today.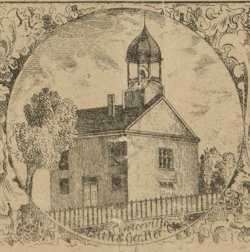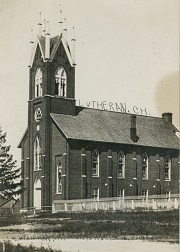 Left: the Lutheran and Reformed Church of Centerville, circa 1860,
and its successor, the Messiah Lutheran Church, early 1900s
They lost another son to death -- eight-year-old George -- on March 15, 1849, with interment in New Centerville.
The family is believed to have attended the Messiah Lutheran Church in New Centerville. Established in 1793, the German-speaking congregation erected its first log building in the 1810s, and one of their favorite hymns was "Komm, O Komm, Du Geist des Lebens" ("Come, O Come, Thou Spirit of Life"). Worship services were held in the German tongue until about 1834, when English became the preferred language. In 1860, when a map of the county was produced by Edward Walker, a sketch of the church building was included. A new brick building measuring 70 ft. by 40 ft. was completed in 1874. The photograph seen here also was used as an illustration in the book Down the Road of Our Past published by the Rockwood Area Historical & Genealogical Society.
In 1850, when Christina was age 56 and George 55, they were enumerated together on the federal census, living in Milford Township. Living under their roof that year were 17-year-old daughter Christina Dull and 14-year-old son Josiah Dull.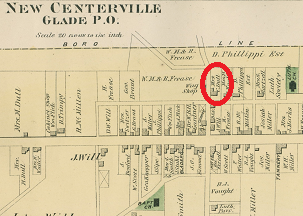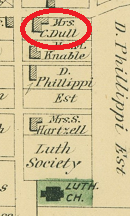 Above: 1876 atlas of New Centerville showing Christina's home, (circled) marked "Mrs. C. Dull," near the Lutheran church. Below: graves of George Sr. (left) and children Catharine and George Jr. at today's Union Cemetery, Messiah Evangelical Lutheran Church, New Centerville.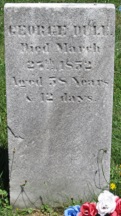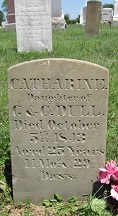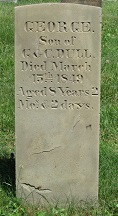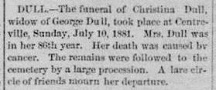 Somerset Herald, Aug. 3, 1881
Over the years, four of the Dull children migrated with their spouses to the midwest and west. Son John Dull moved in about 1855 to in the emerging town of Waterloo, Black Hawk County, Iowa. Later in the 1840s, daughter Lucinda Hauenstine also migrated with her family to Sugar Creek. Youngest son Josiah Dull made his way to Iowa by 1858 and put down roots in Rossville, Allamakee County. Then in 1860, daughter Sarah Ann Saylor also traveled to Iowa and settled in Waterloo.
George passed away on March 27, 1852 in New Centerville. His age was 58 years and 12 days. His remains also were laid to rest in the Lutheran cemetery in New Centerville. A marker was placed on the grave and is still standing today.
Christina survived him by almost three decades. In 1870, at age 74, she made her home next door to her son and daughter in law, William and Margaret (Flick) Dull, and their family of children, on a farm in Milford Township. That year, 21-year-old farmer Jacob P. Weimer lived under her roof.
She died in New Centerville at the age of 85 on July 9, 1881. An obituary in the Somerset Herald noted that her "death was caused by cancer. The remains were followed to the cemetery by a large procession. A large circle of friends mourn her departure."
They both rest in the Union Cemetery next to the Messiah Lutheran Cemetery in New Centerville. The original stone which marked her final resting place broke and was discarded, to be replaced by a new one many years later, installed by descendants.
~ Daughter Catherine Dull ~
Daughter Catherine Dull (1817-1843) was born on Oct. 6, 1817.
She died at the early age of 25, of causes not yet determined. Her passing occurred on Oct. 5, 1843 in New Centerville. Burial was in New Centerville.
~ Daughter Sabina Dull ~
Daughter Sabina Dull ( ? -1896) died in 1896. Her remains were laid to eternal rest in New Centerville.
~ Daughter Gertrude Dull ~
Daughter Gertrude Dull (1823- ? ) was born March 11, 1823. She died at the age of two months and was buried in New Centerville.
Copyright © 2014-2017
Research for this page graciously shared by the late Donna (Younkin) Logan, Clark Brocht and Linda Marker.