Home

Jacob 'of John' Younkin
(1781-1848)
Jacob "of John" Younkin was born in about 1781 in Bucks County, PA or in Lovettsville, Loudoun County, VA, the son of Johannes "John" and Catherine (Dorscheimer) Younkin. He received the moniker "Jacob of John" to distinguish him from his uncle Jacob and other cousins named Jacob living in his vicinity over the years. While Jacob's father owned land in Bucks County, it's believed that Jacob may have been born in the Virginia location where his parents physically resided.
While in the Shenandoah Valley of Virginia, Jacob married Eleanor Chambers (1785- ? ), daughter of William Chambers of Loudon County. They began to raise a family in Lovettsville.
In the early 1800s, the Younkins relocated to Kingwood, Turkeyfoot Township, Somerset County, PA.
The couple produced these known children -- John M. Younkin, Wilhelm "William" Younkin and Catherine "Katie" Firestone.
After the death of Eleanor's father in Virginia, the Younkins and other heirs became entangled in an 1814 lawsuit over the equitable division of the old farm property, totaling 60 acres. The legal complaint filed by the heirs later was published in the Magazine of Virginia Genealogy, Vol. 37, No. 3.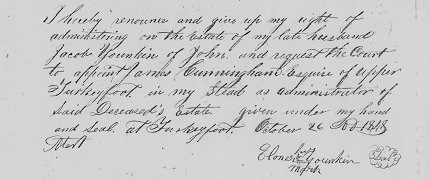 Eleanor's renunciation of her right to administer the estate of her late husband, 1848, signed with an "X."
Jacob died in Turkeyfoot in 1848 at the age of 67. Evidence suggests that his remains are at rest in the Mount Union Cemetery near Casselman, Somerset County. The location of his burial needs to be confirmed.
After Jacob's passing, when Eleanor renounced her right to administer the estate, three local men were named to do so. They included son John in addition to James Cunningham and John R. Edie. A public sale was made of select "goods and chattels" from the estate to raise funds to pay debts. Forty two lots were sold to 24 buyers, raising $168.96.
Eleanor survived her husband. In 1850, at the age of 66, census records show that she dwelled with her unmarried son John in Lower Turkeyfoot Township.
She may have died during the 1850s, as she has not yet been located on the federal census enumeration of 1860. Her final fate is shrouded by the hazy mist of history.
~

Jacob Younki
n's Goods and Chattels Buyers Nov. 8, 1848 ~
Garrison Smith - bee box and old irons, 1 bull

John Younkin - hand saw, stew kettle

George Firestone - 2 augurs, 1 plow

Jesse Doil - hand axe, 2 barrels

Frederick Greiger - maul, 2 barrels, lumber

John M. Younkin - dish

William Rush - saddle bags

Byard H. Miller - large wheel

Widow Younkin - log sled, two plows and harrows, long sled, set of horse gears, clock, bed, cow, 1 mow of hay, wind mill, cutting box

Mose Caton - 1 kettle

William Tissue - saddle, horse gears

Elijah Hyatt - set of breech bands, bridle

Henry Minerd - grindstone, 5 sheep

John Firestone - sorrel mare

William Pinkerton - cow

Andrew Schrock - cow, 2 sheep

Michael Sanner - cow

John Minder - heifer

(?) Rugg - heifer

John Ansell - 2 sheep

Jacob Schultz - mow of hay

Peter Faidley - 2 barrels, rake, fork

Jacob Sterner - 3 calves

Daniel Schultz - bee hive

John Younkin - bee hive
Copyright © 2015-2017 Mark A. Miner
Research for this page graciously shared by the late Joseph Warren Thomas III, the late Olive (Rowan) Duff, the late Donna (Younkin) Logan and Glen Swartz.