Mary E. (Younkin) Stewart
(1854-1878)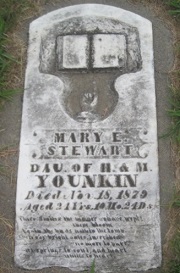 Mary's grave, Timber Creek
Courtesy Connie Langvardt
Mary E. (Younkin) Stewart was born on Christmas Eve 1854 in Addison Township, Somerset County, PA, the daughter of Henry F. and Mary (King) Younkin.
She was but a baby when her eldest brothers were settling in Kansas.
At about the age of 20, in 1874, Mary may have made the migration to Kansas when her parents sold their Somerset County farm and made the trek to the sunflower state.
In Kansas, Mary married Frank Stewart ( ? -1877), a native of Lowell, IL. His first name also has been given as "Will."
The young couple resided in Wakefield, but their lives were doomed by fate.
There smiles the mother we have wept!
there bloom
Again the buds asleep within the tomb.
There o'ere bright gates, inscribed
"No more to part,"
Soul springs to soul, and heart
unites to heart.
On New Year's Eve 1877, Frank died in Wakefield at a young age.
Mary survived him by less than two years. She surrendered to the spectre of death in Clay County, KS on Nov. 18, 1879 at the young age of 24 years, 10 months and 24 days.
Her remains were entombed in the Timber Creek Cemetery near Wakefield. [Find-a-Grave]
On her grave marker was inscribed an epitaph written by Englishman Sir E.B. Lytton.


Copyright © 2014-2016 Mark A. Miner
Research for this page graciously shared by the late Donna (Younkin) Logan, Marian (Smith) Posey, Laurel Posey, Loretta (Adams) Kelldorf, Blair E. "Junior" Younkin Jr. and Kay Lynn Younkin.