Online Museum of Creativity
Item: Decorated Metal Trays
Creator: Doris (Sands) Hawker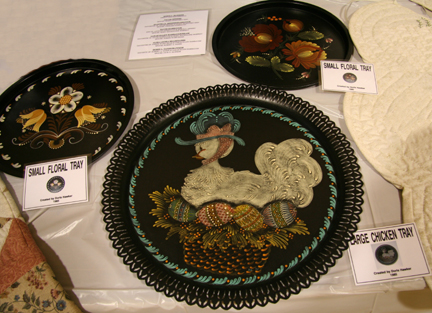 Reunion treasurer Doris (Sands) Hawker brought a wide range of her creations to our 2006 reunion. Seen here are two small floral trays, and a large chicken tray, made of metal, that she painted in 1985. Doris is the daughter of Alma (Ream) Sands and the granddaughter of Sadie (Harbaugh) Ream, and has been our treasurer since 2001.
Click for next artifact
Return to index page
Copyright © 2006 Mark A. Miner. Photo by Sid Miller.