Site of 2013 National Minerd- Minard- Miner- Minor Family Reunion Picnic - June 2013
628 Indian Creek Valley Road, Indian Head, PA
Click here for a map and the websites of VisitPittsburgh.com and LaurelHighlands.org featuring lodging, outdoors activity, shopping, parks and other family fun activities. Reunion details to come.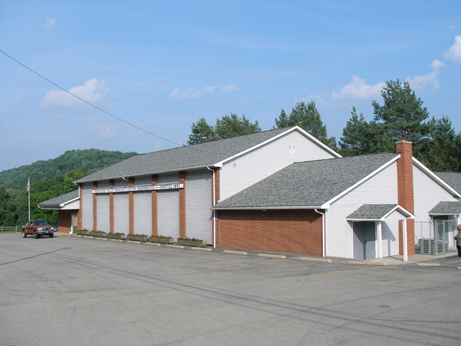 Above: spacious parking lot and building adjacent to Route 381, between Normalville and Indian Head. The Pennsylvania Turnpike is just 9 miles to the north (Donegal Exit). The original pioneer Minerd farm dating to 1791 is 10.5 driving miles away.
Above: parking lot and sign against the backdrop of the stunning mountains. Nearby are camp grounds, hotels, hiking and biking trails, a petting zoo, shopping, and more.
Solidly built, enclosed structure
Air conditioned facility with drinking fountains and his and her restrooms with clean, modern fixtures
Above: the main room where we can set up a maximum of 40 tables and 300 folding chairs, all provided.
Modern kitchen, size 20 ft. x 30 ft., with freezer and refrigerator, running water sink, and many electrical outlets
Above: the "lion's den" room in between the kitchen and large room, which is set up with food for buffet-style queue line
Plenty of grassy area for kids to run and play - including teeter totter, volleyball net and jungle gym, as seen above.

Copyright © 2005, 2011, 2013 Mark A. Miner