Home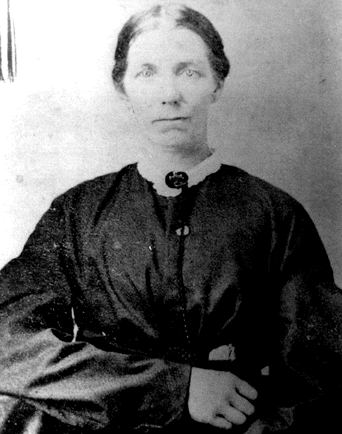 The ghostly image of ill-fated Mahala (Minor) White gazes eerily at us from across more than a century of time. With her husband, Luther White, Mahala was a pioneer settler of Missouri and Kansas, but became a victim of the harsh life of a prairie settler. In 1869, the Whites left their home in Cardington, OH, and moved west to Missouri. Then, in late 1884, they moved again, to Kansas, settling in Barber County after a "long and arduous journey." Tragically, Mahala "did not long withstand the rigors of the climate, nor the hardships of pioneer life, and died within a year." She passed away on New Year's Day 1885, and is buried near the town of Isabel, KS.
Mahala was the daughter of Ohio pioneers Daniel and Margaret (Fluckey) Miner. For this poignant story, we are indebted to the 1971 volume, Ancestral and Chronological History and Lineage of the Family of Luther White and Mahala (Minor) White, Their Forbears and Descendants, 1665-1971, by J. Blanche (Clark) Tarter, Edith M. (Peterie) Hoyt and Verda (White) Richey.
See our tribute to all western pioneers of the Minerd-Miner-Minor family.
Copyright © 2001 Mark A. Miner