Caroline 'Bessie'
(Van Dyke) Daugherty
(1905-1999)
Caroline "Bessie" (Van Dyke) Daugherty was born in 1905 in Strickler, Westmoreland County, PA, the daughter of Samuel Aaron and Bertha Mae (Minerd) Van Dyke.
She wedded John L. Daugherty (1898-1981) of Foxtown, Westmoreland County.
They had seven children -- Betty Griffin, Nellie Nutter, Floyd Daugherty, Larry Daugherty, Gerald L. Daugherty, Dale D. Daugherty Donald Daugherty. Sadly, son Dale died at age six months on Jan. 3, 1928 from what physicians called "interstitial intussusception" -- twisted intestines blocking the flow of blood and nutrition. His tender remains were interred in Hillis Cemetery in Greensburg.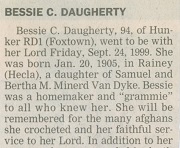 Greensburg Tribune-Review
As did her sister Anna Belle, Bessie was a charter member of the Christian Missionary & Alliance Church of New Stanton. John worked for DME (Detroit Mold Engineering) of Youngwood, a company which provided mold-base assemblies and components for the plastics industry. They dwelled in Hunker/Foxtown.
John passed away in 1981. His remains were placed into repose in Westmoreland County Memorial Park.
Bessie survived her husband by 18 years. During that time, she suffered the loss of three adult sons. She died at the age of 94 on Sept. 24, 1999. In an obituary, the Greensburg Tribune-Review said that she "was a homemaker and 'grammie' to all who knew her. She will be remembered for the many afthans she crocheted and her faithful service to her Lord." She was survived by 18 grandchildren, 23 great-grandchildren and nine great-great grandchildren.
Daughter Betty Daugherty ( ? - ? ) married Arthur "Art" Griffin ( ? - ? ). Circa 1994, she dwelled in Acme, Westmoreland County and in 2011 in Weltytown.
Daughter Nellie Daugherty (1925-2011) was born on Sept. 22, 1925 in Foxtown. She wedded Robert "Bob" Nutter ( ? - ? ). The Nutters produced four children -- Robert D. Nutter, Dale E. Nutter, Carol S. Trout and James L. Nutter. In 1994, their residence was in Hunker. They were members of Grace Bible Church of Upper Wyles. Sadly, at the age of 86, Nellie passed away on Dec. 1, 2011 in Excela Health Westmoreland Hospital in Greensburg. An obituary in the Greensburg Tribune Review counted among her survivors 11 grandchildren and 21 great-grandchildren. Rev. Wes Johnson officiated at the funeral service, with burial in Mt. Lebanon Cemetery in Tarrs.
Son Floyd L. Daugherty ( ? -1981) was born on Christmas Eve 1924. He was joined in wedlock with Dolores Firmstone ( ? - ? ). He was employed by Robertshaw Controls in Youngwood. He died in January 1981.
Son Larry D. Daugherty ( ? -1986) was united in matrimony with Connie Firestone ( ? - ? ). He succumbed in 1986.
Son Gerald L. Daugherty (1936-1994) was born on Dec. 11, 1936 in Greensburg, Westmoreland County. He married Constance Lee "Connie" Rosensteel (1941-1968). They were the parents of Patricia Ann Daugherty and Edward D. Daugherty. Tragedy shook this family when 27-year-old Connie and newborn Patricia succumbed in childbirth in 1968. Their remains were placed together in eternal repose in Westmoreland County Memorial Park. Gerald was employed for many years with DME of Youngwood. Gerald was admitted to Westmoreland Regional Hospital in Greensburg where he died at the age of 57 on Oct. 28, 1994. The funeral service was led by Rev. David L. Vucish and Rev. James B. Liston, followed by burial in the county memorial park. An obituary was printed in the Greensburg Tribune-Review.
Son Donald G. Daugherty (1930-2012) was born on Jan. 26, 1930 in Foxtown. He was wedded to Norma "Jean" Schurg ( ? - ? ). Their only son was Randy A. Daugherty. As with many in the family, he earned a living by working at Robertshaw Controls in Youngwood. Said the Greensburg Tribune-Review, he "was a member of Youngwood Sportsmans, a life member at both the American Legion of Mt. Pleasant and Hempfield Hunt Club. He enjoyed hunting, fishing, camping and following the Pittsburgh Pirates." He lived in Hunker, Westmoreland County in the 1990s-2010s. Donald died at home in Hunker at the age of 82 on Sept. 27, 2012. His funeral was conducted by Rev. Kevin Hercula and at the gravesite by the Armbrust Veterans Association, with burial in Westmoreland County Memorial Park. An obituary appeared in the Tribune-Review.
Copyright © 2000, 2003-2006, 2018 Mark A. Miner
Minerd.com extends its gratitude to the late Anna Belle (Van Dyke) Breegle for sharing material for this biography.