Adam Andrew Comp
(1843-1935)
Adam Andrew Comp was born on May 14, 1843 at Buffalo Mills, Bedford County, PA, the son of Jacob and Elizabeth "Betsy" (Sturtz) Comp Sr. The fact of his birth was inscribed in the family Bible.
As an adult, he stood 5 feet, 7 inches tall, had a fair complexion, blue eyes and dark hair.
During the Civil War, Adam was one of several brothers, brothers-in-law and nephews who served in the Union Army. He traveled to Chambersburg, PA, where he joined the army in November 1864 and was assigned to the 82nd Pennsylvania Infantry, Company C. Little of his military service is known. One fact that has surfaced is that he was on duty at Petersburg, VA, in about March -April 1865, and personally saw President Lincoln and Gen. Ulysses S. Grant during a visit to the works, with both leaders "under fire" from the enemy.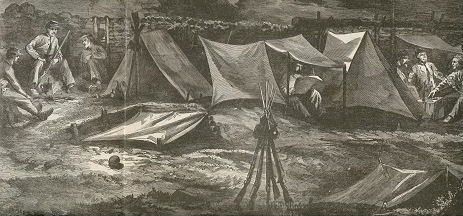 Entrenched Union soldiers during the siege of Petersburg, VA
While at Hall's Hill, VA, he received his honorable discharge on July 13, 1865 and returned home to Buffalo Mills.
Adam was married twice. On June 15, 1871, when he was 28 years of age, he was joined in wedlock with 24-year-old Amanda Elder (Dec. 12, 1846-1919), daughter of George and Margaret (Cessna) Elder. Their marriage ceremony was held at Schellsburg, Bedford County, officiated by Rev. N.H. Skiles of the Reformed Church of White Sulphur Springs.
The couple did not reproduce.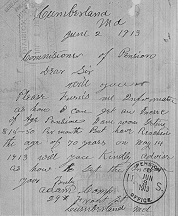 Adam's letter to the U.S.
Pension Commissioner, 1913
National Archives
The couple relocated in 1871 across the state line into Cumberland, Allegany County, MD, where Adam had been hired by the Baltimore and Ohio Railroad, which had significant operations in the city. He remained in the B&O's employ for four decades.
In 1880, U.S. Census records show the couple living on Keranen Street in Cumberland, with Adam working as a carpenter for the B&O.
Adam sustained a severe knee injury at work in December 1882 when he fell between beams while carrying a beam on the Salt Works Bridge near Homestead in Pittsburgh. He was incapacitated for six to seven weeks but received workmen's compensation from the railroad. Then in February 1887, also at work, he lost his left ring finger, severed by a jointer machine, in the B&O's Glenwood Shops near Pittsburgh. He wrote that "The stick of timber I was working on turned in the machine and threw my hand against the bits of the machine tearing off the finger." Co-workers James A. Milligan and Charles R. Moffitt observed the accident and testified that it "was not through drink or any other vicious habbits." Adam lost three months of work from the finger amputation but again received benefits from the B&O as long as he visited his physician every week for examination.
He gave up his specialty of building locomotive cabs in about 1891 and took a lighter-duty position as signal foreman for the railroad. He retired in 1912.
When Adam was listed on the 1890 federal census of Civil War veterans and their widows, their address was 33 Front Street in Cumberland. They remained on Front Street during the decade of the 1890s as shown on the 1900 census.
In April 1892, living in Cumberland, he applied for a federal military pension, and it was granted. [Invalid App. #1.105.929 - Cert. #988.078] He received monthly payments of $6 circa 1899 and $65 in 1928.
In the autumn of 1896, Adam began to suffer from heart disease. During that time, he is known to have worked with Michael Burrows and J.W. Clawson of Pittsburgh. He bore the heart ailment for the remaining four decades of his life. He also was debilitated with vision and hearing loss and constipation. In February 1917, he is known to have attended the funeral of his brother, Civil War veteran Solomon Comp, in Bedford County.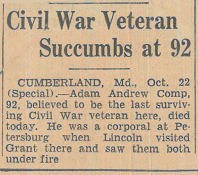 Adam's obituary, 1936
National Archives
Amanda suffered with kidney disease for the last decade of her life, and heart problems for the last five. She died from their effects at home at the age of 72 on March 19, 1919. Her remains were placed into repose in Cumberland's Rose Hill Cemetery.
After grieving for about three-and-a-half years, on Sept. 6, 1922, in nuptials held in Philadelphia, the 79-year-old Adam married for a second time. His bride was 44-year-old Edythe Jessie Carl (1878-1963), daughter of Daniel M. and Annie (Sprinkle) Carl of Hancock, MD. The ceremony was officiated by Rev. J. Henry Harms of the Evangelical Lutheran Church of the Holy Communion.
Adam endured yet another injury in December 1926 when cutting and repairing his roof. He accidentally hammed a spike through his right hand, and "was laid up two or three months under Dr. Stevanus," he recalled. He passed the time reading the daily newspapers and his Bible.
The federal census enumeration of 1930 shows the couple making their home in Cumberland. That year, Edythe's 43-year-old unmarried brother Benjamin Harrison Carl -- a stenographer with the B&O Railroad -- lived under their roof. Adam performed odd jobs for neighbors, such as installing a screen in a door, or a paine of glass in a window.
Adam was required to under physical examinations by military physicians over the years to maintain his pension. In June 1928, after one exam, an inspector in Baltimore wrote:
The pensioner impressed me as a most excellent old man, candid in his statements, and fairly active for a person of his age... [He] is able to dress and undress without assistance most of the time, that he can feed himself at the table, to to the toilet alone, walk down the street several blocks by himself, and tinker in his small carpenter shop in the rear of his house when so inclined. Certain days of the week he collects [dues] for the Chamber of Commerce at Cumberland and walks or drives himself in his auto when so doing. Pensioner requires some slight assistance in dressing and fixing his tie and collar but the assistance is only occasional. Pensioner's mind is good and his sight is fair.
He passed away at the age of 92 on Oct. 22, 1935. Nurial was in Rose Hill Cemetery in Cumberland. Funeral services, provided by G. Stanley Butler, cost a total of $440. He was the last surviving sibling in his family. [Find-a-Grave]
Edith was awarded her late husband's Civil War pension. [C #2.566.112]
As a widow, Edith resided at 329 National Highway in LaVale near Cumberland. During those years, her brother, Frank Lee Carl, served as city editor of the Cumberland Evening Times. She supported herself as a registered nurse and belonged to the St. Paul's Lutheran Church and the LaVale Homemakers Club.
In June 1942, she presented a United States flag, measuring 5 feet by 9 feet, to Allegany County Commissioner James Orr to be raised at North Cumberland Park, at the corner of Valley and Furnace Streets.
Edith was one of the few surviving Civil War widows still living in the early 1960s. She died at the age of 85 on Oct. 13, 1963 as a patient in Allegany County Infirmary in Rawlings. Burial was in Rose Hill Cemetery, with Rev. John F. Sammel officiating. Her obituary was published in the Evening Times, which named surviving nephews Urner G. Carl Jr. and S. Frantz Carl of LaVale and Mary Elizabeth Donovan of Washington.
Copyright © 2000, 2011, 2015-2019 Mark A. Miner