Elizabeth (Comp) Hufferd
(1823-1904)
Elizabeth (Comp) Hufferd (1823-1904) was born on June 20, 1823 in Somerset County, PA, the daughter of Jacob and Elizabeth "Betsy" (Sturtz) Comp Sr.
On March 16, 1846, in Frederick County, MD, she wedded Solomon Powell Hufferd (Sept. 5, 1824-1875), also spelled "Hufford" and a native of Frederick County.
The couple established a home in Bedford County and were the parents of three -- John A. Hufferd, Jacob Adam Hufferd and Mary Elizabeth Diehl.
Sadly, son Jacob died at the age of four years, nine months and 21 days on Jan. 30, 1860 and was buried in Dry Ridge Cemetery, today known as Trinity United Church of Christ Cemetery.
They were members of the Lutheran Church and, said the Bedford Gazette, she "was respected by all who knew her."
Sadly, at the age of 50, Solomon died on Feb. 10, 1875 in Bedford County. His remains were placed into rest in Trinity United Church of Christ Cemetery.
Elizabeth survived as a widow for another nearly three decades. She spent her final years in Willow Grove, PA, where she died on Feb. 3, 1904 at the age of 80. A lengthy obituary appeared in the Gazette.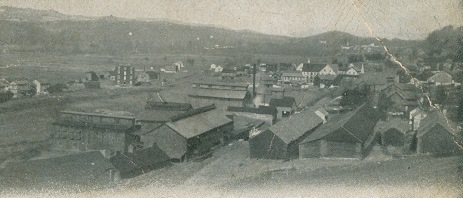 Bird's-eye view of Manns Choice, Bedford County
~ Son John A. Hufferd ~
Son John A. Hufferd (1849-1923) was born on Jan. 6, 1849 in Bedford County.
Circa 1877, at the age of about 28, he wedded Anna Elizabeth Turner (Jan. 14, 1853-1923), daughter of Andrew and Ann Maria (Hillegass) Turner.
They were the parents of two sons -- Oran Osceola Hufford and Arter Ellis Hufferd.
When the federal census enumeration was made in 1880, the Hufferds dwelled on a farm in Harrison Township, Bedford County. They provided a home at that time for John's widowed mother Elizabeth and 18-year-old single sister Mary E. Hufferd.
John's mother appears to have continued living with the Hufferds for several decades. She was still in their Bedford Township residence in 1900.
Circa 1904, their home was in Snake Spring Township, and in 1910 in the Borough of Manns Choice, Bedford County. In 1910, John and son Arter both worked as storekeepers in Manns Choice, dealing in general merchandise.
The Hufferds were back in Harrison Township in 1920.
In his final years, John suffered from an ulcer in his intestine which ruptured, leading to an acute infection of peritonitis. He was taken to Cumberland Hospital in Maryland but died during surgery on Oct. 9, 1923, at the age of 74. Three pastors co-officiated his funeral service -- Rev. M.J. Ross, Rev. Knox and Rev. D.J. Ely. Burial was in Trinity United Church of Christ Cemetery in Dry Ridge,.known at the time as Trinity Church Cemetery of Sulphur Springs.
Anna Elizabeth followed her spouse to the grave just six days later -- "within a fortnight," said the Bedford Gazette. She was burdened with an enlarged spleen and contracted typhoid fever and died on Oct. 15, 1923. Rev. Ely, assisted by Rev. Ross, led the funeral.
Son Oran Osceola "Orie" Hufferd (1877- ? ) was born in Oct. 1877. He grew up in Bedford Township and helped his father with farm chores. Oran and friend Elmer Dibert are known to have visited relatives and frieds at Harmon's Bottom, PA in March 1900, as recorded in the gossip columns of the Bedford (PA) Gazette. Then in the 1900s he obtained work as a "vat hand" in a tannery in Manns Choice, a dirty, smelly job using animal urine to cure leather hides. When he was about 31 years of age, on Feb. 26, 1908, he was joined in the bonds of matrimony with Sarah E. "Sadie" Smith (1885- ? )., daughter of Frank Williams and Rebecca (Hillegass) Smith. The nuptials were held in the parsonage of the Reformed Church. In announcing the marriage, the Gazette said that the couple were "two of Mann's choice's most estimable young couple" and that the bride was "an active member of the Reformed church, a teacher in the Sunday school, and a member of the choir. Immediately after the ceremony the couple left on the evening train to be gone for a week or two, and upon their return home an old-time serenading may be expected." In 1920, residing in nearby Harrison Township, Oran earned a living as a teamster, hauling loads of lumber. While the couple appears not to have reproduced, they did bring into their home three foster children during the 1920s -- Alfred (?), Clarence (?) and Vesta P. Butler. Oran served on the Manns Choice School Board for a number of years, and in 1951 he was elected for a fourth term as president. The Hufferds again took in two foster children during the 1930s who were in the household at the time of the 1940 census -- Paul Royser and Mary A. Smith.
Foster

grandson Alfred (1921- ? ) was born in about 1921.
Foster

grandson

Clarence

(1923- ? ) was born in about 1923.
Foster granddaughter Vesta

P. Butler (1924- ? ) was born in about 1924. She lived with the Hufferds in 1930 and 1940.
Foster grandson Paul Royser

(1925- ? ) was born in about 1925. At the age of 15, in 1940, he made a home with the Hufferds.
Foster granddaughter Mary A. Smith

(1929- ? ) was born in about 1929. Circa 1940, she dwelled in the Hufferd household.
Son Arter Ellis Hufferd (1884-1965) was born on Nov. 5, 1884 in Bedford Township. In about 1913, he was united in holy wedlock with Cecelia Myrtle Walters (Aug. 6, 1888-1965), daughter of Simon and Ruie (Daugherty) Watters. The newlyweds first shared a home with Cecelia's parents in Harrison Township, circa 1920, with Arter laboring as a roller in a tannery and his father in law as a tanner scraper. They stayed in the Watters residence through the 1920s and into 1930. Arter's work in 1930 was as a carpenter in a planing mill. In 1931, he was elected Bedford County Auditor on the Democratic ticket. An editorial in the Bedford Gazette endorsed Arter, saying his "experience includes a number of years as school teacher, school director, and merchant. He has also audited school and borough accounts, and this experience adequately fits him for office." He was active with the local lodge of the Independent Order of Odd Fellows. Also involved as financial secretary of the Bedford camp of the Woodmen of the World, he helped promote the film Fraternity in Action in May 1950 when it was shown in town. They later dwelled in Manns Choice and were members of St. James Lutheran Church in Pleasant Valley. Arter is known to have run for Manns Choice Borough Auditor in the fall of 1963. Sadly, Arter and Cecelia died the same year. Having suffered a heart attack, he was cut away by the Angel of Death on March 29, 1965. Then sricken with colitis and nutritional anemia, she passed on June 23, 1965 at age 76. They are in repose together at Mount Olivet Cemetery in Manns Choice.
~ Daughter Mary Elizabeth (Hufford) Diehl ~
Daughter Mary Elizabeth Hufford (1862-1949) was born on April 18, 1862 in New Buena Vista, Bedford County.
Circa 1888, when she would have been 25 26 years of age, Mary Elizabeth was joined in wedlock with Isaac C. Diehl (April 11, 1859-1922), son of Michael H. "Mickey" and Eva (Imler) Diehl of Bedford Township.
The couple did not reproduce.
They were farmers and dwelled on rented farms in rural Bedford Township in 1900-1922. The federal census enumerations of 1900 and 1910 confirm this. In 1910, they made a home for their 18-year-old niece Ada Diehl and 15-year-old farm laborer Albert Biddle. Their niece continued to dwell under their roof as of 1920.
Isaac was felled by a cerebral hemorrhage at the age of 63 and succumbed on July 17, 1922. Niece Ada Diehl of Bedford signed the official Pennsylvania certificate of death.
Mary lived for another 27 years. She moved into the Borough of Manns Choice, Bedford County, in a residence on Main Street, and was there in 1930. Her 37-year-old niece Ada continued to reside there, as did another niece, 22-year-old Fay A. Diehl. At that time, Fay was employed as a public school teacher.
By 1940, Mary's nest was empty. Age 77, she lived alone on Main Street, Manns Choice.
She contracted heart disease and spent her final time in the home of her niece Mrs. Bryan Hillegas in rural Bedford County. She passed just six days after her 87th birthday, on April 19, 1949. Funeral services were preached by Rev. M.J. Ross, in the Pleasant Valley Lutheran Church. Interment was in St. James Lutheran Cemetery in Pleasant Valley, Bedford. Bryan Hillegass was the informant for the death certificate. An obituary was published in the Bedford Gazette.
Copyright © 2000, 2011, 2015-2019, 2021 Mark A. Miner