Home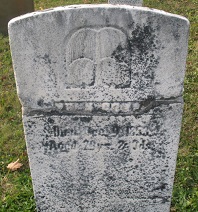 John's grave, Dry Ridge Cemetery
Courtesy Rob and Debi Felten
John Comp was born on Dec. 6, 1824 in Southampton Township, Somerset County, PA, the son of Jacob and Elizabeth "Betsy" (Sturtz) Comp.
He was mentioned in the 1884 book History of Bedford, Somerset and Fulton Counties. The paragraph says that John "followed farming, and passed the most of his life on a farm situated below Buffalo Mills [Bedford County]."
John also is named in the 1912 book by John W. Jordan and James Hadden, entitled Genealogical and Personal History of Fayette County, Pennsylvania, Vol. III.
When the federal census was taken in 1850, the 25-year-old John lived at home with his parents and labored as a farmer.
Evidence strongly suggests that John married Julia Geller (1831- ? ), daughter of Elizabeth Geller.
During their brief married life together, they produced one son, George A. Comp.
John died of unknown causes at the age of 29 on Dec. 9, 1853. His remains are in repose for eternity in Dry Ridge Cemetery, today known as Trinity United Church of Christ Cemetery. [Find-a-Grave]
Julia apparently never remarried. In 1880, she lived with her son and 70-year-old widowed mother on a farm in Juniata Township. Also in the household that year were Julia's unmarried nephew, John W. Comp, son of Samuel and Lucy Comp.
Her fate will be added here once learned.
~ Son George Adam Comp ~
Son George Adam Comp (1851-1920) was born on Aug. 3, 1851 (or 1852). He was very young when his father died. As an adult, George settled on a farm near Bedford County's West End, "on a farm that was formerly a part of the Statler estate," said the Jordan and Hadden book.
In about 1882, when he was age 30, George was united in holy matrimony with Margaret L. Felton (Oct. 17, 1860-1946), daughter of Henry and Katherine (Shaffer) Felton of Somerset County.
They were the parents of Henry Elmer Comp, William "Edward" Comp and Veda K. Comp.
The family lived for many years in Juniata Township, where George labored as a farmer in 1900-1910. He also learned the trade of carpentry. The couple relocated later in life to North Braddock near Pittsburgh, where he made a home at 410 Stokes Avenue.
Stricken with pneumonia of the lungs at age 68, he suffered for 36 hours until death cut him away on Jan. 31, 1920. Son Henry of North Braddock signed the official death certificate. The remains were shipped back to Manns Choice for interment.
Margaret outlived her husband by more than a quarter of a century. Her final years were spent in her longtime residence of 410 Stokes in North Braddock. She was burdened with hardening of the arteries and then suffered a heart attack, with death coming two days later on April 2, 1946, at the age of 85. Interment was in Mt. Zion Reformed Church Cemetery in Wellersburg.
Son Henry Elmer Comp (1885-1964) was born on May 8, 1885 in West End, Juniata Township, Bedford County. He was a lifelong carpenter and plied his trade early in his career in Braddock near Pittsburgh. At the age of 24, on Feb. 15, 1910, Henry was joined in marriage with 20-year-old Mary S. "Mayme" Hershiser (Jan. 20, 1889-1955), daughter of George and Margaret (Harshrode) Hershiser of Manns Choice, Bedford County. The nuptials were held in the bride's home, led by Rev. Dr. Emmet M. Adair, and were reported in the Bedford Gazette. (His brother Edward married Mary's sister Myrtle and later to another sister, Lucinda.) Their only daughter was Margaret L. McCullough. In 1920, they dwelled in North Braddock near Pittsburgh at 910 Earl Street. In 1946, his address was 31 Inland Avenue in West Mifflin/Kennywood near Pittsburgh. Sadly, Mary contracted cancer of the rectum and died eight months later at the age of 66 n Feb. 13, 1955. Burial was in Penn Lincoln Memorial Park in Versailles Township. Further sadness blanketed the family when married daughter Margaret McCullough died at the age of 51 on the third day of the new year in 1962. Now alone, Henry retired to Florida in about 1963, presumably to reside with or near his widowed son-in-law and grandchildren. After only a year, he died in DeLand, Volusia County at the age of 78 on March 28, 1964. An obituary was printed in the Orlando Sentinel, which said he was survived by three grandchildren and four great-grandchildren
Granddaughter Margaret L. Comp (1910-1962) was born on Dec. 2, 1910. She married Robert M. McCullough ( ? - ? ). They were the parents of Mrs. Michael Gladis, Robert H. McCullough and Mrs. Robert Kipple. Their address in the early 1960s was 4417 Inland Avenue in West Mifflin. Margaret was stricken with a not-as-yet diagnosed illness at the age of 51 and was admitted to Homestead Hospital. There, she succumbed on Jan. 3, 1962. Interment was in Homewood Cemetery. The widowed Robert moved to Florida and established a home in DeLand, Volusia County circa 1963.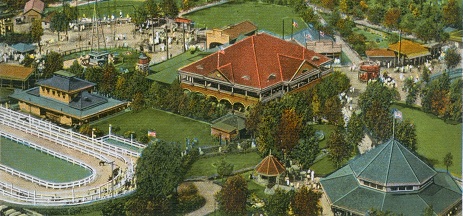 Pittsburgh's Kennywood Park near where the Henry Elmer Comps lived
Son William "Edward" Comp (1888-1966) was born on July 9, 1888 in Juniata Township, Bedford County. He was united in wedlock with Myrtle V. Hershiser ( ? -1946), daughter of George G. and Margaret (Harshrode) Hershiser of Manns Choice. (His brother Henry married Myrtle's sister Mary "Mayme.") They did not reproduce. Edward and Myrtle relocated to Pittsburgh and resided in Kennywood/West Mifflin, where Edward earned a living as a carpenter. The couple belonged to the Braddock Reformed Church. Said the Bedford Gazette, Myrtle "had a large number of relatives and friends in Kennywood, Braddock, Manns Choice and Bedford, all of whom esteemed her highly." Sadly, at the age of 55, Myrtle died at home on Sept. 7, 1946. Her pastor Rev. Helfrick officiated at the funeral, with burial in Penn Lincoln Memorial Park. An obituary in the Gazette reported that "Relatives from Bedford attending the funeral were Mr. and Mrs. Harry L. Stern, Mr. and Mrs. Lee Stern, the Hon. Harry C. James and Mrs. James, Mrs. Lucinda M. Souser, Mrs. Harry E. Cuppett, Harvey Miller, Mrs. Romaine Miller, Mrs. John H. James." After two years as a widower, on July 17, 1948, the 60-year-old Edward married his late wife's sister, 60-year-old Lucinda E. Hershiser (Oct. 28, 1887- ? ). Rev. Herman John Helfrick officiated at the nuptials held in Braddock. Lucinda was a talented seamstress. In 1964, they made a home in Lake Helen, FL. He passed away in Palm Beach, FL in Oct. 1966.
Daughter Veda Katherine Comp (1895-1978) was born on Oct. 21, 1895 in Juniata Township, Bedford County, where she grew into womanhood. Prior to marriagee, she moved to Braddock near Pittsburgh, where she bore a son in March 1913, whom she named Earl E. Comp. On Oct. 23, 1916, at the age of 21, she eloped to Cumberland, MD to be joined in wedlock with Harvey Franklin Hainsey (May 4, 1895-1920). News of their marriage license was printed in the Pittsburgh Post-Gazette. He was the son of Harry Rollins and Margaret Alfreda (Miller) Hainsey of Johnstown, Cambria County. During their brief marriage, they produced a daughter, Margaret L. Knox Watters. The couple made their home at 410 Stokes Avenue in North Braddock. Harvey earned a living as an electric welder with the East Pittsburgh Machine Shop. Tragedy carved apart the marriage when Harvey contracted a deadly case of influenza and bronchial pneumonia and could not recover. After 13 days of suffering, he succumbed at the age of 24 on Feb. 13, 1920. His exhausted remains were placed into eternal repose in Monongahela Cemetery in Braddock Hills. Veda never remarried but survived her spouse by 58 years. Circa 1964, she dwelled in Irwin, Westmoreland County, PA. Her address in 1978 was Rear 211 Oak Street in Irwin. Veda passed away on April 17, 1978. Burial was beside her husband. A death notice in the Post-Gazette reported that she was survived by eight grandchildren, 25 great-grandchildren and four great-great grandchildren.
Grandson Earl E. "Deac" Comp (1913-1977) was born on March 28, 1913 in Braddock to an unwed mother. He was joined in marriage with Charlotte E. "Bettie" Drylie (May 11, 1911-1990), daughter of Robert and Ethel E. Drylie. They were the parents of Barbara R. Lorence, Bonnie L. Higgs and William E. Comp. At one time he served as acting postmaster of the Braddock post office. Later, they dwelled in Oakland, Garrett County, MD. Earl was an active member of the church council of St. Mark's Lutheran Church, whee he received the Lamb Award. He also belonged to the Garrett County Memorial Hospital's Lohr Auxiliary and was a Boy Scout leader. He passed away in Garrett County Memorial Hospital at the age of 64 on Nov. 20, 1977. Funeral services were held in the family church, loed by Rev. Richard A. Seaks. His remains were transported to rest in the mausoleum of Penn Lincoln Memorial Park in North Huntington Township, Westmoreland County, PA, and an obituary was published in the Cumberland News. Charlotte outlived him by a baker's dozen of years and went to live with her son William in Louisville, KY. She was swept away by death on Nov. 16, 1990. Daughter Barbara lived in North Huntington, daughter Bonnie in Annapolis, MD and son William in Louisville, KY,
Granddaughter Margaret Hainsey (1917-2010) was born on Sept. 6, 1917 in Braddock. Her first spouse was James Knox ( ? - ? ). They were the parents of five children -- James K. Knox, Linda Broniman, Leah Timko, Connie Dillon and Carl Knox. After James' death, she married her second husband, Abraham "Abe" Watters (Oct. 30, 1914-1984). They resided in Irwin until Abe's death in Dec. 1984. She also endured the early death of her son James. Margaret spent her final years in Jeannette, Westmoreland County. She died in a hospice environment at home at the age of 92 on Feb. 24, 2010. The Post-Gazette printed a death notice which recorded the number of her offspring as 11 grandchildren, 17 great-grandchildren and one great-great granddaughter.
Copyright © 2000, 2011, 2015-2019 Mark A. Miner