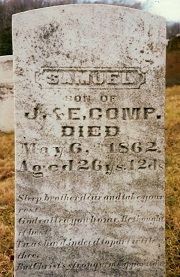 Samuel's grave, Dry Ridge Cemetery
Courtesy Brian J. Ensley
Samuel Comp was born on June 24, 1836 in Bedford County, PA, the son of Jacob and Elizabeth "Betsy" (Sturtz) Comp.
He appears to have spent his entire short life in Buffalo Mills, Harrison Township, Bedford County.
Samuel was united in holy matrimony with Lucy A. (1835- ? ). Her maiden name, and the date of their marriage, is not yet known.
They produced two known sons -- John W. Comp and Daniel E. Comp.
When the 1860 federal census enumeration was made, the couple and their sons lived in Buffalo Mills, next door to his parents. Samuel earned a living that year as a "servant," according to a notation made by the federal census-taker.
Unlike a brother, brother-in-law and several nephews, Samuel did not take up arms during the Civil War. Instead, he appears to have remained on the Buffalo Mills farm.
Heartbreak enveloped the family when Samuel died an untimely age of 25 on May 6, 1862.
The cause of his early passing is not yet known.
Interment was in Dry Ridge Cemetery, today known as the Trinity United Church of Christ Cemetery. [Find-a-Grave]
Inscribed on his grave marker was this epitaph, demonstrating the family's Christian values and principles:
Sleep brother dear and take your rest.
God called you home. He thought it best.
Twas hard indeed to part with thee.
But Christ's strong arm supported me.
Lucy's precise fate after her husband's death is not yet known. Evidence suggests that she died before 1880.
~ Son John W. Comp ~
Son John W. Comp (1856- ? ) was born in about 1856.
In 1880, at the age of 14, he resided with his cousin George Adam Comp on a farm in Juniata Township, Bedford County. Also in the household that year were John's widowed aunt, Julia (Geller) Comp, and her aged mother, Elizabeth Geller.
John's fate after that is not known.
~ Son Daniel E. Comp ~
Son Daniel E. Comp (1858-1953) was born on Dec. 13, 1858.
He married a cousin, Hannah Elizabeth Beltz (1858-1948), daughter of Lewis and Matilda (Comp) Beltz, and lived in Ohio. See their biography for more.
Copyright © 2000, 2011, 2015-2019 Mark A. Miner