Laura 'Ella' (Culp) Goulding
(1864-1892)
Laura "Ella" (Culp) Goulding was born on Christmas Eve 1864 in Tarlton, Pickaway County, OH, the daughter of Charles W. and Matilda (Miner) Culp.
On Jan. 14, 1889, when she was 25, Ella married John "Jay" Goulding (1852-1926), a native of Perry County, OH whose parents were from the District of Columbia.
The Gouldings had two daughters -- Leafy "Rose" Goulding and Laura C. Goulding.
They resided in Lancaster, Fairfield County, OH, where John was a "machine hand" producing "farm implements."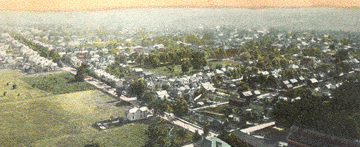 Bird's eye view of Lancaster, OH, from a rare old postcard
Tragically, after just four years of married life, Ella died on Nov. 1, 1892, at the age of 28. Her passing came just six short days after giving birth to their daughter Laura. Ella's tired remains were laid to rest in the family plot at Forest Rose Cemetery in Lancaster, OH.
The widowed John and the girls moved in with Ella's parents. Several years after Ella's death, the Lancaster Daily Eagle observed that she had "left two sweet little girls [who are] now forming a part of the grandparents' household."
John and the daughters remained in the Culp home for a number of years, and were enumerated there when the federal censuses were taken in 1900 and 1910. By 1920, after his father in law had died, John headed a household on Arnold Avenue that included daughter Laura, mother in law Matilda (Miner) Culp and unmarried sister in law Jennie Victoria Culp. As of 1920, John was a laborer in a glass factory, and Laura, age 27, was employed in a "tin store."
John died at the age of 74 on July 8, 1926, at St. Anthony's Hospital in Columbus, Franklin County, OH. His remains were returned to Lancaster for burial.


~ Daughter Leafy "Rose" Goulding ~
Daughter Leafy "Rose" Goulding (1890-1010) was born on July 15, 1890 in Lancaster.
She was employed in young womanhood as a clerk in Lancaster. She did not marry.
At the age of 19, in November 1909, Rose came down with an incurable case of tuberculosis and kidney failure.
After suffering for nearly four months, she gave up the fight, and passed away on March 8, 1910 in Lancaster. She is buried at St. Mary's Cemetery.


~ Daughter Laura Goulding ~
Daughter Laura Goulding (1892- ? ) was born in 1892.
She was employed in the Gardner & Hughes Store in Lancaster in 1917.
She is said to have had such a bad case of arthritis in her hands that she could not hold a spoon or a fork.
Laura is known to have maintained a friendship with her cousin Ethel Worley of Springfield, OH and to have entertained Ethel at her home in November 1959.
Her fate after that is not known.


Copyright © 2000-2003, 2008, 2022 Mark A. Miner