Minnie (Culp) Bowers
(1868-1950)
Minnie Belle (Culp) Bowers was born on Nov. 1, 1868 in Tarlton, Pickaway County, OH, the daughter of Charles W. and Matilda (Miner) Culp.
As a young lady, Minnie and her parents and siblings moved to Lancaster, Fairfield County, OH.
In about 1904, Minnie married Isaac Jacob "Jake" Bowers (1861-1936), the son of Levi and Lucinda (Miller) Bowers of Lancaster. He brought two daughters to the second marriage, Blanche Julian and Florence Nixon.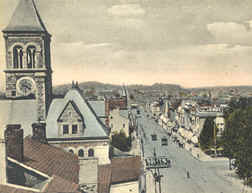 Aerial view of Lancaster

The Bowerses did not reproduce. They resided in Lancaster, at 402 East Chestnut Street. They held a membership in the First Church of Christian Scientist in Lancaster. Isaac also belonged to the Knights of Pythias lodge.

Isaac was employed with the Lancaster Traction Company in 1905 as chief engineer of its power house.

Six years into the marriage, in 1910, Minnie was known to have been performing "mechanical work" for a printing company in Lancaster.

Minnie was admitted to the state insane hospital in Athens, OH, as early as January 1902, and may have lived there on and off during her lifetime.

Jake passed away just two days before his 75th birthday, on June 3, 1936, of the effects of a stroke. The Lancaster Eagle-Gazette said he had died after a "lengthy illness." He was interred at Forest Rose Cemetery.

She died at the age of 82, of a cerebral hemorrhage suffered for months earlier. Her death occurred on Dec. 4, 1950, at the Fairfield County Home. An obituary in the Eagle-Gazette referred to her as "Mrs. Isaac J. Bowers."

Minnie is buried under her maiden name in the family plot at Forest Rose Cemetery.



~ Stepdaughter Blanche (Bowers) Sigman Julian ~

Step-daughter Blanche Bowers ( ? -1964) was born in (?).

Blanche married twice. In July 1905, she entered into wedlock first with Harry C. Sigman ( ? - ? ). At the time of marriage, he was a railroad fireman operating in Columbus, OH.

Together, they bore two offspring, Lillian Howdyshell and Harold C. Sigman.

Boyd also had been married previously, to Luella Hedges (June 26, 1893-1919), and thus brought several stepchildren into Blanche's life in the second marriage. Among them were May Noble, Robert Julian, Ray Julian and Olive Marie Julian. Olive had died in infancy in Hocking County on Feb. 24, 1915. The first wife, Luella, surrendered to a case of typhoid pneumonia at age 26 on Aug. 5, 1919.

Circa 1936-1951, the Julians made their home in the vicinity of Logan, Hocking County, OH. Boyd was a longtime sawmill operator and farmer near Mount Pleasant. His mill in 1938 was located on the farm of Merton Lama, generating cut timber for Herman McGrady. At one time he was a trustee for the Township of Washington in Hocking County.

Then in about 1951, they relocated to Lancaster, Fairfield County.

Following what the Logan (OH) Daily News called "a long illness," he passed away at home at the age of 68 on Jan. 14, 1958. Burial was in Tarlton Cemetery, with Rev. C.P. Hinton leading the funeral service.

As a widow, Blanche made a home with her daughter Lillian Howdyshell in West Rushville, OH. There, she passed away at age 77 on Dec. 9, 1964. Her obituary in the Daily News reported that "she had been in ill health the past two months." Her funeral was held at the Church of Christ in Christian Union in East Rushville, with interment of the remains taking place in Rushville.

Daughter Lillian Sigman ( ? - ? ) married Charles E. Howdyshell ( ? - ? ). Charles served in the U.S. Navy during World War II and was stationed circa May 1944 in the Hebrides Islands. Their only daughter was Barbara Schmeltzer. The couple resided in rural Lancaster, OH in 1958. Lillian and Charles are known to have purchased a lot in the town of West Rushville, OH in June 1964. Lillian was involved in an automobile accident in April 1970 in which she suffered a badly injured leg and lacerations. Death enveloped Lillian at the age of 62, in her West Rushville residence, on St. Patrick's Day 1973. Burial was in West Rushville Cemetery, and an obituary was carried in the Lancaster Eagle-Gazette.
Great-granddaughter Barbara Howdyshell wed James Schmeltzer. They dwelled in Lancaster, OH in 1973.
Son Harold "Sig" Sigman ( ? - ? ) was born in (?). On Nov. 2, 1929, in nuptials held in Lancaster, OH, he entered into marriage with Ethel Frances Francis ( ? - ? ). News of the wedding was announced in the Circleville (OH) Herald. They first made a home at 217 East Fifth Avenue, Lancaster. One daughter born to the couple was Mrs. Robert Faigley. Harold remained over the years in Lancaster, eventually moving to 418 Pierce Avenue and then to 519 West Wheeling Street. Harold earned a living over the years with Anchor Hocking Corporation. He surrendered to death in University Hospital in Columbus at the age of 54 on Jan. 27, 1961. The Lancaster Eagle-Gazette produced an obituary.
Granddaughter Phyllis Sigman (1932-2007) was born on Valentine' Day 1932 in Lancaster. In a wedding held in Greenup, KY on Oct. 11, 1947, she married her neighbor, Bobby G. Faigley ( ? - ? ), son of Aileen Faigley of 412 Pierce Avenue. The event was held in the parsonage of the Methodist Church, by the hand of Rev. B.L. Allen. Bob was employed at the time of marriage at The Spot Restaurant. The couple maintained a home in Lancaster. They produced one daughter, Luana Phillip Brown. Phyllis was a longtime member of the Wednesday Morning Euchre Club. Sadly, Phyllis passed away at Fairfield Medical Center at the age of 75 on Sept. 5, 2007. Her remains were cremated and placed into eternal rest in Maple Grove Cemetery. The Lancaster Eagle-Gazette printed an obituary.
Stepdaughter May Julian ( ? - ? ) was joined in wedlock with (?) Noble ( ? - ? ). She was in Tarlton, OH in the late 1950s-mid-1960s, and in Florida in 1978.
Stepson Robert Julian ( ? - ? ) established a home in Columbus, OH. Then by 1964, he migrated to Colorado. He eventually returned to Ohio and lived in Columbus in 1978.
Stepson Ray E. Julian ( ? - ? ) was born in (?). Ray joined the U.S. Armed Forces during World War II. In the spring of 1944, he was shipped overseas to England. After returning home postwar, Ray lived in 1958-1964 in the outskirts of Logan, OH. He spent 25 years driving a truck for Logan Clay Products Company. He also belonged to the Veteerans of Foreign Wars and local lodge of the Eagles. Ray was united in matrimony with Kathryn L. Wolfe ( ? - ? ), daughter of Helen Wolfe. Their only daughter was Louella R. Leadbetter. The Julians' residence in 1978 was at 1605 Valleyview Drive, Logan. Sadness swept over the family when Ray died at home at the age of 59 on June 26, 1978. Rev. John Hickman led the funeral service, with burial following in Tarlton Cemetery. The Lancaster Eagle-Gazette published an obituary.
Step-granddaughter Louella Julian wed Dennis R. Leadbetter. Their two offspring were Dennis Ray Leadbetter and David Ryan Leadbetter. The Leadbetters dwelled in Logan, OH in the late 1970s.

~ Stepdaughter Florence (Bowers) Nixon ~
Step-daughter Florence Bowers (1894-1975) was born on Jan. 30, 1894.
As a young woman, she attended Ohio University in Athens.
On the evening of June 15, 1916, she wed John N. Nixon (June 15, 1890-1972), son of Sire Dine and Clara Elizabeth (Kennedy) Nixon. The ceremony was held in Florence's home, performed by Rev. Charles Bowers of the First English Lutheran Church.
They became the parents of a daughter, Joan Nixon.
John was a member of the 1915 graduating class of Ohio University, where he was president of his class and a varsity football player.
Both Florence and John were educators and taught over the years in the schools of Lancaster, OH.
They made her home in Bridgeport, OH in 1936 and in Bremen, OH circa 1950. By 1966, the pair had moved into Lancaster at the address of 618 Boyd Street.
Florence and John marked their golden wedding anniversary on June 15, 1966. They were plunged into grief in September 1971 at the death of their only child.
John passed away just a few months later on Jan. 9, 1972.
Florence survived him by four years and remained in their home. She was carried away by the angel of death at the age of 81 on Nov. 4, 1975. Her funeral was conducted under the rites of the Church of Christian Science. An obituary in the Lancaster Eagle-Gazette noted that her only survivor was a niece, Jewel Bright of Centralia, WA.
At her death, a bequest of $65,000 was made from Florence's estate to Ohio University to establish a scholarship memorializing their daughter. Known as the Joan Nixon Scholarship Fund, the Eagle-Gazette said it was "reserved for men and women from Fairfield County" to "aid needy and deserving students continue their studies." The first scholarship was expected to be made before the 1977 school year.
Daughter Joan Newton Nixon (1918-1971) was born on Jan. 29, 1918. She was a 1939 graduate of Ohio University. For nine years, she was a teacher in the Bremen School System. Then in 1954 she accepted a position in the Lancaster School Systems, teaching fifth grade in the North and Medill Schools. She retired in November 1970 when poor health struck. During those years, she made her residence with her parents. Death swept her away into eternity at age 53 on Sept. 15, 1971. Following a funeral service under the auspices of the Christian Science Church, by the hand of Jerry Woods, interment of the remains was in Bremen's Grandview Cemetery.

Copyright © 2000-2003, 2008, 2022 Mark A. Miner