Archie B. DeMoss
(1876-1962)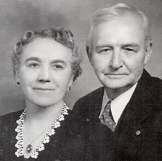 Archie and Hattie
Archie B. DeMoss was born under the name "Archie B. Cornwell" on Jan. 31, 1876 in or near Columbus, Platte County, NE, the son of William and Eliza (Miner-DeMoss) Cornwell. His middle initial "B" is just an initial -- there was no name behind it -- and his legal name was "Archie Cornwell DeMoss," although he only used it in the most formal of circumstances.
When Archie was age three, he was listed in the federal census with his parents and older sister Ida, confirming his identity as a Cornwell. However, when he was six, his parents divorced, allegedly due to the father's "extreme cruelty." The court ordered that the father was "hereby enjoined from interfering in any manner with either of said children."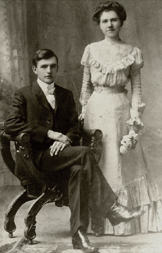 Wedding portrait
A few years thereafter, in about 1888, when Archie was 12, he and his mother and siblings moved to Kinsley, Edwards County, KS. Archie's mother had already resumed her first married name, "DeMoss." It's believed that Archie's name was also changed upon this move, perhaps for convenience or as a way of distancing him from an abusive father, and to avoid having to answer uncomfortable questions.
At some point, in his early 20s, Archie joined the circus. An Aug. 23, 1899 article in the Columbus (NE) Journal said that "Archive DeMoss, a former Columbus boy, and Mr. Strong a former employe of J.C. Echols, are with Hagenback's wild animal show in Omaha, the former as an attendant, and the latter as the clown for the show."
By the following year, Archie moved to Albion, Boone County, NE. In 1900, when the federal census was taken, he boarded in Albion in the home of P.A. and C.L. Craine, and was employed as a hardware clerk.
While in Albion, on Sept. 3, 1902, Archie married Hattie Wade Hamilton (1882-1961), a native of Cass County, MO, and the daughter of William Hamilton. The ceremony was performed by Clinton Douglas. Their wedding portrait is seen here. Archie was age 26 at the time, and Hattie was 20.
The DeMosses had three children -- Helen Alpharetta DeMoss, Leonard Charles "Red" DeMoss, and Warren C. DeMoss. The first two children were born in Albion.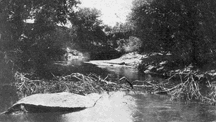 Beaver Creek near Albion
Seen here is a rare old postcard photograph showing a peaceful scene on Beaver Creek near Albion, a site that the family certainly must have enjoyed.
In 1906, the DeMosses migrated back to to Kinsley, where Archie's mother had resided off and on over the years. Kinsley's claim to fame was that it marks the midway point of the United States, exactly centered on the map between New York City (1,561 miles) and San Francisco (1,561 miles).
The 1910 census shows the young family living in Kinsley, with Archie's occupation stated as a "trimmer" in a hardware store. Their home circa 1920 was on Colony Avenue.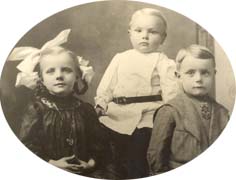 The three DeMoss children -- l-r: Helen, Warren, Leonard
Archie's aged mother, dying of cancer, returned to his home after staying with another son in Washington State, and died there in 1917. In her will, she named sons Archie and Charles as co-executors of her estate, and bequeathed household goods, jewelry, clothing and personal effects to Archie's teenage daughter Helen. Ultimately, Archie received a payout of $750 from the estate.
Later in 1917, Archie registered for the military draft during World War I. His registration card shows that he was of medium height and build, and had blue eyes and light hair. At that time, he reported that he was a self-employed farmer.
With an entrepreneurial bent, Archie eventually could no longer work for an employer, and went into business for himself. Based on the experience he had gained as a metal trimmer in the Kinsley hardware store, he launched his own tinware, sheet metal and plumbing enterprise. He ran the business for 36 years in at least three different locations, under the name "Kinsley Sheet Metal Works."
Before 1918, he and plumber Max Heller shared space on Colony Avenue. Then, in 1918, Archie and Heller moved into the Shaffer building, "north of the Graphic office, recently vacated by the Norris Hardware Company," reported the Kinsley Graphic. The address was 212 East 6th Street in the middle of Kinsley, and he remained there for about a decade, from 1918 to 1928.
He placed advertising in the Kinsley newspaper offering the Weir Consuming Furnace, guaranteed to "heat your home with clean, healthful, moist warm air..." which would result in "healthy children." The ad promoted the benefits of an "efficient warm air heating system that keeps your home warm and comfortable and ventilates it as well, renewing the air in every room on an average of once every twenty minutes. That means oxygen for lungs, health, it also means economy."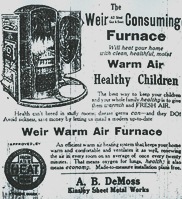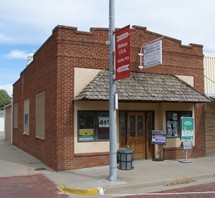 Ad for Archie's "Kinsley Sheet Metal Works," published in the Kinsley Graphic. Right: the building at 212 East 6th Street, as seen in October 2011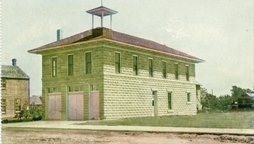 Kinsley's city hall and fire station
In March 1928, George Goodwin purchased the 212 East 6th Street lot from Archie, who promptly tore the old wood frame building down, and replaced it with a one-story brick structure to house Goodwin's coffee and catering business. (Today, a Research and Extension office of Kansas State University occupies the building, under the brand "Knowledge for Life.") The following month, said the Kinsley Graphic, Archie "started work on the new building for his tin-shop which will be located between the White Eagle Oil Station and Pierces second-hand store on Marsh Avenue," opposite of city hall.
By mid-July 1928, Archie had moved into his new building. Said a newspaper, he was very busy:
... rapidly installing his equipment and stock. His building is attractive and well adapted to his needs. The building is 25 x 66, all in one big room. It has an east front with big windows and at the west end has a north light over his work bench and a big double door on the west. The walls and ceiling are white and the effect is to make the room very light so that it makes an ideal workshop.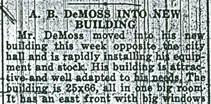 Eager to work to ensure his community's safety, Archie served as a volunteer fireman with the Kinsley Fire Department. In 1912, he was elected chief of the fire department, succeeding J.I. Brelsford. One of his first responsibilities, said the book The Kinsley-Edwards County Centennial 1873-1973, was to travel to Topeka with Brelsford to attend a fire prevention conference. They were granted $30 for expenses. "After a year's absence," said the book, "Chief Brelsford was re-elected chief and served until his death in 1916." Among the primitive equipment employed by the Kinsley firemen was a Model T Ford which pulled a hose cart. Later, a Huppmobile truck served this purpose.
Active in her own right, Hattie was "district deputy for the Royal Neighbors of America and was also a member of the Congregational church and active in other organizations where she made many friends," said the Kinsley Mercury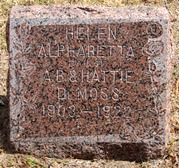 Kinsley Cemetery
~ Tragic Death of Daughter Helen ~
Tragedy struck the family in late May 1922. At the time, 18-year-old daughter Helen was a junior at Kinsley High School, "one of the young people, who are the hope and the promise of the future for all of us," said the Kinsley Graphic. She died on June 1, 1922, after suffering from "an acute attack of appendicitis," said the Graphic. The newspaper added that Helen:
... was unable to recover from the effects of the operation which was found necessary... She was taken to the hospital at Spearville... Her family was with her, and everything that could be done, was done to care for her, but her summons had come for a larger life, and Thursday afternoon June the first, she was called home. [H]er going leaves aching hearts and a great lonliness in the household, in which she was the joy and the light at all times. Possessed of a wonderful courage, Helen made a brave effort to overcome the effects of the illness which sapped her life. She was an unusual girl, belonging to the quiet modest type of young woman, whose girlhood lingers after almost maturity.
After a funeral at the Christian Church, Helen was laid to rest at Kinsley Cemetery. Her red, barre granite grave marker is seen here.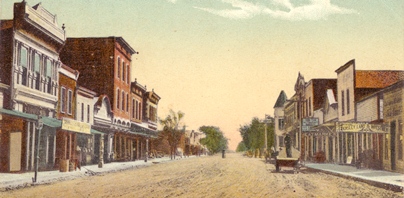 Kinsley's streetscape, at a time when the streets were still unpaved
~ A Move to Colorado and Final Years ~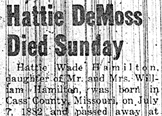 Kinsley Mercury
The family remained in Kinsley for another two decades after Helen's death. Then in 1942, said the Mercury, "Archie and Hattie sold their business and home in Kinsley and moved to Colorado Springs, Colorado and later to Rogers, Arkansas, where they operated a motel for several years. [In 1959] they retired and moved to Wichita, where they resided at the time of her death."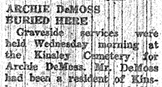 Kinsley Mercury
At some point, year unknown, but probably in the 1930s, Archie apparently traveled to Cleveland, Cuyahoga County, OH, to see his much older and widowed half-sister, Clara Alice Lawrence. The only known record is a letter from a Cornwell cousin to Archie's son Warren, in 1983. The letter stated that Clara "was so elderly at the time of your father's visit."
Hattie passed away at the age of 79 in Lawrence, Douglas County, KS on Jan. 8, 1961. Said the Mercury, "She was a devoted wife and mother, a true and loyal friend and her memory will be cherished for her kind words and deeds."
Archie only lived as a widower for another year. He died in Lawrence, Douglas County at the age of 86, on March 5, 1962. His remains were returned to Kinsley for graveside funeral services at Kinsley Cemetery.
In 2011, cousin researchers Mark Miner and Eugene Podraza visited Kinsley to conduct paper archaeology research of the DeMoss legacy. Knowledgeable, pleasant librarians at the Kinsley Library helped them find much more than they could have on their own. To them, we say "thank you."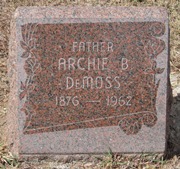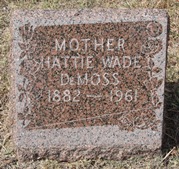 Graves of Archie and Hattie in the Kinsley Cemetery, as photographed in October 2011

Warren C. DeMoss
~ Son Warren C. DeMoss ~
Son Warren C. DeMoss (1907- ? ) was born on May 22, 1907 in Kinsley, Edwards County.
He married Maxine Hess on Oct. 23, 1932, in a ceremony at Larned, Pawnee County, KS.
During World War II, Warren served as a TEC 4 in the U.S. Army.

Warren
Warren later was appointed as postmaster in El Reno, Canadian County, OK. He had an entrepreneurial bent, and also owned a ladies' ready to wear shop in El Reno.
Maxine passed away on July 6, 1962, and is buried in the El Reno Cemetery.
Warren later married again, to Virginia H. Hurst, on Dec. 19, 1963, in El Reno. Virginia had a daughter from a previous marriage.
Warren was interested in his family genealogy, and on Jan. 14, 1986, Warren typed a one-page family history manuscript entitled, DeMoss family tree as far as I know it to be. A copy is in the Minerd-Miner-Minor Archives. He also was in communication with a cousin, Rev. Glenn C. Cornwell, of Toledo, OH, circa 1983.
As he neared his 80th birthday, Warren passed away on April 29, 1987. He was laid to rest between his parents in the Kinsley Cemetery. A search for his newspaper obituary in the Kinsley Mercury was unsuccessful.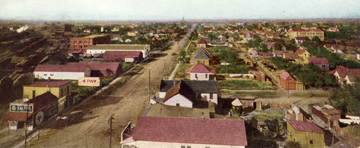 A bird's-eye view of El Reno, OK, circa 1909, where Warren DeMoss resided and served as postmaster
~ Son Leonard Charles "Red" DeMoss ~

Leonard "Red" DeMoss
Son Leonard Charles "Red" DeMoss (1905-1970) was born in 1905 in Nebraska, likely in or around Albion, Boone County. As a young boy, he moved with his parents and siblings to Kinsley, Edwards County, KS. There he grew to manhood, and was a 1925 graduate of Kinsley High School.
At the age of 26, Red married 28-year-old Marion Edrel Wiley (1903-1986) on Feb. 21, 1931.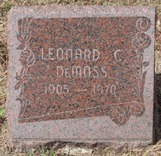 Kinsley Cemetery
They had two children -- Michael J. DeMoss and a stillborn baby (1934).
They resided in Lawrence, Douglas County, KS. There, Red was manager and vice president of the Kansas Public Service, a public utility providing natural gas to homes and businesses. When he was a high school student, his yearbook said "He has red hair, is true blue and treats you white."
Red died in June 1970, at the age of 65, in Lawrence, after suffering from a brain tumor.
Marion outlived him by 16 years. She passed away in 1986. They rest together for eternity in the Kinsley Cemetery. A search for their newspaper obituaries in the Kinsley Mercury was unsuccessful, but the Lawrence newspapers will be checked some time in the future.
Son Michael J. DeMoss (1935-2012) was born on Oct. 24, 1935. He married Linda Harlow and resided in Colorado. They had one son, Steven DeMoss. Sadly, Michael passed away on Nov. 6, 2012, at the age of 77.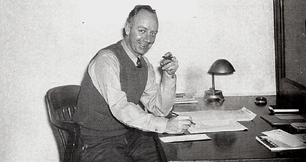 Red DeMoss at his desk
Copyright © 2003-2004, 2006, 2008 Mark A. Miner