Home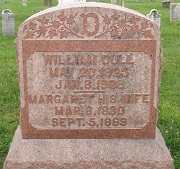 Union Cemetery, New Centerville
William Dull was born on May 20 or 25, 1825 in Somerset County, PA, the son of George and Christina (Younkin) Dull.
He married Margaret Flick (1831-1889), and she gave birth to her first child at the age of 17. They had these 10 known children -- Sabina C. Dull, Mary Emily "Emma" Critchfield, Lydia Ankeny, George McClellan Dull, Edwin Elijah Dull, William K. Dull, Belinda Dull, Sarah Dull, Mary Dull and Saloma Dull.
The U.S. census of 1850 lists the couple living Milford Township, Somerset County, residing next to William's parents and with William earning a living as a laborer. They were lifelong members of the New Centerville Lutheran Church.
When the census again was taken in 1870, the Dulls and their six children dwelled together on their farm in Milford, with William's widowed, 74-year-old mother living next door.
Sadly Margaret passed away on Sept. 5, 1889 at the age of 59.
William survived his wife by 19 years. He was named one of three Directors of the Poor -- along with Harrison Gohn and L.C. Colborn -- of the Somerset County Home, otherwise known as the "House of Employment of Somerset County." The facility included residences as well as a farm on which inmates worked to earn wages.
In his final year, 1897, William and his fellow directors prepared an annual report to the judges of Somerset County, reprinted in the Somerset Herald. The report noted that an average of 76 adults and children lived at the Home during the year, some of whom were considered "insane." Several of the children were placed in private families. In the report, the directors wrote:
The office of Director of the Poor is one of the most responsible of any in the county. As well as being an honorable one, it is an office that requires a wise judgment and brings out the noblest promptings of the heart. It calls on one to decide the difference between giving and charity, between truth and error, and judge of the capacity of one by the surroundings. It is not always charity to give, or be moved by the tale of woes and stories of wrongs sympathetically related; yet, withal, have a heart that can be "touched by the feeling of another's infirmities," and whose tenderest sympathy is enlisted to all deserving and honest poor. The Directors of the Poor are the dispensers of the county's charity, having both the keys of office and the office. To us the law commits the care, well-being and happiness of our unfortunate, aged and inform poor, those whose condition must excite your sympathy on every visit you make to the home, those to whom "pity gave ere charity began." To us is also committed the distribution and use of the funds so generously provided by the laws of the Commonwealth to the greatest advantage of those whose comfort, health and happiness the law makes it our especial duty to provide. We are aware that it is expected that the Director of the Poor should have "a tear for pity and a hand open as day for meeting charity," and it is also expected that he should keep an eagle eye upon every department of the institution to detect and prevent extravagance and waste.... We do not claim perfection, nor do we think the Home has reached the standard that the citizens desire it should have, yet we can say without boasting that the Poor Home of Somerset County, and the inmates thereof, are better kept, more comforts with less expense, in proportion to the number of inmates, than any other in the State.
Somerset County Home, a.k.a. the "Poor House" where William was a director
In his latter years, William's home was in Rockwood, Somerset County.
Suffering from hardening of the arteries, and complicated by cancer of the lower lip, he went to visit his son Edwin right after the new year in 1908. There, he died on Jan. 8, 1908 at the age of 82. Burial was in the New Centerville Lutheran Church Cemetery, with Rev. D.S. Weimer of the Lutheran church of New Centerville officiating. E.E. Dull provided details for his death certificate. An obituary in a local newspaper said that at the time of death, he was "one of the Milford township's oldest and most respected citizens." [Find-a-Grave]
~ Daughter Sabina C. Dull ~
Daughter Sabina C. Dull (1850- ? ) was born in about 1850 in Milford Township, Somerset County.
At the age of 20, in 1870, she lived at home with her parents in Milford.
~ Daughter Mary Emily "Emma" (Dull) Critchfield ~
Daughter Mary Emily "Emma" Dull (1853-1936) was born on Nov. 9, 1853.
She married (?) Critchfield. She lived in Somerset in 1908.
Circa 1936, her home was in Shade Township, Somerset County.
Suffering from chronic kidney failure, Emma died at the age of 82 on June 6, 1936. Burial was in the Union Cemetery in New Centerville.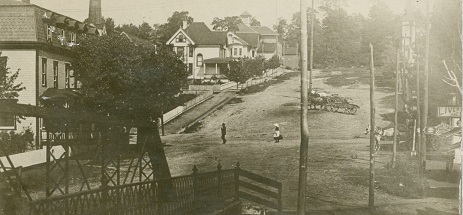 Market Street in Rockwood, PA, early 1900s, home of the Dulls
~ Daughter Lydia Margaret (Dull) Ankeny ~
Daughter Lydia Margaret Dull (1858-1949) was born on May 5, 1858 in Somerset County.
In about 1880, when she was 21 years of age, she wed 26-year-old William S. Ankeny (1854-1942). He was the son of Henry and Mary (Cunningham) Ankeny.
They produced four children -- Grace Wilt, Edward Ankeny, Goldie Edwards and Harry Ankeny.
In 1900-1942, their home was in Milford Township, where they earned a living as farmers and were "well known," said the Meyersdale Republican. The federal census enumeration of 1900 shows that 24-year-old coal miner Frank Critchfield boarded under their roof.
Suffering from "general paralysis," William died at home at the age of 88 on Nov. 28, 1942. Funeral services were held in the Ankeny residence, officiated by Rev. H.G. Hohman of the Lutheran Church in Rockwood. His remains were taken to Johnstown for interment in Grandview Cemetery. An obituary appeared in the Republican, and son Harry signed the certificate of death.
Lydia lived for another seven years after her husband's death. At the age of 90, she fell off a chair and fractured her left hip, and died several weeks later on Feb. 12, 1949. Burial was with her husband in Johnstown.
Daughter Grace Anna Ankeny (1880-1949) was born on May 27, 1880. She married George C. Wilt (1878- ? ). They apparently did not reproduce. In about 1916, the couple established a home in Youngstown, Mahoning County, OH, and remained there for the rest of their lives. The 1920 federal census shows George working as a "stationery engineer." He died first, but the details are not yet known. Grace's final address was 27 Shadyside Drive in Boardman Township on the outskirts of Youngstown. She suffered an acute heart attack and died instantly on Feb. 24, 1949 at the age of 68. Mrs. Fern Holzhausen signed the Ohio death certificate. She was placed into eternal repose in Forest Lawn Cemetery in Youngstown.
Son Edward C. Ankeny (1885- ? ) was born in April 1885. In 1942, his home was in R.D. 1, Somerset.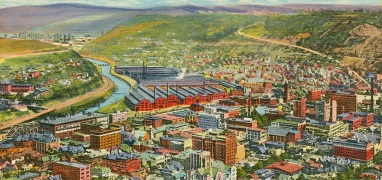 Bird's eye view of Johnstown, PA, home of the Edwardses
Daughter Goldie Ankeny (1887-1937) was born on Aug. 12, 1887 in Somerset County. In 1910, at the age of 22, she worked as a servant in the home of Albert L. and Emma B. Hay in Somerset. At age 27, on Feb. 4, 1915, she was united in wedlock with 26-year-old Frederick Neville Edwards (1888-1926) of Johnstown, Cambria County, and the son of Jonathan D. and Margaret "Maggie" (Hoover) Edwards. The ceremony took place in Johnstown by the hand of Rev. H.S. Rhoads. At the time of marriage, Fred was divorced and worked as an inspector in Johnstown. The couple made their home in Ferndale, Cambria County, with an address of 543 Ferndale Avenue. There, Frederick was employed as a crane man in the mill of Bethlehem Steel Company in Johnstown. But Fred suffered from acute heart disease caused by insufficiency of his heart valves, and died at age 38 on Sept. 23, 1926. Interment was in the famed Grandview Cemetery in Johnstown, with Arthur Edwards of the home signing the death certificate. As a widow, Goldie returned to Somerset County where she resided in Milford Township and was employed as a matron in the Somerset County Children's Home, continuing the public welfare work begun by her grandfather. Tragically, she contracted a deadly case of pneumonia in early October 1937 and succumbed four days later, on Oct. 10, 1937, at the age of 50. Burial was in Johnstown's Grandview Cemetery, and Goldie's brother was the informant for the Pennsylvania certificate of death.
Son Harry Ankeny (1891- ? ) was born in January 1891. In 1942, his home was in R.D. 1, Somerset.
~ Son George Brinton McClellan Dull ~
Son George Brinton McClellan Dull (1862-1936) was born on April 27, 1862 in Milford Township, Somerset County. He was named after the popular Civil War general for the Union Army.
In about 1894, at the age of 32, he was united in holy matrimony with a 22-year-old double cousin, Elizabeth Schrock (1873-1935), whose birthdate was May 2, 1873. It was a first marriage for both. Elizabeth was the daughter of Perry and Christianna (Dumbauld) Schrock -- he of the family of Susanna (Younkin) Schrock and she a descendant of Elizabeth (Dull) Dumbauld.
They produced two children, Perry W. Dull and Margaret C. Mickey.
The Dull family made their residence in 1908-1911 on a farm in Milford Township and in Somerset during the 1920s and '30s, at 3660 West Patriot Street.
Suffering from heart disease, she died on Sept. 26, 1935, at the age of 62. Interment was in the Kingwood Cemetery. [Find-a-Grave]
George only lived another eight months after his wife's passing. Ailed by heart failure, he died at age 74 on May 13, 1936. Son Perry signed the death certificate.

YFNB, 1938
Son Perry William Dull (1899-1938) was born on April 4, 1899 and apparently named for his maternal grandfather. He was a longtime farmer, beginning the occupation in about 1926, when he was 27 years of age. He married Elva Leona Henry (1899-1995). They lived in rural Somerset and had these children: William Dull, Jack E. Dull, Marjorie Dull, Betty Ann Dull and Doris Elaine Dull. Suffering from malignant hypertension, Perry died in Somerset Community Hospital at age 39 on Oct. 10, 1938. Burial was in Kingwood. Later that year, on Dec. 20, 1938, his obituary was republished in the Younkin Family News Bulletin. The YFNB news item mistook the name of Perry's father as "William" instead of "George."
Grandson Jack E. Dull (1927-1998) died in 1998.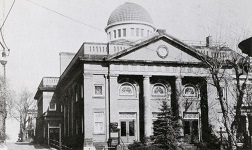 First Christian Church, Somerset
Daughter Margaret C. Dull (1906-2000) was born on May 17, 1906 in Milford Township. She was married to Ray Robert Mickey (1896-1966), the son of Daniel and Minnie (Wilson) Mickey of Casselman, Somerset County. Ray was a veteran of World War I. They made their home in Somerset. Their two known children were Betsy "Jane" Mickey and Dr. Dean D. Mickey. Sadly, daughter Jane was stillborn on Feb. 18, 1931. Physicians could not identify a cause, but noted that the baby was eight and a half months in the womb. The baby's tender remains were placed into repose in the Kingwood IOOF Cemetery. The Mickeys were longtime members of the New Centerville Church of God, with Margaret also belonging to the First Christian Church of Somerset. Margaret was a teacher in the Somerset Area Schools and a member of the Rebekah Auxiliary of the Odd Fellows Lodge in Somerset and of the Trinity Chapter 138 of the Order of the Eastern Star. Ray was employed as a letter carrier by the U.S. Post Office, a position from which he retired, and he was a member of the Masons. In their later years, the Mickeys enjoyed spending their winters in Bradenton, FL. Ray passed into eternity in Bradenton at the age of 69 on Feb. 20, 1966. His remains were returned to Pennsylvania, where funeral services were held in a local funeral home with Rev. Stanley Darrah and Rev. Paul Weber officiating. Margaret survived her husband as a widow for 34 years. Just five days before her 94th birthday, Margaret died in Somerset Hospital on May 12, 2000. She was laid to rest in Somerset County Memorial Park, with Rev. Daniel Nicksich preaching the funeral sermon. The Somerset Daily American published an obituary.
Grandson Dr. Dean Dull Mickey (1927- ? ) was born on Jan. 15, 1927. He studied at the Pennsylvania State College of Optometry in Philadelphia and became an optometrist. On June 2, 1950, at the age of 23, he married 20-year-old dental assistant Patricia "Jane" Colvin (1930- ? ), daughter of Carl W. and Helen M. (Murray) Colvin of Hooversville, Somerset County. Rev. George Leith Roth officiated. The couple produced four children -- Daniel C. Mickey, Patrick W. Mickey, Christine J. Mitchell and Rebecca Jane Moyer. They resided in Philadelphia circa 1951-1952 but later returned to Somerset. Dean was an active member of the Kiwanis Club of Somerset for more than four decades and in 1959 served as president. Circa 1975, he was appointed to a three-year term on the Somerset Zoning Hearing Board. He often was pictured in the Somerset Daily American in connection with his community projects. Jane was active with the Somerset Parent-Teacher Association, where she was recording secretary and helped organize its annual "Spring-O-Rama" in 1965.
~ Son Edwin Elijah Dull ~
Son Edwin Elijah "E.E." Dull (1865-1952) was born on April 15, 1865.
As a young man, Edwin was a farmer near Rockwood in Milford Township, Somerset County.
At the age of 23, on March 10, 1889, Edwin married 22-year-old Jennie Catherine Will (1866-1952), daughter of Albert G. and Elizabeth "Lizzie" (Wolfensberger) Will of Milford Township. The nuptials took place at the Will residence, officiated by Rev. John H. Zinn.
Their three children were Dr. James "Earl" Dull, Florence Elizabeth Musser and Blaine Dull. Sadly, Blaine is believed to have died young..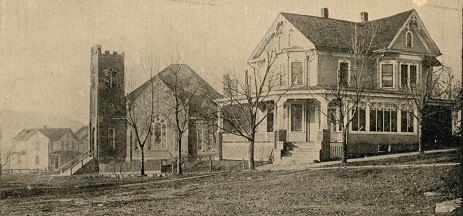 Edwin Dull's home in Rockwood, next door to the United Brethren Church
The Dulls lived on Main Street in Rockwood, where Edwin was a merchant, operating a general store. Their home was next door to the United Brethren Church. On Easter 1903, Edwin made a $6 donation to the Children's Easter Church Extension Day Offering, and his name was published in a list of donors in The Lutheran Observer (April 24, 1903).
Edwin was named in a May 1909 letter written by William H. Welfley to Rev. E.C. Weyand in regard to the Putnam family genealogy. In the letter, Welfley erroneously suggests that Edwin's father was Rufus H. Dull of Glade, Somerset County, but then adds, "but I may be wrong as to that."
Jennie was mentioned in a profile of her father in the 1899 book Biographical Review Containing Life Sketches of Leading Citizens of Somerset and Bedford Counties, Pennsylvania, produced by the Biographical Review Publishing Company in Boston. Her reference also contains a slight error, giving her middle initial as "B." instead of "C."
In about 1922, they retired and moved into the town of Somerset, with their residence at 261 East Patriot Street. The 1930 federal census lists his occupation as "laborer - odd jobs."
Sadly, Jennie died of heart problems at the age of 85 on Jan. 5, 1952, in Somerset Community Hospital. Burial was in the IOOF Cemetery in Rockwood.
Edwin only lived for 10 more months. At the age of 87, he suffered a heart attack and died at home on Oct. 24, 1952. Kathleen D. Musser of Somerset was the informant for his death certificate. Burial was in the IOOF Cemetery in Rockwood, with Rev. Dr. I. Hess Wagner officiating. An obituary in the Somerset Daily American noted that he was survived by seven grandchildren and four great-grandchildren.
Son James "Earl" Dull, M.D. (1890-1933) was born on March 14, 1890 in Rockwood. He was wedded to Edna D. Diehl ( ? -1971), daughter of Adam F. and Amanda (Purdue) Diehl of Bedford County. Their two sons were Dr. James Albert Dull and Joseph "Edwin" Dull. He became a surgeon, and Edna was a nurse, and they made their home on West Patriot Street in Somerset. Earl admitted his first patient to the new Somerset Community Hospital on Sept. 26, 1919. He was a member of the Rotary Club of Somerset. Tragically, Earl suffered from kidney disease and in March 1933 was stricken with an acute attack. Just nine days after his 43rd birthday, he succumbed and died on March 23, 1933. His remains were brought to Rockwood for interment in the Odd Fellows Cemetery. The following week, the Rotary Club paid tribute to Earl's memory, with his dear friend Dr. Fred B. Shaffer recalling how, "after fighting off ailments resulting from war service Dr. Dull was stricken with a kidney condition," reported the Somerset Daily American. As a widow, Edna continued to live in Somerset and advertised that she had first floor office rooms to rent. In the Oct. 9, 1952 edition of the Daily American, Edna was quoted offering her views on the high number of fatalities on the Pennsylvania Turnpike, which had an exit at Somerset: "While we don't know the whole solution (these accidents many times are the result of running too close behind a truck, and then when the truck puts on its air brakes or slows up rapidly to shift gears buses and private motorists ram into the rear. Trucks should be forced to not drive over 50 mph, but often they are going 65 and 70 mph." Edna survived her husband by almost four decades. She was a member of the Somerset Registered Nurses Association, American Legion Auxiliary and Trinity Lutheran Church. She passed into eternity in Westmoreland County Hospital in Greensburg, PA on March 21, 1971. She was survived by four granddaughters, reported the Daily American. Rev. H. James Meyers led the funeral service, with burial in the Rockwood IOOF Cemetery.
Grandson Dr. James Albert Dull (1923-2012) was born on Aug. 9, 1923 in Somereset. In about 1949, he married Mary (?), and they remained together for 63 years until the separation of death. The couple produced four daughters -- Margery Okonak, Nancy Pioli, Janet D. Mason and Suzi Loechle. James received an undergraduate degree from Juniata College and then obtained his medical degree from the University of Pennsylvania in Philadelphia. He returned to his home region and resided in Greensburg, Westmoreland County, PA. Reported the

Greensburg Tribune-Review

, he "served on the medical staff at Westmoreland Hospital and Jeannette District Memorial Hospital for 35 years, and was in practice with Drs. James and Doris Maxwell. He was a member of the First Presbyterian Church in Greensburg for more than 50 years and served as a deacon and elder. James was a member and past president of Mountain View Rotary Club (Greensburg), member and past president of Westmoreland Hospital Association, member of Westmoreland County Medical Society, member of Westmoreland Hospital Foundation and a member of the Pittsburgh Surgical Society." James died in Redstone Highlands at the ae of 88 on July 30, 2012. An obituary in the

Tribune-Review

said that the funeral was held in the First Presbyterian Church of Greensburg with Rev. Martin Ankrum leading the services. At the time of James' death, his daughters Margery Okonak resided in Latrobe, PA, Nancy Pioli in New York, Janet Mason in Greensburg and Suzi Loechle in Kentucky.
Grandson Joseph "Edwin" Dull (1925-2003) was born in 1925 in Somerset. During World War II, he served in the U.S. Army and was stationed in Belgium, France and Holland. Later, he obtained a degree from Gettysburg College and went on to obtain graduate education at the University of Pennsylvania School of Pharmacy. He took advantage of an opportunity to work as a pharmacist at Leslie's Drug Store on Martha's Vineyard and lived there many years, making the town of Chilmark a permanent home in 1975. At some point he left the pharmacy and became a real estate broker with Tea Lane Associates, staying there for three decades. In about 1960, when he was age 35, he met his life partner James Edward "Jim" Barrett (Nov. 22, 1936-2015), who was 11 years younger and the son of Ernest O. and Mary (Canha) Barrett. They remained a couple for 43 years. Jim was a Tisbury School alumnus and a U.S. Navy veteran. After leaving the Navy in 1959, he resided in Boston and earned a living as a waiter at Fenway Park's food concession and in other local restaurants. Reported the MV Times, "Jim worked for many restaurants, including the Harbor View, the Dunes (Winnetu) and L'Etoile, and also cooked for private individuals. He enjoyed his family and always made special dinners and desserts, apple pie and cherry pie. His nieces and nephews and greatnieces and -nephews also enjoyed special birthday cakes, such as trains and dolls, and later jellies, merry-go-rounds, and lambs." Having suffered for many years with emphysema, Edwin died in the New England Medical Center on June 5, 2003. The Vineyard Gazette published an obituary. Jim lived for another dozen years after his partner's passing. At the age of 79, just 10 days before Christmas 2015, he succumbed in Martha's Vineyard Hospital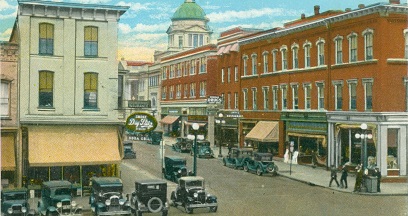 Public square in Somerset
Daughter Florence Elizabeth Dull (1893-1993) was born on March 17, 1893 in Rockwood. She was interested in pharmacy and in 1915 graduated from the University of Maryland School of Pharmacy. Then on Nov. 19, 1917, when she was age 24, and living at home in Rockwood, she married 25-year-old Henry "Everett" Musser (Aug. 10, 1892-1950), a native of Berlin, Somerset County and the son of Dr. Uriah and Ella Jane (Shaffer) Musser. Rev. Dr. John Erler officiated at the ceremony held in Rockwood. At the time of marriage, Everett was a clerk in Rockwood. Their five offspring were William Dull Musser, Doris Jean Stahly, James Harold Musser, Ellen Jane Frederickson and Louann "Ann" Shoben. They went on to establish Musser's Bakery in Somerset, where they remained as proprietors for years, and their address was on East Patriot Street. Heartache blanketed the family when Everett began suffering from pulmonary tuberculosis and, two years later, passed away on April 24, 1950. Florence survived him by 43 years. She was a member of Trinity Lutheran Church, American Legion Post 181 Auxiliary and Somerset Welfare League. As her health declined, she was admitted to Somerset Patriot Manor. There, she died at the age of 100 on Oct. 26, 1993. An obituary in the Somerset Daily American reported that her survivors included seven grandchildren and 10 great-grandchildren. Burial was in Husband Cemetery, with Rev. Robert L. Hoover officiating the funeral service.
Grandson James Harold Musser (1919-1981) was born on Sept. 20, 1919 in Somerset. He was interested in aviation and in his early 20s became a flight instructor in Somerset. When he was age 24, on Sept. 19, 1943, he was was wedded to 20-year-old Lois Alva Dosch (1923- ? ), daughter of druggist Philip C. and Alva (Dull) Dosch of Somerset. Their wedding was held in Somerset and was led by Rev. I. Hess Wagner. The Mussers never reproduced. They lived in Tucson, AZ in the early 1980s. James died in Tucson at the age of 61 on April 19, 1981. An obituary in the Somerset Daily American asked that any memorial donations be made to the Police Athletic League for Disabled Children in Tucson.
Granddaughter Doris Jean Musser (1921- ? ) was born in about 1921. As a young woman, she became a chemist specializing in domestic science and resided at 1034 Murryhill Avenue in Pittsburgh. On Dec. 8, 1946, when she was 25 years of age, she wedded 38-year-old chemist Eldon Everett Stahly ( ? - ? ), son of Ulysses S. and Bertha B. (Blough) Stahly and originally from Dry Grove Township, McLean County, IL. Rev. I. Hess Wagner officiated at the nuptials held in Somerset. Circa 1993, Doris dwelled in Ellicott City, MD and in 2008 in Columbia, MD.
Granddaughter Ellen "Jane" Musser (1922-2011) was born on Sept. 16 or 17, 1922 in Somerset. She moved to Pittsburgh where, in 1943, she shared a home with her sister Doris at 1034 Murryhill Avenue. On Sept. 2, 1944, at the age of 21, Jane was united in matrimony with 24-year-old Clyde Warren "Rick" Frederickson (May 26, 1920-2000), son of Alex and Selma (Anderson) Frederickson. Born in Wakefield, MI, Clyde was employed as an electrical engineer living in Wilkinsburg near Pittsburgh at the time. Rev. I. Hess Wagner led the marriage ceremony in Somerset. The Fredericksons relocated to Ohio and had these children -- Linda Jane Mild, Karen Jean Brandau Zonyk and Curtis Dale Frederickson. In 1981, her home was in Cuyahoga Falls, OH and in 1993-2008 in Hudson, OH. Reported the Akron (OH) Beacon Journal, Jane "received her baccalaureate in Nursing from Carnegie Mellon University, and received graduate degrees in Counseling and Psychology at Michigan State University and Kent State University respectively. She was a nursing educator in Jackson, Michigan, a school counselor and psychologist in the Cuyahoga Falls School System, and finished her career with five years of private practice in Cuyahoga Falls. In her multiple careers, in her community life, and as a wife, mother and grandmother, Jane lived in service to others. She cared for her patients, mentored her students, counseled the children in her care, served on multiple boards and committees at Laurel Lake, and gave without reservation of herself to her husband and children. She and her husband 'Rick' were avid golfers and bridge players. But in her heart she was her father's daughter, a farmer and a baker. She loved to garden, cook and entertain." Clyde died on Sept. 3, 2000 just one day after their 56th wedding anniversary. Jane lived for another 11 years and succumbed at Laurel Lake in Hudson on Aug. 26, 2011. Funeral services were held at the Hudson Presbyterian Church and a reception at Laurel Lake Retirement Center.
Grandson William Dull Musser (1923-2008) was born on Nov. 27, 1923 and was named for his grandfather. He served in the U.S. Army Air Force during World War II. After the war, in 1946, he was a student at the College of William and Mary, but with his permanent residence at 261 East Patriot Street in Somerset. At the age of 22, on Sept. 14, 1946, he was joined in holy wedlock with 24-year-old Mary Kathleen "Kody" Daugherty ( ? - ? ), daughter of brick contractor David E. and Mary C. (Snively) Daugherty of Shanksville, Somerset County. The ceremony was held in Shanksville and performed by Rev. R.R. Richard. The marriage endured for 61 years until William's death ended the union. The couple produced one daughter, Mary E. Stuck. Upon college graduation, William returned to Somerset and, after his father's death, took over the family bakery. Reported the Pittsburgh Tribune-Review, William "later became a stockbroker in Pittsburgh, retiring with 30 years of service. Bill enjoyed golfing, playing bridge, photography and Sunday drives with his family." William died in Good Samaritan Hospital in Pottsville, PA on May 15, 2008, with interment in Walker Cemetery in Somerset, with Rev. Roger L. Forry officiating. In an obituary, the Pittsburgh Tribune-Review suggested that any memorial contributions be made to the Monroeville Stroke Group. Their daughter Mary married Michael Stuck and located in Millersville, PA, with their children Christopher William Stuck and Sara Jane Lukunich.
~ Son William Dull Jr. ~
Son William Dull Jr. (1870- ? ) was born in about May 1870. He appears on the United States Census during the year of his birth, at the age of two months.
William is not known to have survived the decade of the 1870s as he does not appear in the federal census of 1880. More research on his life is underway.
Copyright © 2014-2017
Research for this page graciously shared by
the late Donna (Younkin) Logan,
Clark Brocht and Linda Marker.