Bertha (Goins) Norris Adams
(1895-1948)

Bertha Norris Adams
Bertha (Goins) Norris Adams was born in 1895 in or around Corning, Perry County, OH, the daughter of Hiram and Rebecca (Minerd) Goins.
She was married twice. Her first husband was Jesse "Kirby" Norris (1893- ? ), son of George Washington and Mandana ("Amanda?") (Mayle) Norris of Lathrop, Morgan County, OH.
They resided in Clarksburg, Harrison County, WV and in Toledo and Zanesville, Muskingum County, OH. The couple had four children -- Hiram Norris, Hazel "Marie" Marcus, Louise Ferguson and Howard Norris.
Tragically, during the time that the family lived in Toledo, son Hiram died at the age of nine months, on Sept. 25, 1917, due to acute indigestion after being fed bean soup, which a physician noted was "improper." His tender remains were placed into rest in the Forest Cemetery in Toledo, Lucas County.
All of the three adult children eventually resided in Washington, DC as adults.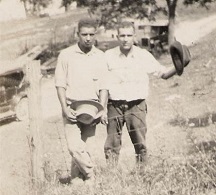 Brothers Hollie and Harrison Adams,
family homestead, Douda, OH
Later, after a divorce, Bertha married Hollie Elsworth Adams (1902-1977), the son of James Lewis and Martha Jane "Doolie" (Mayle) Adams, and the grandson of James and Elizabeth Mayle. The wedding took place on Aug. 17, 1945 in Zanesville, when she was age 50 and he 43. He had been married once before, in 1940, to Helen Marie (Hill) Holbert. Hollie's parents, originally from West Virginia, had migrated to Ohio in about 1917, settling near Malta, Morgan County.
When Hollie registered for the military draft during World War I, at age 25, he filled out a card showing he was employed as a well tender by Logan Gas Company in Ashland, OH, and that his dependents included a wife and child. He was of medium height and build, with dark brown eyes and black hair. Later, he worked as a farm laborer.
The couple did not reproduce.
In the late 1930s, Bertha moved to Washington DC. She became ill in about 1948 and returned to Zanesville, where she resided in the Coal Run Road home of her sister Anna (Cook) McCuen.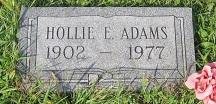 Mount Hermon Cemetery
Suffering from cancer of the right breast, Bertha passed away at the age of 53, on Nov. 19, 1948, at Anna's home, after an illness of three months. She was laid to rest at the Woodlawn Cemetery in Zanesville.
Her first husband, Kirby Norris, later resided in Smithfield, OH. His final fate is a mystery.
Bertha's second husband, Hollie Adams, spent his final years residing in Stockport, Morgan County. He passed away in Mark Rest Center in McConnelsville, Morgan County on June 18, 1977, at the age of 75. His remains were interred at Mount Hermon Church Cemetery near Sharpsburg, Athens County.
Showing that the Adams and Goins families were close, Hollie's niece Elizabeth Adams married Bertha's nephew Donald Oneal Goins.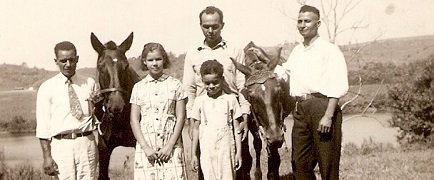 Adams homestead near Malta, Ohio, L-R: Hollie, Elizabeth, Dwight "Robert," Dwight Marlie (standing) and James Lewis Jr.
~ Daughter Hazel "Marie" (Norris) Marcus ~
Daughter Hazel "Marie" Norris (1920-1995) was born on Sept. 6, 1920.
She married (?) Marcus.
In 1948, her home was in Washington, DC.
Marie died in May 1995 at the age of 74.
~ Daughter Louise (Norris) Ferguson ~
Daughter Louise Norris ( ? - ? ) was born in (?).
She married Ferguson.
In 1948, she lived in Washington, DC. Nothing more is known.
~ Son Howard Norris ~
Son Howard Norris ( ? - ? )
He married Mae Wiggins ( ? - ? ). Their children were Sandra Norris, Howard "Sonny" Norris and Velda Norris.
He resided in Washington, DC in 1948.
He died in Washington DC in 1958.
~ More ~
Be sure to visit Rebecca's page on Barb Nelson's TribalPages.com website, which is a compilation of findings made by others. Barb's website contains significant excerpts from Minerd.com's proprietary research and website postings, as well as additional discoveries by Irita (Goins) Canady.
Copyright © 2004-2008, 2010, 2015 Mark A. Miner
Bertha Norris Adams photo courtesy of Irita (Goins) Canady