Lawrence 'Clark' Grim (1843-1903)
Lawrence "Clark" Grim was born on Sept. 24, 1843 near Waynesburg, Greene County, PA, the son of Harvey and Permelia (Headley) Grim.
He was a farmer, living at Bristoria, Greene County, and a veteran of the Civil War. Married three times, he sired at least a dozen children, with his eldest and youngest some 32 years apart in age.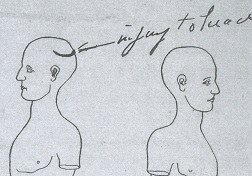 Physician's sketch of Clark's head injury
At the age of 16, in about 1859, Clark suffered a serious head injury in a farming accident in Jackson Township which plagued him the rest of his life. In his own words, written many years later:
I was hauling wood with a sled and oxen. The oxen run off and pitched me off in front between the oxen and they drug the sled over my head. The sled was heavy loaded and my head was badly injured. I have never recovered since. I have a pain and heavy aching in my head, especially towards the back. This is much worse in warm weather.
When he was 20 years of age, Clark stood 5 feet, 9½ inches tall, with a fair complexion, grey eyes and dark hair.
~ Civil War Service ~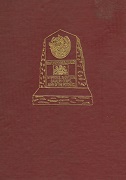 Clark named in the history of the 18th PA Cavalry
During the Civil War, Clark and his father both served in the U.S. armed forces. His father joined first, in the fall of 1861, as a member of the 1st West Virginia Cavalry. Clark waited several years, and on Sept. 3, 1864, went to Jefferson, Greene County to enlist as a private in the 18th Pennsylvania Cavalry, Company G, otherwise known as the 163rd Volunteers.
Clark served in the army for nine and a half months. During that time, from Dec. 9, 1864 to Jan. 20, 1865, he left the regiment to receive medical treatment for typhoid fever. He received a discharge on June 12, 1865 at Cumberland, MD. In 1909, when the official regimental chronicle was published under the title History of the Eighteenth Regiment of Cavalry, Pennsylvania Volunteers, authored by Theophilus Francis Rodenbough and Thomas J. Grier, he was named on page 237.
~ First Marriage ~
His first wife was Margaret Milliken (1845-1874), a native of Delphene, Greene County. They were wed eight months after Clark's return from the army, on Feb. 27, 1866 in Greene County, when he was 23 years of age and she 21.
The Grims had these three children -- Jessie Grim, George L. Grim and John C. Grim.
One of the high points of living in rural Greene County in the years right after the Civil War was the annual Jacktown Fair. Formed in October 1866 by the Richhill Agricultural, Horticultural and Mechanical Society, the annual event quickly became what some have called a "cherished institution" in the region. It was held on land at one end of town, near where one George Ryerson had once conducted an Indian trading post. The fair included a horse trader's alley and horse racing along a quarter-mile track in the center of the grounds, at the top of the hill. "In many ways," said a history of the event, "the Jacktown Fair is unique."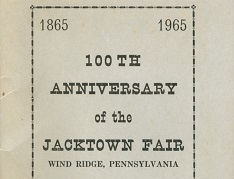 Anniversary booklet
It is a holdover from the time of the horse and buggy when every community of any size had a fairgrounds and set aside certain days each summer to bring in prize samples of their produce, livestock, and handiwork. And although concession stands, merry-go-rounds, and acrobats play a bit part in the annual festivities, it's still the pride in winning a blue ribbon and curiosity about who has won what prize which are the big attraction to local people. This close-knit community relationship is also the reason the fair has retained the flavor of an old-fashioned country reunion.
In 1870, as shown by the U.S. census, the family dwelled in Jackson Township, Greene County, and their home was near to his parents. Beginning a pattern of violent behavior, Clark became physically abusive to his wife, a fact known to her brother Samuel Milliken. Tragically, although under the medical care of Dr. William M. Parry of Waynesburg, Margaret died at home near Delphene on April 7, 1874. The cause it not yet known. Among the mourners attending her funeral were her brother Samuel and justice of the peace James F. Morris. Margaret's untimely death left her husband with four young mouths to feed.
~ Second Marriage ~
After a little more than two years as a widower, Clark married again, to widow Elizabeth Ann "Libby" (Scott) Huffman (1853-1883). The ceremony took place on Aug. 26, 1876. They were a decade apart in age. That year, the federal census shows the family living as farmers in Delphene.
The Waynesburg Republican said Elizabeth was "a kind, quiet, and peaceful woman and had the confidence and respect of all her neighbors and those with whom she became acquainted." They had three or four children, of whom two are known -- Emma J. Grim and Millie DePoe.
Clark's cycle of domestic violence continued in the second marriage. Libby once complained to a friend that in a fit of anger, he "threw a shovel full of red hot coals in her lap and burned her badly." Family friend Arch F. Hickman also knew of the harm done to her.
Elizabeth suffered from tuberculosis, or "consumption" as it was then known. She endured the affliction for more than half a year, treated by the same Dr. Parry of Waynesburg, until her death. She passed away on Oct. 11, 1883, at the age of 33, at home. The grave was dug by Clark's former brother in law, Samuel Milliken, and the remains prepared for burial by Milliken's wife. In an obituary, the Republic said that "For the past seven months the deceased was in very poor health, and although her death falls with a heavy stroke upon her husband and five small children it was not unexpected. The husband, children and other near relatives have the sympathy of the neighborhood, as was shown by the large turnout of people at the funeral on Saturday." Justice of the peace James F. Morris attended as did family friend Daniel Boone.
During the early 1880s, Clark began to suffer from rheumatism in his legs and hips as well as heart disease.
~ Third Marriage ~
On July 21, 1887, at age 44, Clark married his third bride, 23-year-old Emma Florence Kuntz (1864-1946), also spelled "Kuhns" and "Kughn," daughter of Dutch immigrants Abram and Rebecca (Gump) Kuntz of Deep Valley, Greene County. The ceremony was performed by justice of the peace James F. Morris -- who had gone to the funerals of both of Clark's earlier wives -- at his residence in or near Waynesburg. The groom was almost twice the age of his bride.
Prior to their marriage, Clark had had his eye on Emma, but she became pregnant with neighbor James Rush, and gave birth to a son Charles "Sulvester" Rush. In a cruel twist, the birth father died of tuberculosis on the Fourth of July 1886 before the child was born several months later in November. While dying, Rush allegedly had said "Em, if I get well I will marry you." At the time Clark and Emma were united in marriage, she earned a living providing housework for William P. and Elizabeth Phillips in Waynesburg.
Clark and Emma made their home near Delphene, Greene County and went on to have seven more children -- Benjamin Harrison Grim, William Grim, Odest O. Grim, Debra Lulu "Debbie" Grim, Lawrence Budd Grim, Job Grim and Homer Roscoe Grim. Dr. Parry of Waynesburg attended the births of Emma's six youngest children. At each birth, the newborn's name was written in the family Bible (which was published in 1867).
As he aged, Clark became eligible for a federal pension as compensation for wartime ailments he suffered. After filling out the requisite paperwork, he was awarded the pension. [App. #918.968; Cert. #717.458]
The Grims' marriage was just as abusive as the first two, if not more. An observer once wrote that he "was abusive to all his wives. He did not seem to have any control of his temper." When enraged, even though he promised to do otherwise, Clark liked to accuse his wife of having had a "bastard child." Emma once suffered a miscarriage, she told officials, after Clark "beat me and beat me almost to a jelly." She once reported that "I was true to him, God knows, and withal his meanness to me I think he was true to me." After the birth of their eldest son, Emma had Clark arrested for assault, and he spent a night in jail after pleading guilty before a justice of the peace. Clark's former brother in law Samuel Milliken knew that he had "blacked her eye and so on." She left Clark for good on April 19, 1903 because she could no longer take his attacks. Thereafter, he did not contribute financially to her support. She filed for divorce in June 1903 and requested alimony. In a counter-claim, Clark stated that she was the one heaping the abuse.
~ Death in an Elevator ~
Tragedy visited this already broken family two weeks before Christmas 1903. Clark was working or visiting Inghram Bros.' shop in the Waynesburg area when he fell down an elevator shaft. He landed on his head and was paralyzed upon impact, and never recovered. He was taken to the Farmer's Hotel on Greene Street, where he lingered. Despite their differences, Emma came to his bedside and stayed for a day and a night. Death occurred on Dec. 21, 1903, when he was age 60. He was buried in Higgins Cemetery in Jackson Township, known at the time as Valley Chapel. One of his pall bearers was a childhood friend, Roseberry "Rose" Hughes. In an obituary, the Waynesburg Republican said that "He was a prominent and worthy citizen of the western part of the county." [Find-a-Grave]
After Clark's death, his estate of $4,820 was divided to creditors and heirs. The family farm of 117 acres was sold to O.B. Boyles, with Emma retaining the oil and gas rights which provided her with a small but steady stream of income. She moved to Aleppo, Greene County in April 1904, and stayed there until about Oct. 1, 1905, when she purchased 87 acres in Delphene, Jackson Township. Over the years, she raised potatoes and corn on the farm as well as a herd of sheep. A friend observed that the farm had "about 15 acres in timber -- no good timber -- the buildings are small & fences poor.... Being hilly, the land washes terribly, and then we are too far from market. In fact no market worth mentioning nearer than Pittsburg or Wheeling."
Emma applied for her late husband's pension payments in February 1904, but the application was rejected. [App. #799.933] Because their daughter Debbie, was underage and considered a "weak minded person," a special government examiner named George M. Beckett was sent to Greene County to look into the facts. He interviewed Emma, most of her children and a number of neighbors and friends. She showed him a handwritten list of her children's names and birth dates, copied from the family Bible at her request by local postmaster Charles Hughes.
Examiner Beckett observed that Emma had a 1½-year-old daughter in the household. The child was Bessie D. Anderson, born in 1907 and the daughter of Frank Anderson. Emma admitted to the examiner that:
I ran with Frank Anderson about two years prior to the birth of the child Bessie.... [He] would marry me but I do not want him. He is a widower with four children and I have had all the experience I want in that line.... I am not on friendly terms with [him]. He still farms the place but he has not done the farming as he agreed to so we had a falling out. Anderson has done my farming ever since I moved on this farm.... The first two summers he farmed for 1/3 of the crop and I gave him his dinner. Unless I hired him by the day then he ate both dinner and supper here. Oh yes, he has slept here several nights. Last winter Bessie had pneumonia for about 3 months and I was not able to care for the child and I told him he must come and help care for the child and he was here night and day for about two weeks. She was at death's door for 2 or 3 weeks.
In his report, Beckett concluded that her "reputation for truth and honesty in business matters seems to be good but her moral reputation is not good." Emma eventually married Anderson when the girl was age six.
Daughter Debbie was granted her father's pension payments in about 1909. [App. #929.000; Cert. #692.911, XC 2.681.326] When Debbie reached the age of 16, the payments stopped.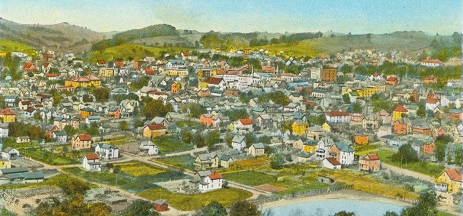 Waynesburg, Pennsylvania
On Oct. 22, 1913, after a decade as a widow, the 49-year-old Emma married again, to 50-year-old widower Frank Anderson (1863- ? ). He was the son of James and Ruth (Morris) Anderson and a farmer at the time of the second marriage. Justice of the peace John T. Goodwin officiated at the ceremony held in Waynesburg. Frank's daughters to the first marriage were Lizzie Anderson and Ruth Anderson.
The marriage did not last, and the couple separated sometime in about 1915. They did not divorce, however, until 1944, when a decree was handed down by the Court of Common Pleas of Greene County.
Emma took back her first married name of "Grim" and lived in Woodruff, Greene County circa 1915-1919. In 1920, her home was in Holbrook, Greene County, and she inform the U.S. census-taker that she was a widow. Her only source of income was $60 a year in natural gas royalties paid by South Penn Oil Company. Later, circa 1945, she made her home at 42 East Greene Street in Waynesburg.
For the next 40 years, the remainder of her life, Emma continued to petition the federal government for the pension without result. She obtained supporting affidavits in writing from friends and neighbors including Corbly B. Morris, Ida Jackson, Catherine Morris, Clara B. Hughes, Andrew J. Weaver and William G. Milliken. In November 1919, she wrote to the federal pension commissioner in a letter filled with misspellings:
taught i would right you a few lines to no of my Pension you are giving all the rest of the widdows. why don't you give me mine. Beck lightner got one and she has a man a living girm seller and others i no of that was married twice. now you give me mine. Frank anderson has left me four years a go and i don't have any one to maintain but the one boy that was over in France and was wonded in the right arm Lawrence B. Grim. The rest of my boys is all married and gone. am getting old have worked hard all my life and cant do mutch any more.
A letter from the Director of Depends Claims Service wrote in April 14, 1945 that "for the reason you have by your conduct since the date of the veteran's death and passage of the Act of August 7, 1882 forfeited all title to pension...."
She died in Greene County Memorial Hospital at the age of 82 on Nov. 7, 1946, due to congestive heart failure. Burial was in Rosemont Cemetery in Rogersville.
~ Daughter Jessie S. (Grim) Moninger ~
Daughter Jessie S. Grim (1866- ? ) was born on Dec. 11, 1866. She was a child of eight when her mother died.
Jessie wed Meeker D. Moninger (1861-1943), son of Ezekiel and Hannah (Rhinehart) Moninger.
They had at least one daughter, Brooksie Kerr.
Circa 1908, Jessie resided in Aleppo, Greene County. By 1943, their home was in Holbrook, Greene County.
Having suffered for years from chronic heart disease, Meeker became deathly ill when contracting pneumonia in the spring of 1943. He died on May 10, 1943, at the age of 82. Burial was in the Centennial Cemetery.
~ Son George L. Grim ~
Son George L. Grim Sr. (1868-1948) was born on April 20, 1868 in Delphene, Jackson Township. He learned to labor as a farmer and spent his life in that occupation.
On July 19, 1896, when he was 28 years old, George married 22-year-old Martha Ellen Courtwright (1873-1963), daughter of James H. and Sarah Jane (Morris) Courtwright of McCracken, Greene County. The ceremony took place at her father's home, officiated by Rev. J.M. Murray.
They had at least five children -- James Lawrence Grim, Alice Grim, George L. Grim Jr., Edward Grim and Frances Grim.
Circa 1908, he made his home in McCracken. In the 1940s, they lived in Wind Ridge, Richhill Township.
Stricken with cancer of his gall bladder, George suffered for a year before his death at home on Aug. 22, 1948, at the age of 80. He was laid to rest in Wind Ridge Cemetery. In an obituary, the Waynesburg Democrat Messenger said that he "had spent most of his life in the Wind Ridge community where he followed farming and stock raising until his retirement.... He had been ill for the past five months."
Martha spent 15 years as a widow. She died in Richhill of heart disease on March 21, 1963. Her daughter Alice Rutan of Wind Ridge signed her death certificate.
Son James Lawrence Grim (1898- ? ) was born in January 1898. He made his home near Cameron, Marshall County, WV in 1948.
Daughter Alice Grim (1900- ? ) was born in February 1900. She married (?) Rutan. In 1948, Alice lived at home with her parents.
Son George L. Grim Jr. (1908- ? ) was born in about 1908 in Aleppo. He resided at Beech Bottom, WV in 1948. He married Fern Barnart and had these children -- George L. Grim III, Martha Augustine and Carl Burkett. Their son George III married Dolly Florence Kranske in Brooke County, WV in 1954.
Son Edward Grim (1910- ? ) was born in about 1910 in Aleppo. He lived at home with his parents in 1948.
Daughter Frances Grim ( ? - ? ) was unmarried and lived under her parents' roof in 1948.
~ Son John C. Grim ~
Son John C. Grim (1869-1953) was born in 1869 near Delphene. He was twice married.
He and his first wife Maggie M. Kerr were married on Christmas Eve 1895. She was the daughter of Samuel and Malinda Ann Kerr.
They had one daughter, Mrs. Paye Jones.
His second bride was Marie Johnston.
They had seven children of their own -- Charles L. Grim, Francis Grim, Maurice Grim, George Grim, Harlan Grim, Lorena Grim and Marie Grim.
In a statement made by his stepmother in 1908, she said that John was the only one "of the children by the first wife [who] are friendly to me." Sometime prior to 1908, John migrated to Nebraska, where he resided in the communities of Bayard and McGrew.
He died in McGrew in February 1953. Word of his death was sent back to his brother Lawrence, at the time living in Holbrook, Greene County. He was survived by several grandchildren and five great-grandchildren. He was laid to rest in McGrew.
~ Daughter Emma J. Grin ~
Daughter Emma J. Grim (1877- ? ) was born in 1877. She apparently died young, sometime prior to 1908.
~ Daughter Millie ( Grim) DePoe ~
Daughter Millie Grim (1881-1968) was born on Dec. 11, 1881 in Greene County. She resided in Delphene as a young woman.
She married James Franklin "Frank" DePoe (1873-1927), the son of Robert B. and Nancy (Yoders) DePoe of Jefferson, Washington County. Their wedding ceremony was held in Allegheny County, PA on Nov. 6, 1899, led by Rev. W.F. Silveno. At the time of marriage, Frank lived in of Charleroi, Washington County.
Their children were James L. DePoe, Glenn F. DePoe and Helen DePoe.
Frank was a telegraph operator for the Pennsylvania Railroad, and circa 1908 the couple resided in Canonsburg, Washington County. In about 1915, they had relocated to Pittsburgh and made a home at 1117 Criss Street.
Sadly, at the age of 53, on Jan. 23, 1927, Frank succumbed to a deadly case of pneumonia. Interment was in Chartiers Cemetery in Carnegie, near Pittsburgh. An obituary in the Waynesburg Republican said that Frank "was born in Jefferson and lived in the Pittsburgh district 12 years. He was a member of the First Presbyterian church."
Millie outlived her husband by more than four decades. She passed into eternity in 1968 with burial in Chartiers Cemetery.
Son James L. DePoe lived in Pittsburgh in 1927.
Son Glenn F. DePoe resided in 1927 in Pittsburgh.
Daughter Helen DePoe made her home in Pittsburgh in 1927.
~ Stepson Charles "Sylvester" Rush Grim ~
Stepson Charles "Sylvester" Rush (1886-1956) was born on Nov. 14, 1886, the son of James Rush and Emma Kuntz, who were not married. He was taken in by Clark, his stepfather, when his mother married. The stepfather insisted that when Sylvester became of age to write, he should write his name as "Rush." This was how the child was informally adopted, and he was known locally by both names.
Circa 1905, Sylvester moved to Verona, near Pittsburgh, in care of Robert Marshall.
He eventually married Verna Stewart ( ? - ? ).
Their children were Goldie Davis, Mrs. John Barthen, Mildred Grim and Carrie Gamrod.
In 1942 they resided in Carnegie, near Pittsburgh, and in the mid-1950s lived on Pittsburgh's Mt. Washington at 319 Cola Street. Charles' occupation over the years was as a machinist.
Tragically, in the wee hours of Jan. 10, 1956, Sylvester ended his life at home when he shot himself in the head. He was placed at rest in Chartiers Cemetery. Daughter Goldie Davis of Heidelberg near Carnegie, PA was the informant for his death certificate, and a short death notice was published in the Pittsburgh Post-Gazette and a longer one in the Waynesburg Democrat Messenger.
Daughter Carrie B. Grim (1923- ? ) was born in about 1923 in Glendale, PA. At the age of 21, she wed 21-year-old Frederick H. Gamrod (1923- ? ). The ceremony took place in Wellsburg, Brooke County, WV. They lived in Carnegie in 1956.
Daughter Mildred Grim may never have married.
Daughter Goldie Grim ( ? -1964) wed (?) Davis. She lived in Heidelberg near Carnegie, PA in 1956. She died on Oct. 27, 1964, with burial in Allegheny Cemetery in Pittsburgh's Lawrenceville section. A search for her obituary in the Pittsburgh Post-Gazette has been unsuccessful.
Daughter (?) Grim was united in marriage with John Barthen. In 1956, they dwelled in Carnegie..
~ Benjamin Harrison Grim ~
Son Benjamin Harrison Grim (1888- ? ) was born on June 30, 1888.
Circa 1942, he lived in Riverton, WY and in 1966 in Thermopolis, WY.
~ Son William Harvey Grim ~
Son William Harvey Grim (1889-1942) was born on Dec. 6, 1889 at Delphene.
As a young man, he was short and of medium build, with light brown eyes and dark brown hair. He moved to California, where he resided in the town of Tuolumne, Tuolumne County. When he registered for the military draft during World War I, he disclosed his occupation as compressor man working for the City and County of San Francisco on the Hetch Hetchy Water Supply Company's Camp Early Intake, which helped transport water to San Francisco from the Sierra Nevada mountains.
During the war, he served in the U.S. Armed Forces.
After the war, he married Hattie Long ( ? - ? ). The couple apparently did not reproduce. They relocated to Stockton, CA, where during World War II, William "was employed as a mechanical engineer by the U.S. government in defense work," said the Waynesburg Democrat Messenger.
Tragically, he died of a heart attack in Stockton at the age of 52 on Aug. 24, 1942. News of his death was sent to relatives in Waynesburg, with an obituary printed in the Democrat Messenger. Burial was in Stockton.
~ Son Odest Odolphus Grim ~
Son Odest Odolphus Grim (1891- ? ) was born on Sept. 20, 1891.
He was of medium height and build, with dark brown eyes and hair.
In early adulthood, he relocated to Colorado and joined the Colorado National Guard in the town of Golden. He was required in June 5, 1917 to register for the military draft during World War I, and while in Golden, disclosed his home address as Woodruff, PA.
Odest made his home in Chicago in the early 1940s. By 1966, he had migrated to Kansas, residing in Wadsworth.
~ Daughter Deba Lulu "Debbie" Grim ~
Daughter Deba Lulu "Debbie" Grim (1894-1966) was born on Oct. 11, 1894 at Delphene, Greene County. In medical language of the day, she was "since birth a moron.... Unable to work or carry on at any gainful occupation."
She stood five feet high and had a fair complexion with blue eyes and dark hair. A government investigator once noted that she spoke with "a pronounced nasal twang" and was so nearsighted that she had to hold a book or picture within three or four inches of her eyes to see them. She was known to burst into tears anytime anyone spoke of her poor eyesight. When examined by physicians at the age of 44, she told them in a broken manner: "I have all kinds of trouble. One with my feet. One with my head. And one with my back. I have trouble to make water, and it smarts like before I do it." They noted that she "appears overweight, somewhat obese, the expression of her face is that of a child."
As of 1954, she received pension payments of $48.77 per month, and by 1958 the amount had been increased to $73.13 monthly. For many years, she lived in New Freeport, Greene County, and O.R. Hughes served as guardian of her estate. Then in 1960, at his request, Hughes was released from his obligations, and the First National Bank and Trust Company of Waynesburg began serving her legal ward.
She died on Feb. 9, 1966 in Greene County Memorial Hospital. Burial was in Rosemont Cemetery, with an obituary appearing in the Waynesburg Republican.
~ Son Lawrence Budd Grim ~
Son Lawrence Budd Grim (1896-1962) was born on Feb. 6, 1896 at Delphene, Greene County.
He was of short height and slender build, with dark brown hair and dark brown eyes.
During World War I, he was required to register for the military draft, and stated that his occupation was working as a farm laborer for W.V. Hoskinson near Delphene. He eventually served in the U.S. Armed Forces and saw action in France. At some point he received a wound in his right arm. After the war, he returned home to Greene County.
On July 29, 1936, at the age of 40, Lawrence married 28-year-old Kathryn Elizabeth Deems (1908- ? ). She was the daughter of James Harry and Emma (Bane) Deems of Clarksburg, Harrison County, WV. Rev. John F. Nelson officiated in the ceremony held at Clarksburg.
By 1942, they lived in Waynesburg. Lawrence signed his mother's death certificate in 1946. In 1953, he made his home in Holbrook, Greene County and by 1962 made his residence at 354 North Porter Street in Waynesburg.
Having endured hardening of the arteries, he suffered a fatal heart attack and died within minutes on June 30, 1962, in Greene County Memorial Hospital. Burial was in Beallsville, Washington County, PA.
~ Son Job Grim ~
Son Job Grim (1897- ? ) was born on Sept. 29, 1897 at Delphene, Greene County. In 1942-1966, he resided in Waynesburg. He may have died in January 1978.
~ Son Homer Roscoe Grim ~
Son Homer Roscoe Grim (1899- ? ) was born on March 7, 1899 at Delphene.
At the age of 19, he was a farmer in and around Woodruff. Homer filled out a draft registration card in September 1918 during World War I, and the clerk noted that he was of short and stout build, with dark brown eyes and dark brown hair. Homer lived in Portsmouth, VA in the early 1940s.
He is believed to have been deceased by 1966.
~ Bessie D. (Anderson) Amos ~
Bessie D. Anderson (1907-1966) -- Emma's daughter with Frank Anderson -- was born on Jan. 13, 1907 near Delphene. Dr. Johnson of Bristoria, Greene County attended the birth.
She married Earl Amos ( ? - ? ) and had three children -- Florence Sellers, Irene Byerly and Kenneth W. Connor.
The family lived in Holbrook, Greene County in 1942. By the 1960s, she had relocated to Moundsville, Marshall County, WV, with her dwelling at 82 Linden Avenue.
Bessie died at the age of 59 on May 14, 1966, in Reynolds Memorial Hospital. An obituary appeared in the Waynesburg Republican, saying "The early part of her life was spent in the Holbrook area. She was a member of the Radio Church of God." Burial was in Rosemont Cemetery.
Daughter Florence Amos married Harry Sellers and lived in Youngstown, OH in 1966.
Daughter Irene Amos wed Charles Byerly and resided in Moundsville.
Son Kenneth W. Connor made his home in Cameron, near Moundsville.
~ More ~
In 1991, Grim descendant and genealogy researcher Jeff Little of Parkersburg, WV -- son in law of Jailetta Lott -- contacted the U.S. Department of Veterans Affairs in order to receive a copy of Clark's Civil War pension files.
Copyright © 2015, 2017-2018 Mark A. Miner