Home

George Allen Hinerman
a.k.a. "Hineman"
(1873-1967)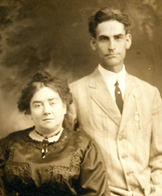 George and Mary Hinerman
George Allen Hinerman was born on Aug. 6, 1873 in Aleppo, Greene County, PA, the son of Thomas A. and Experience "Peoria" (Grimm) Hinerman Jr.
A veteran of the Spanish American War, he was married twice, changed his name to "Hineman" and spent his adult years in Tampa, FL.
When George was just a boy, in Aleppo, his mother died. His father later remarried and had a second family of children. George's full siblings were Lillian May Groff Allison, Maude Alice Ullom and Clark L. Hinerman, and his half siblings were Patrick Hinerman, Isaac "Ike" Hinerman, Garnet Hinerman, Fannie Ray, Ruth Koontz and Evelyn Sweeney.
During the late 1800s and early decades of the 1900s, there was a strong backlash against Germans in the United States. Derogatorily known as "Huns," German nationality and culture were feared for their barbaric and harsh nature, leading up to World War I. In many cities, including Pittsburgh and Cincinnati, names of German streets and other landmarks were changed to Americanized names. In this environment, fearing problems with his German ancestry, George changed his own surname from "Hinerman" to "Hineman," dropping the "r" so it would sound less German.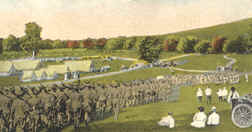 Army training at Mt. Gretna, PA
When the Spanish American War broke out, George was residing in Pittsburgh, Allegheny County, PA. He enlisted as a private in the 18th Pennsylvania Volunteer Infantry, in the National Guard of Pennsylvania. He was assigned to Company C. George was mustered in to the regiment on May 11, 1898, and was honorably discharged five months later, on Oct. 22, 1898.
He trained at Mount Gretna, PA, and in June was moved to Battery Point, below Delaware City on the Delaware Bay. The regiment was transferred again in later June to Camp Meade, near Middletown, PA. Then, in September, the unit went to Pittsburgh to prepare to muster out. Apparently he never was shipped out overseas.
Three months after his military discharge, and at the age of 25, George married Maud Wylie (1875-1926) on Dec. 12, 1898, at Marietta, Washington County, OH. She was a Marietta native, and the daughter of George W. and Maria E. (Burris) Wylie. Early in marriage, the Hinemans resided in Marietta.
Within a few years, they moved to Pittsburgh, where they made their home in the Knoxville section, and where they were members of the Knoxville Christian Church. When the federal census of 1900 was enumerated, George and Maud are shown to be in Pittsburgh, with George working as a cable splicer for the Central District and Printing Telegraph Company (CD & P). They had been married for a dozen years, but had no children.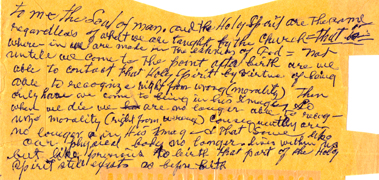 One of many fragments of George's handwriting, on the back of an envelope pressed in the pages of his Bible, explaining that in his view, the soul of man and the Holy Spirit are the same "regardless of what we are taught by the church..."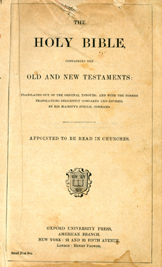 George's well thumbed Bible
A devout Christian and fervent biblical scholar, George was a deacon in the church for a dozen years. He quit, he later wrote, over a controversy over whether certain biblical stories such as the Garden of Eden or virgin birth of Christ were truth, or myth. His old family Bible, preserved today in the Minerd-Minard-Miner-Minor Archives, is filled with personal notations in his handwriting -- scripture references, commentary and other jottings. He also enjoyed clipping articles from newspapers and religious tracts regarding controversial subjects, and pressing them between the pages. In later years, after the Bible had been passed down to his niece Monalea (Ullom) Miner, she inserted her own news clippings, mementos and church bulletins.
In 1912, when the United Spanish War Veterans held their 10th Annual Encampment, George served on the finance committee of a special advisory committee. He is named in this role in the government publication, Documents of the Assembly of the State of New York, Vol. XXXVI, No. 58, Part 1 (1914).
When George registered for the federal draft during World War I, at age 44, he was marked as being tall, with medium build, and had brown eyes and grey-black hair. The registrar noted that he had a "small rupture" in his "right side."
The census of 1920 shows George and Maud at 406 Kingsboro Street in the Mt. Washington section of Pittsburgh. He continued his employment as a telephone company cable splicer. They apparently shared a duplex with Oscar M. and Mae Smith. While in Pittsburgh, said a newspaper, she "took a prominent part in the affairs of the Pythian Sisters and the Eastern Stars... She was a member of the Methodist Church..."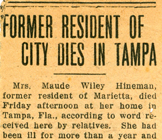 Obituary, 1926
In about 1924, George and Maud relocated to Florida, settling in Tampa, Hillsborough County. The reasons for the move are not known, but could possibly have been related to Maud's health. They made their home at 107 Ida Street.
Their time together was tragically short -- Maud passed away within two years of the change of scenery.
Sadly, she died at the age of 51 in Tampa on Nov. 26, 1926. The cause is not yet known. A Marietta newspaper said "She had been ill for more than a year and her death was not unexpected." Her remains were returned to Ohio on the Seaboard Air Line Railway's "Suwanee River Special." Maud's funeral service was held at the Wieser & Cawley Chapel on Putnam Street in Marietta, followed by burial at the Oak Grove Cemetery in Marietta. Survivors named in her obituary were sister Mrs. George Gaddel of 116 Maple Street and brother George Wiley of Sixth Street.
Papers preserved in the family archive show that Tampa funeral director B. Marion Reed, located at Tampa and Tyler Streets, charged George $455.97 for a casket, embalming, clothing and railroad tickets. Wieser & Cawley's invoice for handling funeral arrangements was $79, which George promptly paid. This included a hearse for transporting Maud's remains to Parkersburg, WV and thence to Marietta, opening the grave, "personal services," choir performance and overnight stay at the Wakefield Hotel. (Apparently a full service business, Wieser & Cawley specialized in furniture and carpeting, and handled undertaking and ambulance services on the side.)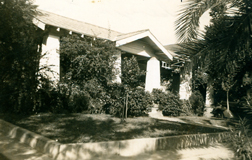 Home at 403 South Albany, Tampa
After spending a little more than five years as a widower, George married his second wife, Mary Linda (Willen) Drew, in Tampa on Feb. 22, 1930. A native of Dorchester County, MD, Mary was born on June 28, 1880 (or 1884 -- two differing dates are written in the family Bible). An examination of the 1920 federal census suggests that Mary had previously resided in Georgia in the town of Willacoochee, Atkinson County; that her first husband was physician C.L. Drew (1877- ? ), and that she had a son Purcell Loraine Drew (1910- ? ). How she and George would have met remains a mystery.
In 1930, the census shows them living at 403 South Albany Avenue, and with real estate salesman Edwin H. Bacon under their roof as a boarder. The Hineman home, at 403 South Albany, is seen here. Note the four large columns across the front of the dwelling.
George returned to Washington from time to time to visit relatives, including his sister Maude Ullom and her family. He may also have spent his time in Pennsylvania visiting with his father in Moundsville and sisters Lillie Allison in Claysville and Fanny Ray in Moundsville. His other two adult full sisters, Evelyn Sweeney and Ruth Koontz, made their homes in Denver, CO in the 1930s.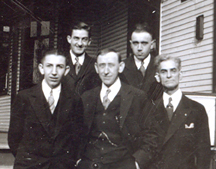 George (right) with his brother in law
Lantz Ullom (center) and nephews
George is seen here during one such visit, standing on the front steps of the Ullom home on North Franklin Street, in the front row at far right. Others in the image are, front row, L-R: Reynol Vermont Ullom (nephew) and Lantz Hupp Ullom (brother in law); in the back row are, L-R: nephews by marriage Odger Miner and Francis Riggs, circa late 1920s-early 1930s.
Circa 1934, when George's 85-year-old father passed away in Moundsville, George was named in the prominent obituary in the Moundsville Journal. Then again in 1938, when his sister Lillian Allison died in Washington, George was named in the obituary in the Washington Reporter.
George and Mary made their home for several decades at 403 South Albany, in the heart of Tampa. During this period of time, George is not known to have had an occupation, and may have been retired. As the former wife of a physician, Mary may well have had the financial resources they would have needed.
In his later years, George was a member of the General Joe Wheeler Camp, No. 2, of Spanish-American War veterans, and of the Hillsborough Lodge No. 25 of the Masons.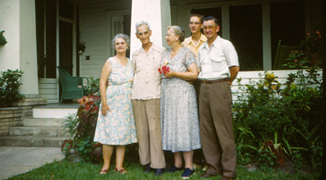 George and Mary, left, at their home in Tampa in 1956, with visiting relatives, L-R: niece Monalea Miner, grand-nephew Donald W. Miner and Monalea's husband Odger Miner.

Obituary, 1967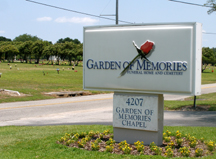 Garden of Memories Cemetery, Tampa
George died in Tampa at the age of 93 on or about June 1, 1967. Following funeral services at Curry's Funeral Home, he was laid to ret in the Garden of Memories Cemetery. Military honors were provided by personnel from MacDill Air Force Base.
His obituary was printed in the Tampa Tribune, which noted that Mary was still living at the time. The obituary is on file today on microfilm in the John F. Germany Public Library in Tampa.
Mary's fate is unknown, but will be reported here when learned. Per the records of Ancestry.com, she may have passed away on May 25, 1971, at the age of 90.
Copyright © 2010, 2014, 2017 Mark A. Miner