Isaac J. Hupp (1819-1889) and
Eliza Johns (1825-1897)
Isaac J. Hupp was born on Oct. 3 or 4, 1819, in Washington County, PA, the son of Philip and Phoebe (Johnson) Hupp.
He married Eliza Johns (Jan. 21, 1825-1897), a native of Washington County.
The couple produced nine known children -- Adaline Henderson, Israel "Izri" Lindly Hupp, Melissa Ullom Grim, Phoebe Ann J. Hupp, Dr. Andrew "Lantz" Hupp, Susan Hupp, Angeline Hupp, Thomas H. Hupp and Gideon J. Hupp.
When the federal census was enumerated in August 1850, Isaac and Eliza made their home in Franklin Township (Waynesburg), Greene County, where he made a living as a distiller (or "stiller" as used, an early American term).
By 1854, the family had relocated within Greene County to near the village of New Freeport, Springhill Township. There, he continued his work as a distiller. At the time, said Bates' History of Greene County, "there were only three houses here, one of which he occupied, and kept a hotel....Judge Thompson resided at Wheeling, and was accustomed to pass through here on his way to Morgantown on his circuit. He was accustomed to stop over night at Hupp's."
Isaac in about 1862 purchased a farm tract from one Rebecca J. Lippincott even though she did not own it at the time; the property was part of the estate of the recently deceased James Smith. In that purchase, Rebecca was unable to produce documentation that she held title to the land. Three years later, Isaac obtained a quit claim from Smith's widow, but "naturally [he] was not satisfied with such a title, and so in 1872 an administration was raised, and a sale was had under an order of the orphans' court in order to perfect the titles," said a court document in Smith v. Wildman, published in Pennsylvania State Reports, vol. 194. A dispute later arose and the case was appealed to the Supreme Court of Pennsylvania, January Term, 1900.

Four Mile Bridge east of Waynesburg
Circa 1868, he is believed to have been elected as one of three commissioners of Greene County, along with Elias Scott and J.M. Morris. That year, the commissioners published an advertisement in the Waynesburg Republican, saying they would receive sealed proposals for repairing the Four Mile Bridge in Franklin Township. For the year, he received payment of $68 for his services. By 1869, M.M. McClelland had replaced Scott as a commissioner. From 1884 to 1887, he served as a director of the county poor house.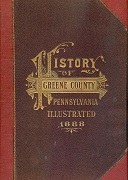 1888 History of Greene Co.
Sadness enveloped the family with the loss of children twice over the span of nine years. On Sept. 16, 1862 when daughter Susan died at the age of nine and was laid to rest in the New Freeport Cemetery. [Find-a-Grave] Then on May 25, 1871, son Gideon also expired at age seven, of unknown causes, with interment in New Freeport Cemetery. [Find-a-Grave]
The census of 1870 shows Isaac and Eliza residing near the post office of Rogersville, Springhill Township, Greene County. By that time, at age 50, he had turned his income-earning labors to farming.
Records of the 1880 census show them remaining in Springhill Township, with Isaac's occupation listed as "Hotel Keeper." That year, son Thomas, age 17, who worked as a retail grocer, and seven-year-old granddaughter Mary E. Henderson dwelled in the Hupp household.
Isaac is mentioned by name in Samuel P. Bates' 1888 book, A Biographical History of Greene County, Pennsylvania in a profile of his daughter Melissa's second husband, Christian Grim.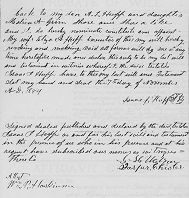 Page from Isaac's last will
Early in her life, said the Waynesburg Democrat, Eliza "united with the C.P. church, but living the greater part of her life at New Freeport, almost under the shadow of a Baptist church she became a convert to that faith." With a keen mind, Eliza "was a great reader and took much interest in public affairs. She read everything concerning Greene county's Centennial [in 1896] with avidity and with pride she ... sent in her order for some copies of the pamphlet just published of 'The Reunion of Greene Academy Students,' of which she was one."
Isaac wrote a last will and testament as his health was failing. Friends G.H. Watson, William P. Hoskinson and Jasper Chisler were present and saw him sign the document. He stated that his house and lot -- known as the "Doctor Wilson property" -- be bequeathed to Eliza. By that time, only two of their children were still living, Melissa Grim and Dr. Andrew Lantz Hupp, and so they were to receive equal shares along with Isaac's motherless granddaughter, Mary E. Henderson. If Mary were to die before Isaac, then her share was to revert to Melissa and Andrew. The document is on file today at the Greene County Courthouse.
Isaac passed into eternity on Jan. 21, 1889. Burial was in New Freeport Cemetery. [Find-a-Grave]
Now widowed, Eliza moved into the home of her married daughter Melissa Ullom Grim in or near Aleppo, Greene County. She endured a painful illness for many years, ending only in her demise.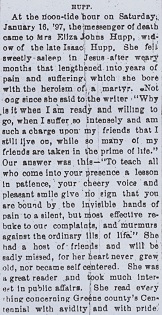 Waynesburg Democrat, 1897
Just five days before her 72nd birthday, at noon on Jan. 15 or 16, 1897, Eliza passed away. The Waynesburg Democrat published a lengthy, detailed obituary which reveals much of her life story and faith-based outlook that would otherwise be lost to history:
She fell sweetly asleep in Jesus after weary months that lengthened into years of pain and suffering which she bore with the heroism of a martyr. Not long since she said to the writer, "Why is it when I am ready and willing to go, when I suffer so intensely and am such a charge upon my friends that I still live on, while so many of my friends are taken in the prime of life." Our answer was this -- "To teach all who come into your presence a lesson in patience, your cheery voice and pleasant smile give no sign that you are bound by the invisible hands of pain to a silent, but most effective rebuke to our complaints, and murmurs against the ordinary ills of life." She had a host of friends and will be sadly missed, for her heart never grew old, nor became self-centered... Mrs. Hupp regretted with her last intelligent utterance that her sisters, Mrs. Susan Mildred, and Miss Sarah A. Johns, of Dotysburg, were not present.
Tragically, Eliza outlived all of her children except for two -- Melissa and Lantz. Memorial services were held at the New Freeport Baptist Church, led by Rev. Ross Ward. The sermon was based on the Biblical passage, "Precious in the sight of the Lord is the death of his saints." (Psalm 116:15)
The Democrat also reported of the funeral that "as the audience filed past the casket, and looked on the sweet, placid features that gave no trace of the anguish that had tortured the suffering body for years, there were no frantic out burst of grief -- that would have been out of harmony with God's purposes -- but tears trembled on every eyelid, and a sense of personal bereavement filled all hearts." In 1978, Isaac and Eliza were named in a profile of their son Lantz in the book History of Medicine in Harrison County, West Virginia, authored by Alice Jo Hess.
~ Daughter Phoebe Ann J. Hupp ~
Daughter Phoebe Ann J. Hupp (1838- ? ) was born in about 1838. She grew up near Waynesburg, Greene County.
She is believed to have been deceased by 1889.
~ Daughter Adaline (Hupp) Henderson ~
Daughter Adaline Hupp (1845-1879) was born in about 1845. At age 15, she resided with her parents and siblings near New Freeport.
She married Silas Henderson ( ? - ? ). They had at least one daughter, Mary E. Wood, born in 1873.
Sadly, Adaline died at the age of 34 on Nov. 12, 1879. Burial was in New Freeport Cemetery. [Find-a-Grave] Their six-year-old motherless daughter was taken into the home of Adaline's parents and lived there in 1880.
When Adaline's father wrote his last will and testament, he named the girl Mary to receive an equal share of the estate.
The fate of Silas is not known. His name does not appear in the index of obituaries maintained by the Cornerstone Genealogical Society in Waynesburg.
Daughter Mary E. Henderson (1873- ? ) was born in about 1873. At the age of 22, on Sept. 12, 1895, she married 27-year-old divorcee James D. Wood (1868- ? ), son of John and Sarah J. Wood. Rev. H.T. Stephens officiated at the ceremony held in Waynesburg. A farmer, James resided at Higbee, Greene County, and his divorce from his first wife was approved three days before his marriage to our Mary.
~ Son Israel Lindley "Izri" Hupp ~
Son Israel Lindley "Izri" Hupp (1847- ? ) was born in about 1847.
He is believed to have been deceased by 1889.
~ Son Dr. Andrew "Lantz" Hupp ~
Son Dr. Andrew "Lantz" Hupp (1851-1899) was born on Feb. 9, 1851 in Greene County. Also known as "A.L. Hupp," he became an early physician in the family, and once was said by his West Virginia peers to have been "one of the most brilliant and highly respected members our State Society has ever produced."
Lantz began his medical studies in 1870, at age 19, with Dr. I.N. Owen and Dr. W.C.Q. Wilson at New Freeport, Greene County. After five years, he then enrolled in Starling Medical College in Columbus, Ohio, where he attended lectures spanning 1875-1876. Later in 1876, he set up his first private practice on his own, at Shinnston, Harrison County, WV, with Dr. Emory Strickler.
On March 13, 1878, the 27-year-old Lantz married 23-year-old Florence Belle "Flora" Martin (1855-1952), daughter of George W. and Ingaby (Sturm) Martin. She was a native of what became Marion County, WV, where the wedding took place. Rev. L.W. Roberts officiated.
The couple had four children, all of whom apparently died young, and adopted several others, among them Icy M. Hupp, A. May Hupp and Mabel Hupp. He also was the namesake for a nephew, Lantz Hupp Ullom, born in 1876, the son of his sister Melissa Ann Ullom, and the great-grandfather of the founder of this website.
To take his education even further, in September 1881, at age 30, Lantz enrolled in Bellevue Hospital Medical College in New York. Six months of training there were sufficient to launch him into the next phase of his career, in March 1882. He returned to West Virginia, where he began an independent practice in Cherry Tree (Bristol), near Clarksburg.
In 1884, Lantz was admitted to membership in the Medical Society of the State of West Virginia. They maintained a residence in Lumberport, WV in 1888 and in New Freeport, Greene County circa 1889, when he was listed in the book Annual Report of the State Board of Health and Vital Statistics of the Commonwealth of Pennsylvania. At one point in 1886 he authored a paper, "The Absence of Pneumonia in Harrison County."
Lantz began to suffer from gall stones in about 1896. The first attack onset was following a West Virginia State Medical Society meeting in Wheeling. He contracted typhoid fever in the summer of 1893 and, when more gall stones developed in his system, he became an invalid. A colleague who treated him wrote: "The treatment relied upon chiefly was pure olive oil and sulphate of soda, but they were without effect utterly. The very strange part was that so intelligent a physician could so persistently have refused the aid of the surgeon until moribund."
When his mother died in 1897, Lantz was named in her Waynesburg Democrat obituary, which said he was practicing in West Union, WV. The following summer, in June 1898, apparently recovered, he traveled to Chicago and thence to Burlington, Iowa and possibly also Denver for a meeting of the American Medical Association.
But in the late spring of 1899, Lantz endured another severe attack of kidney stones. When the stones "imploded," he suffered for 25 days from the lingering effects, under the care of Dr. D.C. Louchery. He finally succumbed on June 17, 1899, at the age of 48 years, three months, at Cherry Camp, Harrison County. His remains were laid to rest in Martin Cemetery in Bingamon near Worthington, Marion County.
In an era before patient privacy legislation was passed into law, Dr. Louchery analyzed and published details Lantz's case for the benefit of his peers, in the Nov. 17, 1900 edition of The Medical News, published in New York [link]. In a twist, one of his distant cousins, Dr. Frank Julius LeMoyne Hupp (1865-1929) of Wheeling, WV, son of Dr. John Cox and Caroline (Todd) Hupp, and grandson of John and Ann Hupp of Washington County, edited part of the article in which Dr. Louchery's narrative appears:
I was called to see Dr. Hupp May 29, 1899; he had been suffering for four or five days with spasmodic colicky pains in the region of the gallbladder and thought he had passed about three gall-stones, and later did pass three or four small stones. He was very much jaundiced and suffered at intervals from nausea. He had administered to himself hypodermically from one-half to one grain or even one and one-half grains of morphine a day to relive the pain. Diagnosis of impacted gall-stones was made. At times there was a remission of pain, so that we hoped he was improving. Stools were pasty, whitish and clay-colored; no appetite, tongue furrowed whitish, made yellow by vomited matter. Every day or two he appeared to relapse into a more serious and depressed condition, and finally died, suffering the most excruciating agony.... He vomited toward the last with the persistency of intestinal obstruction. There was active delirium and his condition was septic.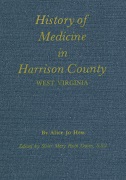 History of Medicine in
Harrison County, 1978
As a widow, Flora made her home in 1900 in Ten Mile near Mannington, Harrison County. She married again on Jan. 16, 1907, at the age of 51, to J.L. Weekley (1854- ? ), age 50 and a resident of Buckhannon, Upshur County, WV. The ceremony took place in the parlors of the Marietta Hotel in Fairmont. They made their home at 50 West Lincoln Street in Buckhannon.
She died in 1952, at age 96 years, six months, with death causes by hardening of the arteries and cervical problems. Her remains were placed beside her first husband's in Bingamon.
Nearly eight decades after his death, Lantz and Flora were profiled in the 1978 book History of Medicine in Harrison County, West Virginia, authored by Alice Jo Hess and edited by Sister Mary Ruth Owen. Flora's parents are mentioned in the book The History of Worthington and Surrounding Communities by Harvey C. Fortney and Heisel M. Fox.
Son Icy M. Hupp (1879-1942) was born on Jan. 20, 1879 in Harrison County. He married Lulu M. Hawkins (1882-1960). They made their home in Fairmont, where Icy worked as a printer. Icy suffered from heart disease ("coronary thrombosis") and died at age 59 on Jan. 4, 1942. Burial was in Woodlawn Cemetery in Fairmont. Lula outlived him by 18 years and passed into eternity in 1960. She reposes beside her husband.
Daughter Mabel Hupp (1883-1950) was born in 1888. She passed away in 1950, at the age of 62. She is buried with her parents in Martin Cemetery in Bingamon.
Daughter A. May Hupp (1887- ? ) was born in December 1887.
~ Daughter Angeline Hupp ~
Daughter Angeline Hupp (1855- ? ) was born in about 1855
She is believed to have been deceased by 1889.
~ Son Thomas H. Hupp ~
Son Thomas H. Hupp (1863-1882) was born in about 1863 near New Freeport.
At the age of 17, in 1880, he worked locally as a retail grocer and lived at home with his parents.
Sadly, Thomas succumbed at the age of 19 on June 6, 1882. His remains were placed into rest in the New Freeport Cemetery. [Find-a-Grave]
Copyright © 2014, 2016 Mark A. Miner