John Rayman Jennings Jr.
(1873-1959)
John Rayman Jennings Jr. was born on Feb. 22, 1873 at Ohiopyle, Fayette County, PA, the son of John R. and Martha (Knight) Jennings Sr. He was a longtime railroader in Fayette and Beaver Counties, PA, and was married three times. He was of medium weight and build, and had blue eyes.
Legal papers involving John's first marriage provide fascinating insights into his life as a railroader. On Oct. 5, 1894, he and Helen W. Hager eloped to Cumberland, Allegany County, MD to get married. He was age 21, and she was 16. At the time of marriage, he had saved about $350.
They lived in a rented house in Dawson, Fayette County, containing three rooms and a basement, which was used as a kitchen and dining room. Two rooms were used as furnished bedrooms and one as a sitting room. John's supervisor on the railroad, E.C. Carr, later said the home "was as good as could be expected and rather better than I expected, that is everything looked nice and neat and comfortable, above the average of the home of the ordinary working man in his circumstances."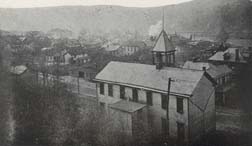 Bird's eye view of Dawson
As a railroader, John worked "every day," leaving home about 6:30 a.m., and often returned home about 5:30 p.m. He earned $1.20 a day. In the words of his boss, "While he was working for me he made full time and over time, ... and when I needed a man I frequently called on him, and he would always respond. Don't remember of his ever disappointing."
In September 1895, he and Helen separated. She went back to her parents' home in Dawson, and he went to Ohiopyle near his parents' home. At the time he sued to divorce Helen, in 1904, he worked for the Pittsburgh and Lake Erie Railroad at Buena Vista near Pittsburgh, PA. His sister Jennie Griffiths testified in the divorce hearing. News of the divorce complaint was published in the Connellsville Daily Courier.
In June 1900, John was residing at the Ohiopyle home of his sister and her husband, Mary and Walter Shipley. The census records that at age 27, he claimed to be a widower.
John remarried again, over the new year's holiday of 1905-1906, to 25-year-old Ethel Maud Foster (1880-1928). She was the daughter of Thomas and Sara (Handlin) Foster. In reporting on the wedding, the Connellsville Daily Courier, in its "Vanderbilt" gossip column, said the marriage took place:
... at the home of Mr. and Mrs. Calvin Martin. Rev. R.L. Price, of the Cumberland Presbyterian Church, said the words that caused the two hearts to beat as one. After the ceremony a big supper was spread out before the invited guests. Their many friends wish them a long and happy life.
They produced four children -- Rayman E. Jennings, Velma Bleasdale, Jennie Schaubhut and Ruby McMaster.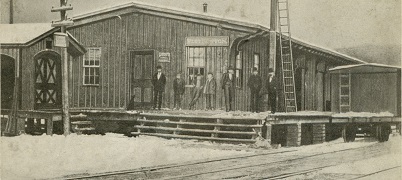 Railroad depot in West Newton
In 1912, when one of their sons was born, they were residing in West Newton, Westmoreland County, PA. While in West Newton, on or about Nov. 25, 1913, John received a United States patent for a rail-chair he had invented. The patent number is 1,079,768. In his application, he wrote that the chair was intended to be: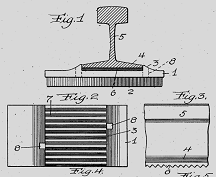 Sketch from John's patent application
...mounted upon a tie or other support for positively holding a rail, and to furnish the chair with novel means, as hereinafter set forth whereby it cannot creep or shift relatively to the tie or support upon which it is placed. Other objects of my invention are to pro vide a rail chair for rails wherein the rails have provision for preventing lateral displacement of the same upon the chair, and to provide a chair that can be used in connection with the present type of wooden ties to prevent the same from being unduly worn or agitated by rails, mounted thereon. Further objects of my invention are to provide a rail chair that can be easily and quickly manufactured and installed without the use of skilled labor, and to accomplish the above results by a durable structure that is applicable to various types of railways.
Later during the decade of the 1910s, John and Ethel relocated to Beaver Falls, Beaver County, PA, apparently having been transferred to the booming P&LE Railroad operations there. In Beaver Falls, his title with the P&LE was "supervisor."

Pittsburgh & Lake Erie logo
John registered for the military draft among millions of American men during World War I. At the time, he was "supervisor of tracks" with the P&LE in Beaver Falls and marked on his card that he suffered from "index finger stiff on right hand."
When the federal census was taken in 1920, John and Ethel made their home in College Hill Borough in Beaver Falls, near Geneva College. Their address in 1928 was 3712 Second Avenue.
Sadly, Ethel was afflicted with a malignant cancer growth in her left breast. The disease spread throughout her body. She died at the age of 48 on March 8, 1928. Her remains were returned to Fayette County for interment in either the Dickerson Run Cemetery or the Flatwood Cemetery in Vanderbilt, with Rev. J.H. Enlow officiating. An obituary in the Beaver Daily Times noted that in addition to her children, she was survived by sisters Nancy Martin and Florence Herrick and brothers Henry Foster and George Foster.
The census of 1930 shows John making his home with daughters Velma, Jennie and Ruby, and son Rayman, on Second Avenue in Beaver Falls. The census-taker marked John's age as "unknown." They remained in Beaver Falls through the late 1950s, with John working as a railroader, with their address 3712 Second Avenue.
Suffering from cardio-renal vascular disease, John was admitted to Beaver Valley General Hospital in New Brighton. After a stay of 11 days there, he died on June 6, 1959, at the age of 86. Burial was in Grandview Cemetery in Big Beaver Township.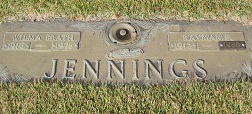 Grove Cemetery, New Brighton, PA
~ Son Rayman E. Jennings ~
Son Rayman E. Jennings (1912-1988) was born on Sept. 17, 1912.
He was united in the bonds of matrimony with Wilma Erath (1916-1975), daughter of Phillip B. and Pearl (Partington) Erath and granddaughter of Ferdinand and Iola (Magee) Erath.
The cople produced five children -- Ronald Jennings, Douglas E. Jennings, Janet Dory, Carol Yoho and Linda Angeli.
Rayman spent 39 years working for Babcock & Wilcox in Beaver Falls, Beaver County, PA. He often visited his first cousin, Otto Shipley, who also resided in Beaver Falls, and who was the first mayor of the town of West Mayfield.
Wilma passed away in 1975 at the age of 59. She was interred in Grove Cemetery in New Brighton.

Babcock & Wilcox's Koppel plant near Beaver Falls, PA. From a painting by Howard Fogg for the Pittsburgh & Lake Erie Railroad Co., of the New York Central System.
Rayman survived his wife by a baker's dozen of years. He died on Oct. 25, 1988 at the age of 76, and rests beside her for eternity.
Son Ronald Jennings ( ? - ? ) was born in (?). He married Antoinette Marie "Ann" Morgera (Jan. 7, 1931-2019), an Italian immigrant and the daughter of Bendetto and Elvira Morgera. The pair dwelled in Monaca, PA and did not reproduce. Ann was employed for many years at the Westinghouse Electric plant in Vanport near Beaveer. She held a membership in St. John the Baptist Catholic Church in Monaca and belonged to the Catholic Daughters of America. Sand an obituary, "Ann loved shopping, beautiful clothes, gambling, going to the Opera, vacationing in Atlantic City and children. Even though she never had children of her own, she always said upon meeting a child that they were as cute as Christmas!" Sadly, Ronald was deceased by 2009. The widowed Ann made her home ni Monaca until about 2016 when she was admitted to live in Victoria Manor in Oakdale, PA. She died on April 3, 2019. Her remains were laid to rest in St. John the Baptist Catholic Cemetery, Monaca.
Son Douglas E. Jennings (1956-2009) was born in 1956. He married and had a daughter, Kara Jennings. He "was a United States Navy veteran and an avid hunter and fisherman," said the Beaver County Times. "He excelled in baseball during his high school years. He was a member of the Chippewa United Methodist Church, LMBA of New Galilee, Beaver Falls Owls Club and the West Mayfield Vets. He passed away at the age of 53 on June 5, 2009. Pastor Rodney E. Smith led the funeral in the family church, with an obituary appearing in the Beaver County Times.
Granddaughter Kara Jennings ( ? - ? ) was the mother of Ayden.
Daughter Janet Jennings entered into marriage with Roland Dory. She was in Florida in 2009-2019.
Daughter Carol Jennings was a graduate of Beaver Falls High School. She wed William "Bill" Yoho. They relocated to Florida and were there in 2009-2019.
Daughter Linda Jennings was joined in wedlock with Alexander "Alex" Angeli. They lived in Bradenton, FL circa 1991-2019. Three known offspring of this couple were Nadine Lieberman, Alex Angeli and Stephanie S. Bradford.
Granddaughter Nadine Angeli ( ? - ? ) married Greg Lieberman ( ? - ? ). They bore at least two daughters, Courtney Lieberman and Heather Lieberman. Circa 1991, the family made a home in Library, PA.
Grandson Alex Angeli Jr. ( ? - ? )
Stephanie S. Angeli ( ? - ? ) - On July 20, 1991, she entered into marriage with H. Scott Bradford III ( ? - ? ), the son of H. Scott and Barbara Bradford II of Palmetto, FL. The wedding was held at Saints Peter and Paul the Apostles Catholic Church, officiated by Rev. Edward Moretti. Stephanie was pictured in an announcement in the Bradenton Herald.
~ Daughter Velma June (Jennings) Bleasdale ~
Daughter Velma June Jennings (1909-1995) was born on June 9 or 19, 1909.
She married (?) Bleasdale ( ? - ? ).
Circa 1972, she dwelled in Beaver, PA.
At the age of 85, she passed away in Sarasota, Sarasota County, FL on Feb. 26, 1995. Her remains were returned to Beaver County for interment in the mausoleum of Sylvania Hills Memorial Park in Rochester.
The fate of her husband is not yet known.
~ Daughter Jennie (Jennings) Schaubhut ~
Daughter Jennie Jennings (1917-2005) was born on July 18, 1917.
She was wedded to Charles R. "Toddy" Schaubhut (1911-1998), son of Charles and Emma (Schoder) Schaubhut.
They did not reproduce. The couple resided in North Sewickley Township near New Brighton, Beaver County and attended the College Hill United Methodist Church in Beaver Falls.
Charles learned the trade of welding and for 41 years was employed by the Pittsburgh and Lake Erie Railroad as a welder and foreman. He retired in 1976. He also enjoyed hunting and fishing and was a member of Tussey Hunting Club in Centre County, PA.
At the age of 87, Charles died in the Medical Center of Beaver on Nov. 18, 1998. His remains were placed into repose in Grandview Cemetery in Big Beaver, with Rev. Ed Schoeneck officiating. In an obituary, the Beaver County Times noted that he was survived by a number of siblings, nieces and nephews.
Jennie survived her husband by seven years. She passed into eternity on Dec. 4, 2005.
~ Daughter Ruby (Jennings) McMaster ~
Daughter Ruby Jennings (1923- ? ) was born in 1923 in Beaver Falls.
At the age of 16, on June 5, 1939, Ruby was united in wedlock with 29-year-old William McMaster Jr. (June 4, 1909-1956), a native of Chippewa Township near Beaver Falls, and the son of William and Martha A. (Salyards) McMaster. They eloped to Brooke County, WV, where their marriage nuptials were led by Rev. H.W. Best. She fibbed on her marriage license application, stating that she was 21. At the time, she lived in Beaver Falls and he in Big Beaver Township.
William stood 5 feet, 5 inches tall and weighed 135 lbs.
Together, the couple produced two known daughters, Madelyn L. McMaster and Martha J. McMaster.
When the federal census was taken in 1940, the newlyweds lived under the roof of William's parents on a farm along Route 420 in Big Beaver Township. William's occupation was listed as "mechanic." About the same time, when required to register for the military draft during World War II, he disclosed that he was employed by Vance Coal Company of Wampum, Lawrence County, PA.
During the decade of the 1940s, as shown in the 1950 census, William opened his own automotive repair garage in Big Beaver.
William passed away on July 8, 1970. His remains were placed into rest in Grandview Cemetery in Beaver Falls.
Ruby's fate is unknown.
Daughter Madelyn L. McMaster (1943- ? ) was born in about 1943.
Daughter Martha J. McMaster (1946- ? ) was born in about 1946. She may have married (?) Ellison.