Amos Bartholomew Minard
(1852-1915)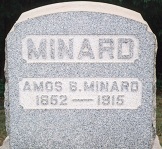 New Rumley Lutheran Cem

Amos Bartholomew Minard was born on Sept. 8, 1852 in Scio, Harrison County, OH, the son of Daniel and Rebecca (Knouff) Minard.

He was a literate and learned man who ultimately spelled his name with the "a." He may have been named for Rev. Amos Bartholomew, who was pastor of the Minards' family church in New Rumley a few years earlier.
At age 20, in 1872, Amos attended Scio College but did not graduate. (The college later merged into what today is known as The University of Mount Union.) Amos' brother Luther Minerd Sr., and distant cousin by marriage William Burkholder, also attended Scio College in the late 1800s.
When the federal census was enumerated in 1880, Amos at age 27 was unmarried and lived at home with his parents. The census-taker recorded that Amos' occupation was "traveling agent - nursery."
A lover of books, and with excellent writing skills, Amos likely was the same "Minerd" who helped organize a literary society at Locust Grove, near Cadiz, in 1886, which drew "very large" crowds. When his father died in 1897, Amos wrote a touching and thoughtful obituary for the Harrison News.
The Cadiz Republican once published this description of Amos:
His part of the struggle of life's work was that of a traveling salesman until [1906], at which time he retired to farm life. He was of a kind disposition and an obliging neighbor; was also a great reader and an interesting conversationalist. He was a firm believer in a Supreme Power, and lived and died believing that our good deeds go not unawarded.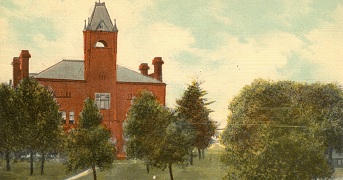 Scio College, where Amos attended circa 1872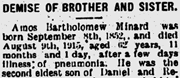 Cadiz Republican

In 1883, in Springfield, Greene County, MO, Amos was wed to Fannie C. Gill ( ? - ? ). She was a native of Neosho, Newton County, MO. The Hon. W.F. Geiger, Judge of the Greene County Circuit Court, performed the ceremony. It is not known if the newlyweds made their home in Missouri, or in Ohio, or elsewhere. Amos was age 31 at the time of marriage.

Unfortunately, the marriage did not last. They were divorced in about 1890 -- following seven years of marital union -- after she moved out of their home.

Amos was close with one of his second cousins, Louise "Lucy" (Minard) Clark, of Mt. Vernon, Knox County, OH, and the daughter of Thomas G. Minard. The Clarks named their son "Amos B. Clark" in his honor. When he died, Amos left $500 in cash to the boy. In his will, he also bequeathed $500 to Mrs. Emma Ogier, of Marion, OH. Her relationship to Amos is not spelled out.

Scio's Main Street, early 1900s
Book naming Amos

He and his widowed mother often paid visits of several days during the early 1900s to his married sister Eunice Morgan in the nearby town of Cadiz.

The federal census of 1910 shows Amos -- now age 58 -- living with his mother and unmarried 34-year-old nephew Harry Calvin Minard on the old farmstead along the state road in North Township. Amos' occupation was listed as "farmer" and his nephew's as "farm laborer."

Amos contracted a serious case of bronchial pneumonia in the summer of 1915. To help provide care, his sister Andora Hickcox traveled from her home in Greenville, OH.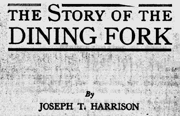 Book naming Amos

On Aug. 9, 1915, at the age of 63, Amos died from its effects. He was buried at the New Rumley Lutheran Church, directly beside his parents. Sadly, his sister Andora became ill immediately, was unable to attend the funeral, and died within the week. The Cadiz Republican published a joint obituary headlined "Demise of Brother and Sister."

In his will, Amos left the remainder of his estate to his nephew, Harry Calvin Minard, whose father John had been declared "an insane person" and was institutionalized at a state hospital.

Amos is mentioned in Joseph T. Harrison's 1927 book, The Story of the Dining Fork, which details early students at Scio College, and lists his name among "Nongraduates."



Copyright © 2001, 2008, 2012, 2022 Mark A. Miner