Charles William Minard Sr.
(1863-1933)
Charles William Minard Sr. was born in 1863 in Barbour County, WV, the son of Sarah Minerd. His mother later married Charles Wright.
As the son of a single mother, Charles grew up in the home of his uncle and aunt, Henry C. and Mariah (Pritchard) Minerd. In the early 1870s Charles went with his uncle and aunt to live in Cutler, Washington County, OH, and was present at the aunt's death.
Charles returned to Barbour County and grew into manhood. He married Amanda Male (1859-1901), the daughter of Hiram and Ruth Male. The wedding occurred on April 22, 1890 at the residence of Rev. F.P. Sydenstricker. Charles was age 28 at the time of marriage, and Amanda was 31. The informant giving information for their marriage license was Uriah Culverson, relationship unknown.
The Minards had seven children, only three of whom were living in 1900 -- Aldine Minard, Sarah Dalton Michel and Ruth J. Theodous (a.k.a. "Fedro").
The federal census of 1900 shows the family in Barbour County, where Charles was a farmer. The Barbour County Personal Property Book for 1897 shows that Charles had one head of cattle and two sheep.
Sadly, son Aldine (born Sept. 1, 1893) died in November 1898 at age five of the croup. His death is reported in the book, Barbour County West Virginia: Book of Deaths and Will Books, by Mary S. Coffman. Other evidence suggests that he was alive in 1902 at the age of nine, when his uncle Josiah Kennedy Sr. was named as his legal guardian.
Amanda died three years later in 1901 and is buried in the Croston Cemetery near Philippi. Her grave was recorded in the Depression-era publication, Cemetery Readings in West Virginia, published by The Historical Records Survey, Charleston, WV. Her uncle, Josiah Kennedy Sr. was named guardian for the three young children Aldine (age 9), Sarah (age 6) and Ruth (age 2). Ruth was taken into his household on Ford Road in the Courthouse District of Grafton.

Philippi, the Tygart River and the ever-present Chestnut Ridge mountains
~ A Legal Dispute Over Property ~
Amanda's father, Hiram Male, owned three tracts totaling 240 acres in Taylor County. The property consisted of one tract of 77 acres, one of 58.5 acres and another of 106 acres. An observer noted that "These lands are all contiguous, but form an irregular body, the average length of which is more than three times the average breadth, with a narrow place near the center." Continuing the description of one of the properties, witnesses said:
...about 30 acres was rough, situated on the bank of a river, almost destitute of good timber and comparatively worthless for farming or grazing purposes; and that the residue was ordinary land worth about twenty dollars per acre, with ordinary frame buildings and other outbuildings on it, but had little good timber on it, the timber having been culled by former owners, and had grown up in briars, broomsage and other filth; that there was scarcely any fencing on it, and that the standing timber was inaccessible to most of the farm.
A report on the remaining acreage of Hiram's said the land was:
... situated about two miles from the village of Webster and about the same distance from the Valley River and a railroad, that it was the home farm, and better land than the other tract and in better repair, having a good frame dwelling and outbuildings, that it had no timber except a small tract no the northeast corner, that the fencing was out of repair and the land grown up in briars and filth, and that it was worth about twenty-five dollars an acre as a whole. [There] was a tract of bottom land in it containing about nine acres of much greater value than the hill land, and that the two tracts lie on opposite sides of a high river hill, adjoining each other near the top of the hill.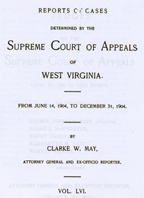 Legal case involving Charles
After Hiram's his death, the acreage came into legal dispute, with his married daughter Martha J. Croston suing to force the land to be divided among heirs rather than it being sold outright. The case named as defendants our Amanda, her brother Boyer Male and their mother Ruth. The case became further complicated when Boyer died, leaving a widow Berthena Male and their children Rosa Bell, Eugenus, Hiram and Benjamin; and when Amanda also died, leaving her husband and their three offspring Aldine, Sarah and Ruth.
Both widower Charles Minard and his sister in law Berthena Male filed a response to the lawsuit, objecting to the forced sale of their home property, "denying that the land was not susceptible of partition without injury [and] alleging that it could be conveniently divided..." The court appointed special commissioners to examine the land and file a recommendation. The commissioners concluded that the land really was made up of two tracts, primarily of inferior woods and hills.
The Circuit Court of Taylor County ruled in favor of the plaintiff, Charles' sister in law Martha J. Croston, and ordered that the property be sold, with the heirs to lose their homes but receive their share of the cash proceeds. The case then was appealed to the Supreme Court of Appeals of West Virginia, argued in Charleston in mid-November 1904.
"The true question to be decided," wrote President Judge George Poffenbarger in his opinion, was:
... whether the whole property, taken together, will be greatly injured or diminished in value if separated into three parts, in the hands of three different persons, according to their several rights or interests in the whole; in other words, whether the aggregate value of the several part when held by different individuals in severalty would be materially less than the whole value of the property if owned by one person... In another one-third of it, over fifty acres, Charles Minor has a life estate and his children the remainder in fee. These children are dependent upon him for their support, and fifty acres of land affording him a home for himself and them may be much more valuable to them than its proceeds in money... It is clear that the children of Charles Minor are not entitled to immediate possession of any part of the lands... [and] no subdivision of this one-third among them until the expiration of the father's life estate, without his consent. It belongs to them subject to his life estate, however.
Judge Poffenbarger overturned the lower court ruling, thus allowing Charles and his motherless children to remain in their home. The official citation of this case, published in several legal journals of the time, is 56 W.Va. 205, 49 S.E. 136.
~ Charles' Second Marriage to Effie Curry ~
Charles married again to Effie Florence Curry (1889-1955), the daughter of Grandville and Katherine (Moats) Curry. The wedding took place on Nov. 2, 1914. At age 25 at the time of their marriage, Effie was more than a quarter century younger than her 52-year-old husband.
They had at least seven children of their own -- Granville Miner, Lena Freeman, Edna Mayle, Gertude "Gerta" Costolo, Catherine (Kathleen) Goodwin and twins Charles Minerd Jr. and an unnamed infant. One of the sons may also have been known as "Ottis" Miner.
When the federal census was taken in 1920, the Miners were residing in the South District of Philippi.
Sadly, both Charles Jr. and the unnamed twin died at the tender age of one day in April 1926, and were buried in the Pittman Cemetery. The 1930 census shows Charles and Effie living in Philippi along the "road from Bend to Independence."
Charles Sr. died at about age 72 of dysentery on Oct. 6, 1933. He is buried at Chestnut Ridge Cemetery, but his grave is unmarked.
Effie outlived him by 22 years, and married only a year after being widowed. She married 32-year-old Jason Norris (1902- ? ), the son of Bill and Ann Norris, on June 30, 1934. Effie died of hardening of the arteries at age 65 on Feb. 9, 1955. She was laid to rest at Westhill Cemetery near Philippi.
All told, Charles Minerd Sr. had these 10 known children who lived to adulthood:
~ Daughter Sarah (Minerd) Dalton Michel ~
Daughter Sarah "Sherry" Minerd (1895- ? ) was born on Oct. 2, 1895 near Philippi. County officials marked her race as "mulatto" on her birth record. She was but five years of age when her mother died.

She married Jacob Henry Dalton (1877-1934?) on Aug. 25, 1913, when she was 18 years of age, and he 36. There was a 16-year age gap between the couple. Jacob is believed to have been the son of Isaac and Elizabeth (Harris) Dalton. He was of medium height and slender build, with black hair and black eyes.

Jacob had been married once before -- to Margaret Mayle -- and brought two young sons to the marriage, William Henry Dalton and Huston Dalton.

The Daltons had one known daughter of their own, Louanna M. Dalton.

During World War I, Jacob was required to register for the military draft. At the time, he and Sarah lived in Lillian, Barbour County, where he and son William were employed as miners by the Mahoning Coal Company. Jacob declared that he was of the "Negro" race and that Sarah was his nearest relative.

When the federal census was enumerated in 1920, the mixed family resided in Philippi, with Jacob and his sons working as coal miners.

By 1930, Sarah and her husband were divorced. That year, Sarah and Louanna resided together in the Triadelphia section of Wheeling, Ohio County, WV, in a home on Springdale Avenue. Sarah's occupation was "pastry cook" at a local "inn," and the census taker recorded her race as "negro."

Jacob may have died at the age of 55 on May 19, 1934, of pneumonia. A search has been made for an obituary in the Wheeling Intelligencer newspaper at West Virginia University, but none was found.

Later, Sarah wed (?) Michel ( ? - ? ). In 1970 she lived in Newton, Jasper County, IL. She was deceased by January 1994, when she was mentioned in the Barbour Democrat newspaper obituary of her sister Lena Freeman.

Daughter Luanna M. Dalton (1914- ? ) was born in 1914. Her last known whereabout was in 1930, when she and her mother made a home together in Wheeling.
Stepson William Henry "Bill" Dalton Sr. (1899- ? ) was born on April 8, 1899, near Philippi. He was of medium height and build, with black eyes and black hair. At the age of 19, he was employed as a coal miner in Lillian, Barbour County, by the Mahoning Coal Company. He was required to register for the military draft during World War I, and declared that he was of the "Negro" race and that his father was "Jacob Henry Dalton." After the war, at the age of 20, in 1920, he lived with his father and step-mother near Philippi, and worked in a local coal mine. William married Helen McDonald ( ? - ? ), a daughter of Kate McDonald. They had children, including a son William Henry Dalton Jr., but details are sketchy. In 1940, their residence was in rural Grafton. Circa 1962, William made his home at 224 Barrett Street in Grafton, and was employed by the Baltimore & Ohio Railroad. Nothing more is known.
Step-grandson William Henry Dalton Jr. (1939-1940) was born on July 19, 1939 in Taylor Count. He only lived for 17 months and 10 days, until a common cold leading to bronchial pneumonia caused his death four days after Christmas 1940. Burial was in Knottsville.
Stepson Huston Dalton (1903-1971?) was born on Feb. 2, 1903. At the age of 16, he resided with his father and step-mother near Philippi, and earned a living in a local coal mine. Later, he migrated to Canton, Stark County, OH. He died in Canton on March 1, 1971, at the age of 68.
~ Daughter Ruth (Minard) Theodous (a.k.a. "Fedro") ~
Daughter Ruth Minard (1898-1926?) was born in 1898 near Philippi.
When she was 19 years of age, Ruth gave birth to a daughter Mary "Evelyn" Miner on Jan. 5, 1917. The name of the child's father is not known.
Some 17 months later, on June 8, 1918, Ruth married 53-year-old Michael "Mickey" Theodous (also spelled "Fedoranis" or "Fedora" or "Fador" or "Fedro") (1865-1937?). He was a native of Italy, Hungary or Russia (depending on the source). Mike had emigrated to the United States in about 1905, and was naturalized in 1910. He may or may not have been Mary Evelyn's father.
Mike was either 19 years older, or 33 years older, than his wife, also depending on the source. The family resided in the north district of Philippi, where Mike labored as a coal miner. The family is shown in Philippi on the federal census of 1920, on Meriden Road.
They had three known children, Mike Fedro Jr. (born in 1919), Mary Julia Fedro (1921) and Lee Fedro (1923).
Tragically, after giving birth in late 1925 or early '26, Ruth contracted a post-partum infection. She died on Jan. 5, 1926, at the age of 28, leaving her husband with their four children. She was laid to rest in Pitman Cemetery. Ruth's married name shown in various state death records was wildly and incorrectly spelled "Fedru" and "Nedra."
As a widower, Mike resided with the three youngest children, while the eldest -- Mary "Evelyn" -- was sent to live with a divorced aunt. The federal census of 1930 shows Mike and the three together under one roof, with Mike's occupation listed as "mining coal," and his birthplace named as "Itley." Evelyn, age 12, was marked in the home of her mother's sister, Sarah Dalton, in Wheeling, Ohio County, WV.
By 1937, with the children grown, Mike lived by himself near Independence School house several miles south of Philippi. On March 10, 1937, at the age of 73, Mike passed away at home of "natural causes" without anyone else present. Neighbor Arthur Burner discovered his body about six hours later, and notified authorities. The top-of-headline news of his passing was published in the Philippi Republican, which said "the funeral arrangements were incomplete awaiting word from some of his children. He is survived by about three children."
Barbour Democrat
Daughter Mary "Evelyn" Miner (1917-1993) was born on Jan. 5, 1917 in Philippi. At the age of 16, she married 21-year-old Denver Mayle (1912-1968), the son of Eugene and Ocie Mayle. Their wedding took place on May 24, 1933 at Flemington, by the hand of Rev. James C. Mayle, a Baptist minister. Evelyn and Denver had five known children -- James Braddock Mayle, Denver Lee Mayle, Randall S. Mayle, Frances M. Swalenberg and Joann Barnett. Heartache blanked the family when newborn son James was born prematurely -- delivered by midwife Sylvia Daugherty of Philippi, but with no physician in attendance -- and died at the tender age of three days on Jan. 15, 1936. The child's remains were interred in Mt. Union Cemetery in Berryburg, Barbour County. Evelyn and Denver resided in the Independence community of Philippi, where he worked as a coal miner and construction laborer. Later, they separated, with Denver moving to Chesterhill, Morgan County, OH while Evelyn remained in Philippi. Sadly, Denver was killed at the age of 56 on Dec. 17, 1968, when his automobile skidded on the snowy Ohio Route 266 a half mile west of Stockport, OH. Reporting on the accident, the Zanesville Times-Recorder said that he had sustained a broken neck and that he "apparently lost control of his eastbound car which veered off the road, struck a bank and flipped in the air, falling some 25 feet to the creek bed. [The sheriff] said about six inches of water was flowing in the creek." He was interred in the Chesterhill Cemetery. Evelyn outlived him by a quarter of a century. Said the Barbour Democrat, she "was a homemaker and a former cook for the Hanging Rock School. She was a member of the Olive Hill Wesleyan Methodist Church." She died in Broaddus Hospital the day after Christmas 1993 "following an extended illness," reported the Democrat. After a funeral led by Rev. Kermit Maley and Rev. Winfield Mayle, her remains were laid to rest in Welch Cemetery. She was survived by six grandchildren and three great-grandchildren.
Grandson Denver Lee Mayle lived at 2915 Fifth Street NW in Canton in 1959. He wed Audrey Schludecker in June 1960. She was the daughter of Lawrence Schludecker of Massillon, OH. News of the marriage was published in the Massillon Evening Independent, which reported that "The English custom of open church will be observed for the wedding" to be held at the First Christian Church. At the time, Denver was employed in Canton at the plant of Republic Steel Corporation, while Audrey worked for Enterprise Aluminum Company.
Son Mike Fedro Jr. (1919- ? ) was born in 1919. He was deceased by 1993. Nothing more is known.
Daughter Mary Julia "Jude" Fedro (1921-1938) was born on April 10, 1921. Orphaned at the age of 16, she suffered a tragic fate. In October 1938, she contracted a deadly case of tuberculosis meningitis, which doctors confirmed with a spinal tap. Her illness was complicated by a case of syphilis. She was sent to the Hopemont Sanitarium in the rolling mountains of nearby Preston County. She was unable to recover, and died there at age 17 years, seven months and 22 days on Nov. 1, 1938. She was buried in Philippi. On her official death certificate, for which she was the source of information, Mary Julia declared that her father "Michael Fedro" was a native of Hungary, and that her mother "Ruth Meynard" was born in Philippi.
Son Lee Fedro (1923- ? ) was born in 1923 near Philippi. He was deceased by 1993. More will be added here when learned.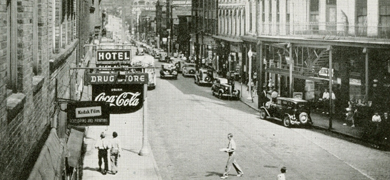 Grafton's Main Street looking east, 1930s
~ Daughter Edna (Miner) Mayle ~
Daughter Edna Miner (1912?-1928) was born in about 1912.
She married her cousin Reason Mayle Sr. (1904- ? ) on July 18, 1927, when she was age 15. He was the son of Lewis and Martha (Mayle) Mayle, and the grandson of Margaret (Minard) Mayle. Edna fibbed about her age on her marriage license by three years.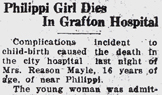 Grafton Sentinel
They resided in Grafton, Taylor County.
Tragically, as she neared her 16th birthday, Edna and their infant son Reason Mayle Jr. both died in childbirth on March 2, 1928. The Grafton Sentinel newspaper reported that "The young woman was admitted Tuesday night [to the city hospital] and gave birth to a child Wednesday morning in the early hours. The infant survived only a short time. Little could be learned concerning the family of the unfortunate young married woman. She is a native of Barbour county, and a member of the Minard family, well known in the neighboring section." The Barlett Funeral Company handled her funeral arrangements. The infant was buried in Bluemont Cemetery in Grafton, while Edna was laid to rest in Pitman Cemetery south of Philippi.
The fate of widower Reason is unknown, but will be reported here when learned.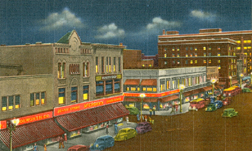 Canton's Market Avenue
~ Daughter Gertrude (Miner) Costollo ~
Daughter Gertrude "Gerta" Miner (1915- ? ) was born in 1915.
She married Carl Costollo ( ? - ? ), also spelled "Costilow." Her first name also has been spelled "Gordio" in one known instance.
She resided in Canton, Stark County, OH in 1970.
Seen here, a postcard view of Canton's Market Avenue shopping center at nighttime.
She is thought to have died in Canton on March 20, 1989, but this needs to be verified. She certainly was deceased by January 1994, when mentioned by name in the Barbour Democrat newspaper obituary of her sister Lena Freeman.

Blonda Miner
~ Son Granville Miner ~
Son Granville Miner (1916-1970) was born on Sept. 8, 1916.
He appears to have been married twice. According to the 1940 federal census enumeration, he and his first wife "Georgia" (1922- ? ) lived on Chestnut Street in Philippi, where Granville labored as a coal miner.
Later, he married Blonda Pauline Norris (1928-2006), the daughter of Cleveland "Clee" and Lucilla (Croston) Norris. They produced two daughters -- Sherry Lynn Hall and Diana Gail Miner. Blonda may have brought to the marriage a son, Karl Brent Norris.
Granville was a truck driver, residing in Philippi. The Barbour Democrat said he "was a veteran of World War II, was a member of the Philippi VFW Post, and was last employed by the State Road Commission. He was a Methodist by faith."
Obituary, 1970
He died of bronchio pneumonia caused by lung cancer at age 53 on June 23, 1970, at the Veterans Administration Hospital in Clarksburg. He was buried at Norris Cemetery.
Blonda outlived him by more than a quarter of a century. She spent her final years residing near her children in Martinsburg, Berkeley County, WV.
She passed away on June 15, 2006, at the age of 78, and was laid to rest beside her husband. Her obituary was published in the Clarksburg Telegram.
~ Daughter Kathleen (Miner) Goodwin ~
Daughter Catherine (Kathleen) Miner (1918-1964) was born in 1918.
She married (?) Goodwin ( ? - ? ). They had one son, John Goodwin.
The couple later divorced. She made her home in the Hacker section of Philippi in the early to mid 1960s, working as a restaurant helper.
Tragically, Kathleen was severely burned in a home accident in late March 1964, and never recovered. After suffering for three weeks, she died at the age of 46 in Philippi on April 18, 1964. The funeral was held in the West Hill Methodist Church, led by Rev. Winfield Mayle, and followed by burial in the West Hill Cemetery.
Circa 1964, grandson John Goodwin made his home in Kingwood, Preston County, WV.
~ Son Jacob Minard ~
Son Jacob Minard (1921-1933) was born in 1921.
He died of acute nephritis -- kidney failure -- at the age of 12, in Philippi, with interment on Sept. 27, 1933. Burial was at Pitman Cemetery.
No obituary has been found in the local newspaper, the Barbour Democrat.
~ Daughter Lena (Miner) Freeman ~

Barbour Democrat
Daughter Lena Miner (1923-1993) was born on March 10, 1923, in Barbour County.
At the age of 40, in 1963, she married Charles Robert Freeman ( ? - ? ).
They helped raise two foster children, Katrina Alth and Raymond L. Freeman.
As of 1970-1994, they lived near Philippi, where Lena was a member of the Barbour Church of Christ.
Lena died at the age of 70 on Dec. 30, 1993, in Broaddus Hospital. Following funeral services, her remains were interred in the Mt. Liberty Cemetery. Her obituary was published in the Barbour Democrat.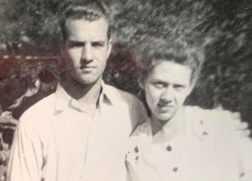 Wilma Jean and (presumably) Ernest
Courtesy Brandon Mayle
~ Son Ernest Miner ~
Son Ernest Miner (1925-1986) was born on Feb. 17 or March 3, 1925 in or around Morgantown, Monongalia County, WV. His first name also has been spelled as "Earnest."
During World War II, Ernest was required to register for the military draft at age 18. At the time, he was unemployed, lived on Beech Avenue in Philippi and listed his mother Effie Norris as someone who would always know his whereabouts. He stood 5 feet, 6 inches tall, weighed 135 lbs, and had brown eyes, black hair and a ruddy complexion.
On April 18, 1948, the 23-year-old Ernest married a cousin, 14-year-old Wilma Jean Newman (Jan. 27, 1934-2001), a native of Volga, WV and the daughter of Robert and Ethel (Mayle) Newman of the family of Mary (Mayle) Croston Hunter. Rev. M.C. Harris, of the African Methodist Church in Philippi, led the nuptials.
The couple bore two known children, Cynthia Sue Mayle and Earnest Miner Jr.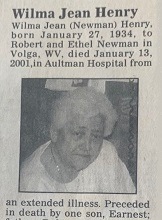 Obituary, 2001

Courtesy Brandon Mayle
Tragically, son Earnest Jr. was found dead at the tender age of two months, 26 days, having suffocated in bed on Feb. 28, 1950. The state's official certificate of the child's death listed his race as "white." Burial was in the Chestnut Ridge Cemetery.
The Miners relocated to Canton, Stark County, OH sometime in the early 1950s, but eventually divorced.
After the divorce, Ernest migrated from Canton to Apopka, near Orlando, FL in 1956.
He married again to Leola Nora (1916-1991). Leola was a native of Elco, Alexander County, IL, had been married before and resided in Missouri. Thus she brought two daughters to the union, Joyce Riley and Doris Henderson.
The Miners were in California in 1964 and returned to Apopka by 1970, where he earned a living as a greenhouse supervisor. Their address was 625 East Orange Avenue in Apopka. Leola was a Baptist by faith.
Ernest did not have much contact with his daughter from the first marriage.
Ernest died on April 13, 1986, in Seminole County, FL, at the age of 59. An obituary was published in the Orlando Sentinel, which said he was survived by seven grandchildren and five great-grandchildren. Interment of the remains was in Highland Memory Gardens in Forest City, Seminole County.
In January 1994, Ernest was mentioned by name as deceased in the Barbour Democrat newspaper obituary of his sister Lena Freeman.
Former wife Wilma married again to Walter A. Henry ( ? - ? ). She spent her final years in Canton and endured the deaths of her son-in-law Phil Smith and granddaughters Missy Smith and Amy Mayle. Following what a newspaper called "an extended illness," she passed into eternity on Jan. 13, 2001 in Canton's Aultman Hospital. She was survived by six grandchildren and 17 great-grandchildren. Her remains were interred in Evergreen Memorial Gardens in Canton, with services officiated by Rev. Jack Mayle.
Leola spent her final widowed years at 530 Carlisle Avenue in Altamonte Springs, Seminole County, FL where her daughter Joyce made her home. At the age of 74, she died on Feb. 25, 1991.

Cynthia "Sue" Mayle
Courtesy Brandon Mayle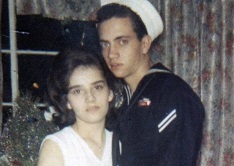 Cynthia Sue and Jacob, Christmas 1964

Courtesy Brandon Mayle
Daughter Cynthia "Sue" Miner (1948-living) was born on Nov. 16, 1948 in Philippi, Barbour County. On her birth certificate, her maiden name was misspelled as "Minear" -- a common name in the region but not ours'. At the age of 17, in 1965, she was united in holy matrimony with a distant cousin, Jacob Mayle Jr. (Oct. 29, 1947-2010), believed to have been the son of Jacob and Permelia (Jones) Mayle Sr. of the family of Elsworth "Elza" and Sarah E. (Kennedy) Mayle. Their four children were Rodney Mayle, Theresa K. Davis, Paula Mayle and Amy Mayle. They also raised a grandson, Brandon Mayle. Born in Grafton, Jacob relocated to Canton, OH in his youth and graduated from McKinley Senior High School. He went on to serve in the U.S. Navy, followed by a career as a longtime operator of construction equipment. Grief cascaded over the family when their youngest, Amy, died in 1976 at the age of about one. After raising their children, Cynthia Sue began volunteering daily at Fairmount Park Elementary School in Canton in about 1993. She went on to serve in the roles of president, vice-president, secretary and treasurer of the parent group, and in 2000, she was hired into Fairmount as the Family Involvement Coordinator. Sadly, Jacob was afflicted with cancer and died at home in Canton at the age of 62 on May 20, 2010. That same year, Cynthia Sue was tapped to be Site Coordinator for the Fairmount After School Program and organized the neighborhood group FANA (Fairmount Area Neighborhood Association). Wrote her grandson Brandon Mayle, "She retired from Fairmount in 2013 and now helps raise her great-grandchildren."
Grandson Rodney Mayle

(1965-living) was born on Nov. 15, 1965. On Aug. 30, 1986, at the age of 20, he married his first wife Katherine Vanicek ( ? - ? ), daughter of Ernest and Patricia Vanicek. Their children are Brittnee Randall, Zackery Mayle and Dylan Mayle. The couple divorced on June 21, 1999. After a dozen years, on June 4, 2011, Rodney wedded his second bride, Diana Fisher, daughter of Howard and Betty Fisher.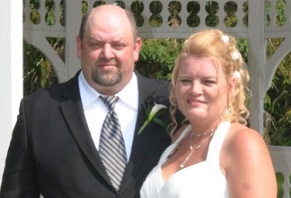 Rodney and Diana (Fisher) Mayle, 2011.
Courtesy Brandon Mayle
Great-granddaughter Brittnee Mayle (1987-living) was born in 1987. On April 4, 2009, she married John Randall Jr. ( ? - ? ). Their four children are Joslynn Randall, Madalynn Randall, Brooklynn Randall and Remington Randall.
Great-grandson Zackery Mayle (1997-living) was born in 1997. He and Nahla Walker have a son, Carson Mayle.
Great-grandson Dylan Mayle (1998-living) was born in 1998.
Granddaughter Theresa Kay Mayle

(1967-living) was born in 1967. In 1987, unmarried at the age of about 20, she gave birth to a son, Brandon Mayle. Then on May 6, 1989, she wedded Timothy J. "Tim" Davis, son of Jim and Peg Davis. The Davises produced a daughter, Jessica Kay Davis.

Great-grandson Brandon Mayle (1987-living) was born in 1987 and raised by his grandmother Cynthia Sue (Miner) Mayle. In August 2020, he wrote: "I'm a 2006 graduate of Canton City Schools. I planned on a degree in Computer Networking but those plans were put on hold when we learned my grandfather Jacob had cancer. After his death, I realized my passion wasn't in computer networking and I spent several years working in public schools alongside my grandmother Cynthia. I'm an avid book reader and film buff. I currently work from home as an online moderator and I've found my passion in writing again. I hope to publish the book I'm working on someday."
Great-granddaughter Jessica Kay Davis (1990-living) was born in 1990.
Granddaughter Paula Mayle

(1969-living) was born in 1969. When she was 25 years of age, on Aug. 5, 1995, she was joined in wedlock with Howard "Robbie" Dean Mayle ( ? - ? ), son of Howard Lee and Delores Mayle. The two offspring born to this marriage were Robin Lynn Niedenthal and Jacob Lee Mayle. Paula and Howard divorce after seven years of mariage on Jan. 28, 2003.
Great-granddaughter Robin Lynn Mayle (1989-living) was born in 1989. She and Randy Scott Palmer Jr. produced two sons, Tyler Palmer and Randy Scott Palmer III. Then on July 28, 2012, she was united in matrimony with Nicholas James Niedenthal (Sept. 28, 1986-2020), son of Thomas Hiedenthal and Tina Haas and stepson of Bobbi Niedenthal. The couple bore two more sons of their own -- Ayden James Niedenthal and Nicholas Jacob Niedenthal. Robin and Nicholas separated in 2015, but remained friends. Sadness covered the family when Nicholas died at the age of 33 on June 8, 2020. An obituary appeared in the Canton Repository.
Great-grandson Jacob Lee Mayle (1993-living) was born in 1993. At the age of 22, in July 2015, he was joined in the bonds of marriage with a distant cousin, Cortney Mayle (1990-2017), daughter of Cornelius and Denise Mayle of the family of George Riley and Sarah Ann "Sally" (Croston) Minard of Philippi. One daughter was born to this union, Aryah Mayle. The family was plunged into grief when Cortney, a 27-year-old nurse's aide at Midwest Health Center of Massillon, and a new mother, died suddenly at home on Feb. 5, 2017 after being stricken with a brain aneurysm. Eight months later, on Oct. 7, 2017, Jacob married his second bride, Kristian Weaver ( ? -living). Their two children are Landon Dean Mayle and Layla Mayle.
Stepdaughter Joyce married Ronald A. Riley, son of Robert Riley of Cape Girardeau, MO and dwelled in Apopka. Sadly, their seven-month-old daughter Deborah Susan Riley died in a hospital in Gainesville in late January 1962, with a death notice published in the Orlando Sentinel. She made her home in Altamonte Springs in 1986.
Stepdaughter Doris Henderson (1938-2012) was born in 1928 in St. Louis. She dwelled in the mid-1980s in Clarksville, TN.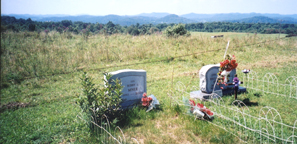 Graves of some of Charles' offspring in the scenic Welch Cemetery in Chestnut Ridge, with ranges upon ranges of mountains on the horizon.
Copyright © 2004-2012, 2014, 2016-2017, 2020 Mark A. Miner
Brandon Mayle graciously has shared information and images for this biography.