Tillison Forest Minard
(1893-1973) and
Mary 'Elizabeth' Mayle
(1895-1968)

Tillison Forest Minard was born in 1893 in Barbour County, WV, the son of William and Elvira (Male) Minerd.
Tillison was of medium height and slender build, with black hair and grey eyes, and considered himself "colored" due to his mixed-race heritage. He resided in the Chestnut Ridge section of Philippi.
He married a cousin, Mary "Elizabeth" Mayle (1895-1968), the daughter of Lewis and Martha (Male) Male, and the granddaughter of Hiram "Poke" and Margaret (Minard) Male. They were wed on June 2, 1919, when he was age 26, and she was 25.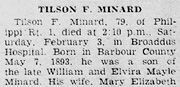 Tillison was a veteran of World War I, and a local miner, working as a coal "scraper" in 1910 and employed by the Humphreys Coal Company in 1918.
The federal census of 1920 shows the Minards making their home on Chestnut Street in the city of Philippi. By 1930, they had moved to Brownton, Barbour County, living along an "unimproved road."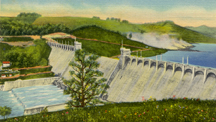 In 1933, Elizabeth received property from R.J. and Ada Mayle in the Knotts District of Barbour County. Thirteen years later, in 1946, the Minards deeded to the United States government "the perpetual right to flood via the Tygard River Reservoir Dam" and clear six acres of this land for construction, operation and maintenance of the dam and reservoir.
Elizabeth passed away in 1968, and was buried in the Welch Cemetery near Philippi.
Tillison outlived her by five years, and died at the age of 79 on Feb. 3, 1973 in the Broaddus Hospital. He was laid to rest in the Mayle Cemetery, following a funeral service led by Rev. Franklin Peoples.
Copyright © 2004-2008, 2020 Mark A. Miner