Ulysses 'Grant' Minard
(1871-1930)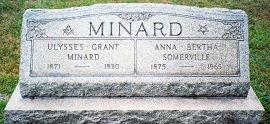 Grandview Cemetery, Scio, OH

Ulysses "Grant" Minard was born on April 6, 1871 in Scio, Harrison County, OH, the son of Daniel and Rebecca (Knouff) Minard.
On Nov. 22, 1899, at the age of 28, Grant married 24-year-old Anna Bertha Somerville (1875-1965), whose father Thomas Somerville was an immigrant from Ireland. Rev. R.T. Price officiated at the ceremony, held in Harrison County.
The couple did not reproduce.
They resided in Scio in 1900-1903; in Newark, Licking County, OH circa 1904; in Ashland, Ashland County, OH in 1923; and in Florida circa 1929. When living nearby, Grant enjoyed making weekend visits to the home of his sister Eunice Morgan in Cadiz.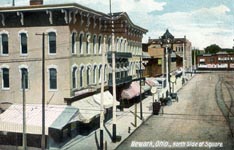 Newark, Ohio, early 1900s

When the federal census was taken in 1900, the newlywed Minards lived in Scio, where Grant's occupation was plasterer.

After moving to Newark in 1904, to 59 Wallace Street, Grant announced that "he will be pleased to receive calls at any time from former Harrison county friends," said the Cadiz Republican.

A rare old photographic postcard of Newark is seen here, showing the north side of the town square. Note the curved trolley tracks in the middle of the street, at far right.

In 1909, the Minards are known to have taken "an extended trip to Denver, Idaho and Oregon," reported the Republican. It's likely that Grant made the trip in part to visit his brother Luther, known to have lived in Idaho at about that time.

The visit must have appealed to them, because the federal census of 1910 shows Grant and Anna actually living in Twin Falls, Twin Falls County, ID. They had been married for a decade at the time, with Grant continuing to earn a living as a plasterer.

The Minards only resided in Idaho for a short time, and then returned to Ohio. By 1920, apparently not content to remain anywhere for an extended time, they established a home in Ashland, Ashland County, OH, on Pleasant Street. Grant's occupation was as a plasterer-contractor.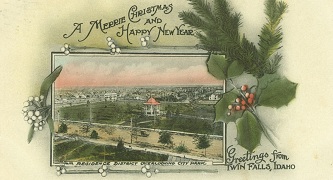 Christmas greeting card from Twin Falls, circa 1912
Grant appears to have been a member of the Masonic Lodge, and Anna belonged to the Order of the Eastern Star.
Moving again during the 1920s, the Minards returned to his home area of Scio, and are shown there on the census of 1930, with Grant working as a building plasterer.
Grant suffered from heart disease and asthma, possibly caused by many years of inhaling plaster dust. He passed away at age 59 on May 29, 1930. He was buried in Grandview Cemetery in Scio.
Anna outlived her husband by 35 years, but little is known of her life during that time.
She died in 1965 and is buried with her husband.
Copyright © 2001, 2005, 2012, 2022 Mark A. Miner