Eldora 'Elizabeth' Miner
(1889-1907)

Eldora "Elizabeth" Miner was born on Dec. 29, 1889 in Connellsville, Fayette County, PA, the daughter of John R. and Mary (Moody) Miner.
Little is known of her life, except that she grew up in a coal and coke community, and that she suffered a tragic, grisly fate as a teenager.
On Sept. 25, 1907, the 18-year-old Elizabeth went to see her father at the Davidson Coke Works near Connellsville. He worked there for many years as a laborer, shoveling coke in and out of the hot ovens.
The works, owned by the H.C. Frick Coke Company, were bustling with activity. Railroad cars regularly carried away the freshly manufactured coke for rail shipment to the Pittsburgh steel mills of Andrew Carnegie.
The horrible story of what happened to Elizabeth is told in the Connellsville (PA) Daily Courier, which carried this headline story:
A YOUNG GIRL KILLED
While talking to several persons along a siding at Davidson works yesterday afternoon at 3:30 o'clock, Miss Elizabeth Miner, stepped backward upon another track and was run down and almost instantly killed by a switching engine. The girl was 18 years, nine months and 27 days old... The crew of the switching engine saw the girl and her companions standing along the track but Miss Miner stepped back so quickly that it was impossible to check the speed of the engine. She was struck and knocked from the track, suffering a broken arm and internal injuries. Dr. A.J. Colborn was hastily summoned and arrived just as she was dying.

Railroad cars at the Davidson Works
Elizabeth's broken remains were laid to rest at the Mennonite Cemetery near Pennsville, Fayette County. Adding to the tragedy, eight of her younger sisters and brothers had preceeded her in death, and she joined them at rest in the burying ground. In a twist of fate, none of their graves is marked.
Dr. Colborn, who examined her corpse, noted simply on her death certificate that she died of an "Accident - Struck by R.R. Train."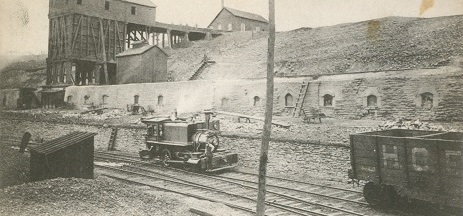 Another view of the deadly railroad cars and Davidson Works
Copyright © 2000, 2004-2005, 2014, 2017 Mark A. Miner