Home

Sarah (Miner) Leiby
(1843-1933)
Sarah A. (Miner) Leiby (also spelled Libert and Leibly) was born on Jan. 14, 1842 or in May 1850 in Leetonia, Columbiana County, OH, one of 15 children of Jacob and Julianna (Forney) Minor.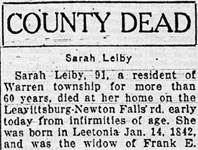 Obituary, 1933

Sarah spelled her name "Minerd" in younger years though later it was shortened to "Miner" or "Minor." As a teenager, she moved to nearby Champion, Trumbull County, near or in the household of her uncle and aunt, Joseph and Elizabeth (Forney) Miner.

On Nov. 26, 1874, Sarah married Frank E. Leiby (March 1853-1930), the son of John (or "Isaac") and Elizabeth (Woods) Mathany. Rev. Mathew Moses, as minister of the gospel, performed the ceremony.

Frank was born in Liberty, Ohio, while his parents were immigrants from Germany.

The produced at least two children -- Jessie Mountain Remalia Kirkwood and Homer S. Leiby.

Sarah and Frank resided in Southington and Leavittsburg, Trumbull County, for the rest of their lives. Their home was along the Leavittsburg-Newton Falls Road.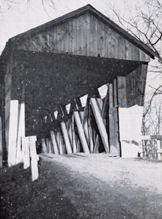 Covered bridge, Braceville

Seen here is an old covered bridge in nearby Braceville, Trumbull County, which the family likely would have known and traveled across. The bridge spanned the Mahoning River west of Warren, Trumbull County.

Said the Warren Tribune Chronicle, "Mrs. Leiby was well known in Leavittsburg and the vicinity, thru her many years' residence and was a member of the Community church."

In 1897, at the time her late mother's estate was being divided among heirs, she was listed in the official papers, and received $6.56 in cash as her share of the estate.

When the federal census was taken in 1900, Frank was employed as a laborer in a boiler work. That year, daughter Jessie and son in law Frank Mountain resided in their home, having been married for four years, but with no children of their own. Frank worked at that time as a furnace hand.

By 1910, Frank's occupation was as a farm hand in the Warren area.

The family is marked as residing in Braceville in the 1920 census, with Frank continuing to labor as a farm hand. They dwelled next door to their married daughter Jessie Remalia and family

As he aged, Frank suffered from hardening of the arteries. He died of arteriosclerosis at the age of 73 on Nov. 12, 1930. He was laid to rest in the Braceville Cemetery.

Sarah passed away of a cerebral hemorrhage at age 91 on Aug. 25, 1933. The Tribune Chronicle noted that she had "three grandchildren and two great grandchildren, all of Leavittsburg." The funeral was held at the family home. Performing musical selections were Isabelle Reinhold, accompanied by Camille Coursen. Said the Tribune Chronicle, "Pallbearers were: Lester Hartman, Raymond Leiby, Jay Haberer, Lawrence Sanderson, Burt Dickeroff and Fred Springer. Burial was in Braceville cemetery."

~ Daughter Jessie Minerva (Leiby) Mountain Remalia Kirkwood ~

Daughter Jessie Minerva Leiby (1879-1948) was born in April 1879 in Southington, OH.

As a teenager she resided in Braceville, Trumbull County and in Nelson Township, Portage County, OH.

She was thrice-wed. Jessie's first husband was Frank E. Mountain (Sept. 1872- ? ). They were united in matrimony on Oct. 11, 1896, when she was 17 years of age and he 24. Rev. J.W. Satterwaithe officiated.

The federal census enumeration of 1900 shows the Mountains, having been married for four years but childless, sharing a home with Jessie's parents in Warren. Frank's occupation at the time was "furnace hand."

One son was born to the couple, Raymond Mountain.

The Mountains separated and divorced. The 1910 U.S. Census shows Jessie and her three-year-old son remaining in her parents' household. She made her home after that time in Leavittsburg, Trumbull County.

When she was age 31, on Nov. 16, 1911, she wed her second spouse, 30-year-old railroad worker Elmer Remalia (Jan. 13, 1881-1941), a resident of Leavittsburg and the son of Jerry and Sarah (Moore) Remalia. Justice of the peace Charles C. Bubb of Warren led the wedding ceremony.

One known daughter was born to the pair, Isabella Hartman.

Census records for 1920 place the Remalias in Braceville, OH. Elmer labored that year for a rubber company.

The Remalia marriage also ended in divorce. Ex-husband Elmer spent his final years in Leavittsburg, Trumbull County. He died there from cardiac failure at age 62 on Dec. 6, 1941, a day before the nation was plunged into World War II. Interment was in Crown Hill Burial Park. Bert Remalia of Leavittsburg signed the official Ohio certificate of death.

In the years following the end of her second marriage, Jessie lived in Farmdale, OH.

Then on Nov. 16, 1929, at age 50, she entered into marriage for a third time with 48-year-old Isaac "Ike" Kirkwood (1881- ? ), originally from New Castle, PA and the son of William and Mary (Anderson) Kirkwood. Rev. Reinhold was the officiant. At the time of marriage, Isaac was a mill worker living at 112 Vine Street in Warren, OH. Jessie was five years older than he.

The Kirkwoods resided in Warren in 1930 and later in or near Leavittsburg. Isaac's was employed in 1930 as a millwright in a steel mill.

During the Great Depression years of the 1930s, Isaac's steel mill position ended. Federal census records for 1940 show him working as a ditch digger for a water conservation organization.

Jessie suffered from uremia and chronic nephritis. She died at the age of 68 on Jan. 22, 1948, at St. Joseph Riverside Hospital in Warren. She was buried in Braceville Center Cemetery.

Isaac's fate is unknown.

Son Raymond Mountain (1907- ? ) was born in about 1907 in Warren, OH. He may have taken on his stepfather's surname of "Remalia" or perhaps was adopted by the man. Raymond grew up in Braceville near Warren. Nothing more about his life has been learned.

Daughter Isabella "Isabell" Remalia (1912-1964) was born on June 16, 1912 in Leavittsburg, OH. When she was 16 years of age, three days before Christmas 1928, she was united in matrimony with 21-year-old mill worker Lester S. Hartman (Oct. 20/Nov. 6, 1907-1984), son of Charles and Mary (Light) Hartman. Methodist Episcopal pastor Rev. A.L. Nixon of Warren officiated. Isabella's mother and and stepfather signed their consents to the union, as Isabella was underage. Lester was a native of Van Wert County, OH but at the time of marriage was in Greene Township, Trumbull County. Together they bore a daughter, Martha Hartman. The United States Census of 1930 shows the family in Gustavus, Trumbull County, with Lester earning a living as a highway laborer. Then in 1940, now in Warren, Lester worked as proprietor of a retail confectionary store. The Hartmans relocated during the 1940s to the nearby village of Bazetta. Lester's occupation by 1950 had changed again, with him now working as a shearman in a steel fabricating facility. Sadly, Isabella died in Warren on March 8, 1964. Lester outlived her by 20 years. He passed away in Columbiana County, OH at the age of 76 on Aug. 9, 1984. Burial was in Hillside Cemetery in Cortland, Trumbull County.
Granddaughter Martha A. Hartman (1930-1993) was born on May 29, 1930 in Cortland, Trumbull County. At the age of 19, she had no occupation and dwelled with her parents in Bazetta, OH. Martha may never have married. Death enveloped her on April 10, 1993m, at the age of 62. She rests for all time with her parents in Hillside Cemetery.

~ Son Homer S. Leiby ~
Son Homer S. Leiby (1875-1907) -- also spelled "Lieby" -- was born on Oct. 29, 1875 in Southington, OH.
On Dec. 26, 1898, he was joined in wedlock with his first bride, 17-year-old Agnes Brown (Oct. 1881- ? ), with the ceremony taking place in her home in Auburn Corners, Geauga County, OH. She was an immigrant from England, having come to the United States in 1892. A story in the Elyria Reporter said the newlyweds would make a home on East Fourth Street with Mr. and Mrs. J.C. Barney.
The pair did not reproduce. They dwelled in Elyria, OH at the time of the 1900 federal census enumeration. He earned a living as an oil salesman for Schoffield Schurmer & Teagle.
Homer made painful news in 1900 when, while driving an oil wagon, the vehicle was struck by a C.B.E. & O. Railway motor car. He claimed that "he was thrown violently from his seat to the ground, sustaining severe injuries; [and] that he was confined to his bed for a period fo five weeks, and that he is permanently disabled as a result..." He sued the railway company, saying the accident was "due wholly to the negligence of the motorman operating the car" and requested $5,000 in damages, according to an account in the Reporter.
The marriage did not last. By the end of 1901, Homer had relocated to Sharon, PA, and Agnes sued for divorce in Lorain County, OH, citing "adultery and gross neglect of duty." The case was advertised in the Elyria (OH) Chronicle Telegram. The Elyria Republican added that Agnes charged that in July 1901, while she was ill, Homer "left town so that she was without means of support and had to go to work in her enfeebled condition in order to keep from starving."
He earned a living during that period as a railroad baggage master.
On Dec. 3, 1902, in Portage County, OH, at the age of 26, Homer wed again to 21-year-old Mary "Winifred" Rockwell (Dec. 1880-1932), daughter of Eugene and Mary (Worden) Rockwell of Meadville, PA. The ceremony was led by the hand of Rev. Robert Hopkins of the Congregational Church. On his marriage license, Homer fibbed that he had not been married before.
They begat a son, Raymond Waldo Leiby.
Homer found employment as a railroad brakeman and in 1907 the Leibys lived in Sheraden, a community in Pittsburgh's West End. He belonged to the Brotherhood of Railroad Trainmen, Pittsburgh District.
On the tragic and fateful day on or about Jan. 15, 1907, at the age of 31, Homer suffered horrific injuries in Pittsburgh. He was struck and run over by a Pittsburgh and Lake Erie Railroad train. Both legs were cut off and his scalp badly lacerated. He was rushed to West Penn Hospital in Pittsburgh, where he lingered for 15 days until death mercifully swept him away on Jan. 30, 1907. The remains were transported for burial to Kent, OH. No newspapers are known to have covered the story.
In June 1908, he was remembered in a memorial service conducted by the Railroad Trainmen in the Bijou Theater, and named as "H.S. Leiby" in a related article in the Pittsburgh Daily Post.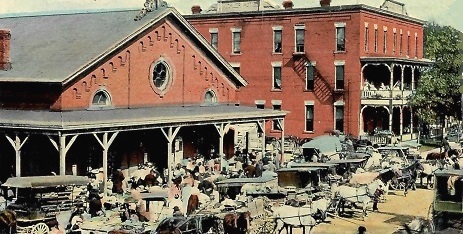 Meadville, PA, where Winifred Leiby returned as a widow
The widowed Winifred moved with her son to back to her hometown of Meadville. She became active with the Ladies' Auxiliary of the Keystone Hose Company and in 1912 was elected secretary of the organization.
She married again on Sept. 17, 1913 to farmer Ernest C. Ellis (1870- ? ). Their wedding was conducted by Rev. Gilbert R. Williamson, of the First Methodist Episcopal Church, in the home of her parents. The marriage was announced in the Pittsburgh Post-Gazette and Meadville Evening Republican. They made their first home together in Greenville, PA.
The 1920 federal census shows the couple and son Raymond in East Meadville.
Winifred entered into marriage a third time with (?) Willard ( ? - ? ). Circa 1923, she migrated to California and settled in Walnut Creek, about 16 miles east of Oakland.
Sadly, at the age of about 52, in Octobeer 1932, she "died at the county hospital following a long illness," reported the Contra Costa (CA) Gazette. "She has resided in California for nine years and leaves many friends in Walnut Creek." Her funeral was jointly led by Rev. Miller of the Walnut Creek Episcopal Church and Rev. H.J. Catterall of the local Methodist church. Her remains then were transported for burial to Victorville, CA.
Son Raymond Waldo Lieby (1903-1978) -- born "Leiby" -- was born in about 1903 in Youngstown, OH and in adulthood spelled his name "Lieby." He was age four when his father was killed and age 10 when his mother wed again to Ernest C. Ellis. He spent most of his childhood and teen years in Meadville, PA. He appears to have relocated to California prior to 1930. There, he married Mabel P. ( ? - ? ). Together they became the parents of a son, Raymond Clifford "Slim" Lieby. The family resided in 1930 in Victor, San Bernardino County, CA, with Raymond working as a farm laborer. He then joined the South Pacific Railroad and was employed for 26 years as a locomotive engineer. He held a membership in the Brotherhood of Locomotive Engineers. The couple divorced in February 1945, with Raymond moving to Sparks near Reno, NV. In 1945, at the age of 41, he entered into marriage with 34-year-old Thora Virginia Walker ( ? -1969), also of Sparks. The couple's four known sons were Richard Lieby, David Lieby, Rodney Lieby and Kevin Dean Lieby. Raymond is known to have served in the U.S. Armed Forces during the Korean War. He was active in the Masons organization and in 1959 presented his Masonic Bible to his son during a special ceremony in Beckworth, CA. He also belonged to the Shriners Drum and Bugle Corps. Thora was a native of Mendon, UT but moved to Nevada at a young age and spent 21 years in Carlin, NV and a quarter of a century in Sparks. Said the Reno Gazette-Journal, "From 1942 to 1948 she was crew dispatcher for the Southern Pacific Railroad... Mrs. Lieby was on the Stake Board of the Primary, Church of Jesus Christ of Latter-day Saints, in Sparks, and was captain of the Sparks branch of the Daughters of Utah Pioneers. She was very active in all organizations of the Mormon Church." Their address in the late 1960s was 1978 Hymer Avenue. Tragically, Thora was badly injured in an automobile accident in a Verdi parking lot on July 8, 1969 and died 18 days later at the age of 58 on July 26, 1969. Her obituary was printed in the Gazette-Journal. He was joined in wedlock for a third time with Alice ( ? - ? ). Raymond died in a Reno hospital on April 4, 1978. His remains were interred at the Masonic Memorial Gardens Cemetery.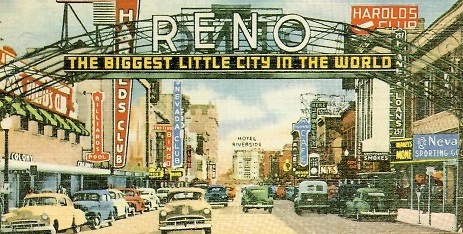 Reno, NV, home to the Raymond Waldo Lieby family
Grandson Raymond Clifford "Slim" Lieby (1930- ? ) was born in about 1930 in Victor, San Bernardino, CA. In young manhood he was employed by the Sierra Pacific Power Company, holding the position of foreman in 1961. On June 10, 1956, he married Charlotte Coveau ( ? -1961), a native of Merrill, WI. William Nord, of the Church of Jesus Christ of Latter-day Saints, officiated the ceremony, which was reported in the Reno (NV) Gazette-Journal. The pair made their first home together in Portola, CA. She apparently had been married before and brought two stepchildren into the second marriage -- Vickie Mann and Rick Mann They went on to bear one son of their own, Dixon R. Lieby. Sadly, the couple had only five years together before she became ill, underwent surgery and died unexpectedly in a Reno hospital on Feb. 22, 1961. Bishop Nord led the funeral, with burial in the Masons section of Mt. View Cemetery. Her obituary was printed in the Portola Reporter and the Gazette-Journal. Later that year, Raymond wed Katherine Clara "Kate" Monjar (May 18, 1935-2014), a native of Wynona, OK and the daughter of Melvin and Nellie Monjar. She was a 1953 graduate of Reno High School. They resided in Portola and produced two more sons -- Steven C. Lieby and Wayne E. Lieby. Raymond was active with the community and in 1957 chaired a March of Dimes dance sponsored by the Rotary Club of Portola. he also held a membership in the Hope lodge of the Masons and installed in 1965 as master. In 1977, he served as chairman of the board of Eastern Plumas District Hospital in Portola. Katherine volunteered her time at the Nifty Thrift Shop of the hospital auxiliary in town. She liked to cook, bowl, camp, hunt deer and play softball. When they retired, the pair traveled widely across the nation. The family was plunged into grief when Katherine contracted Alzheimer's Disease. Her mind failed over a long period of time until her passing on Aug. 26, 2014. Her memorial service was held in Beckworth, CA at the Masonic Lodge. An obituary appeared in the Gazette-Journal, which said she was survived by four grandchildren and four great-grandchildren.

Step-great-granddaughter Vickie Mann (1950- ? ) was born in about 1950.

Step-great-grandson Rickie Mann (1951- ? ) was born in about 1951.

Great-grandson Dixon R. Lieby (1958?- ? ) was born in about 1958. He wed Shari. They were in Sultan, WA in 2014.

Great-grandson Steven C. Lieby resided in 2014 in Reno.

Great-grandson Wayne E. Lieby was joined in marriage with Eileen. They settled in Albuquerque, NM.

Grandson Richard Lieby ( ? - ? ) was in Mansfield, OH in 1969 and in Minnesota circa 1978.
Grandson David Lieby ( ? - ? ) was born in (?). On Dec. 14, 1974, in nuptials held at Old Town Amphitheatre, he entered into marriage with Geraldine "Geri" Walper ( ? - ? ), daughter of Leslie Walper. The wedding was announced on the pages of the Los Gatos Times. Their newlywed home was in Los Gatos. Circa 1992, living in Boulder Creek, CA, he commuted to work along Bear Creek Road and Highway 17, and was quoted in a story about local traffic snarls in the Santa Cruz Sentinel. Then in 1989, he was president of the Valley Women's Club which sponsored the 10th Annual Redwood Mountain Faire held in Highlands Park in Ben Lomond, CA.
Grandson Rodney Lieby ( ? - ? ) made his residence in 1969 in Phoenix and in 1978 in Greeley, CO.
Grandson Kevin Dean Lieby ( ? - ? ) was born in (?). He is known to have been in Nova Scotia, Canada in 1969, perhaps on a church mission. Kevin was a graduate of Sparks High School and went on to study at the University of Nevada-Reno. In August 1976, he was united in holy matrimony with Grace Alice MacDowell ( ? - ? ), daughter of Robert Coats and Grace MacDowell. The wedding was held in the Los Angeles Temple of the Church of Jesus Christ of Latter-day Saints and announced in the Reno Gazette-Journal. She was an alumna of Wooster High School and studied at Ricks College. Their first home was in Reno.
Son Ernest Cunningham ( ? - ? ) is known to us only through his mother's 1932 obituary.
Copyright © 2003-2004, 2008, 2022 Mark A. Miner