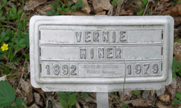 Norris Cemetery
Vernie Miner was born on July 11, 1892 at Laurel Creek near Philippi, Barbour County, WV, the son of John and Martha Ann (Mayle) Minerd.
Vernie was of medium height and a stout build, with brown eyes and black hair. Circa 1917, when he registered for the World War I military draft, he gave his occupation as a self-employed farmer residing at Meriden, near Philippi. His race was marked as "African," and, unable to write, he marked his name with an "X."
When the federal census was taken in 1930, the 38-year-old Vernie resided by himself in the Philippi area. (The census taker marked him as age 35.) His occupation was listed as coal miner.
He had a relationship with Mary Magdeline "Maggie" Mayle (Feb. 15, 1916-1983), daughter of Sylvester "Willie" and Lillie Mayle of Barbour County. Although not married, they produced one daughter, Mary Ann Mayle, born in 1934.

Barbour Democrat, 1979
Vernie's home was in the Beech Bottom section of Philippi, where he "was a retired sawmill and farm employee," said the Barbour Democrat newspaper. Later in life, Vernie resided with his married daughter Mary Ann and her husband Bennie Mayle near Philippi.
Vernie died in Broaddus Hospital in Philippi on Feb. 16, 1979, at the age of 86. He was buried at Norris Cemetery, with funeral arrangements handled by the John M. Stemple Funeral Service, and the ceremony conducted by the Rev. Winfield Mayle. Vernie's obituary was published in the Philippi newspaper, and his grave marked with a metallic plaque which was still in place and legible when photographed in May 2007.
Barbour Democrat, 1983
Maggie married at the age of 30 -- on June 22, 1946 -- to 38-year-old Clyde Wesley Barnett (July 3, 1908-1985). He was the son of Talmadge E. and Lenora May Barnett of Barnett Ridge near Belpre, Washington County, OH. Rev. M.C. Harris of the African Methodist Episcopal Church officiated in the ceremony held at Philippi.
The Barnetts went on to have three more known children -- Jackie Sue Mayle, Donald Lee Barnett and Larry Barnett. Maggie was a member of the Olive Hill Wesley Methodist Church. Daughter Jackie Sue married Franklin M. Mayle on Nov. 27, 1971 -- he died on Feb. 8.
On Feb. 15, 1983, Maggie died at the age of 77. Her funeral was held at the Olive Hill church, with Rev. Paul Davis and Rev. David Maley officiating. She was laid to rest in the Welch Cemetery in Philippi. An obituary in the Barbour Democrat noted that her survivors included brothers Emery Mayle, Arthur Mayle and Thurwood Mayle and sister Virginia Mayle.
Clyde died in Canton a little more than two years later on May 12, 1985, with burial with his wife.


~ Daughter Mary Ann (Mayle) Mayle ~
Daughter Mary Ann Mayle (1934-2008) was born on Nov. 27, 1934 in Philippi. She grew up with the surname "Mayle" and not "Miner."
At the age of 26, on Sept. 30, 1961, Mary Ann married a step-cousin, 23-year-old Bennie Mayle (1939-1989), son of Dow Junior and Phyllis (Newman) Mayle of the family of Mary (Mayle) Croston Hunter. She was three years older than her husband. On their marriage license, she did not furnish her father's name, and gave her maiden name as "Mayle." Rev. J.F. Peoples of the Methodist Church officiated.

Broaddus Hospital in Philippi, where Mary Ann was a nurse's aide
They made their home on Hanging Rock Road in Philippi. Their three children included Sandra Carlock Lohmar, Gwendolyn Jones and David R. Mayle (who graciously has shared information for portions of this biography).
Bennie worked for the West Virginia Department of Highways and attended the Peoples Chapel Church in Chestnut Ridge near Philippi.
Said the Clarksburg (WV) Exponent-Telegram, Mary Ann was a " nurses aide and retired from the Broaddus Hospital. She was a member of the People's Chapel Church [and] the Cancer Survivors of Barbour County. She enjoyed flower gardening, traveling and collecting wind chimes."

Barbour Democrat, 1989
Bennie was stricken on Nov. 22, 1989 and was rushed to the Broaddus Hospital in Philippi, where he was dead on arrival in the emergency room. He was age 50. His remains were transported to Philippi for interment in Welch Cemetery. Among his survivors, said the Barbour Democrat, were brothers Glenn Mayle and Johnny Mayle and sister Genevieve Mayle.
Mary Ann died at the age of 73, in Broaddus Hospital, on July 26, 2008. Rev. Ruston Seaman oversaw the funeral services, culminating in burial at the Welch Cemetery.
Daughter Sandra Mayle wed (?) Carlock and (?) Lohmar. Circa 1989, she resided in Dallas.
Daughter Gwendolyn Mayle married (?) Jones. Her home in 1989 was in Denver.
Son David Mayle lived in Savannah, GA.


Copyright © 2005-2008, 2014, 2017, 2022 Mark A. Miner