Viola (Miner) Cox
(1856- ? )
Viola (Miner) Cox was born in 1856 in Unity Twp. near East Palestine, Columbiana County, OH, one of 15 children of Jacob and Julianna (Forney) Miner.
Viola married Dr. Francis M. Cox (1843-1886?), a native of Virginia, who was 13 years older than she.
Francis apparently had been married before, and brought a son to the marriage, William A. Cox (born 1864).
The Coxes bore three more children of their own -- Jacob Cox and twins Julia A. Cox and Mary E. Cox.
When the federal census of Unity Township was taken in 1880, Francis was practicing in the village of New Waterford. Later, they moved to nearby East Palestine.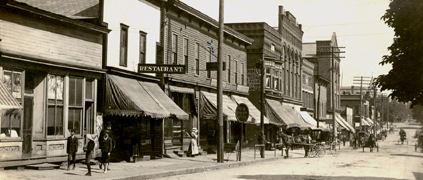 Market Street section of East Palestine in a rare old postcard, dated 1909
Sadly, both Viola and Frank are believed to have died young, he in about 1886, and she right around the same time her mother passed away in 1888.
In a chapter on Columbiana County in the 1891 book History of the Upper Ohio Valley, Vol. II, is this passage: "The following now practice in the township, ... At New Waterford, Dr. Frank Cox, since 1874; he died some five years ago."
In the mother's 1888 newspaper obituary in the Valley Echo, "Mrs. Dr. Cox" was named as a surviving child. However, by the time the estate began to be administered later in the year, Viola was marked as "deceased" in papers filed with the Columbiana County court. Her heirs were noted as living in East Palestine.
When cash was paid out of the estate in 1897, Viola's children received a combined total of $6.56.
Nothing further of their lives is known.
~ Stepson William A. Cox ~
Stepson William A. Cox (1864- ? )
~ Son Jacob Cox ~
Son Jacob Cox
~ Daughter Julia A. Cox ~
Daughter Julia A. Cox
~ Daughter Mary E. Cox ~
Daughter Mary E. Cox
Copyright © 2003-2004, 2010 Mark A. Miner